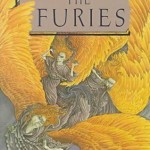 I have a few items this week which seem to me to call for the efforts of the Greek Furies (Erinyes) to come and deal with it. As a reminder, though no one really knows how many there were supposed to be, the three names we have are Alecto, Megaera, and Tisiphone. These roughly translate as "unceasing," "grudging," and "vengeful destruction."
I have left out the water in Flint, MI, because that made such a stir that I expect you are already on to those people. I have left out the seditious militants because I am confident you are on to them and indeed have already got some action from a grand jury (good going there). I have also left out the "pharma bro" who seems to be digging his own grave. Although any or all of these could possibly resurface in the future, they seem for now to be getting handled.
I do want to draw attention to what happened to Melissa Harris-Perry in Iowa. A journalist with a news-opinion show on MSNBC, a professor of political science at Wake Forest, and an author, she was there, with students, to experience the caucuses. She was sitting in the hotel lobby, eyes glued to the TV, when suddenly this guy was standing next to her.
When he started he speaking it was like he was picking up in the middle of sentence, finishing a conversation we had begun earlier, but I couldn't remember ever meeting him.
"…So what is it that you teach?"
"I am a professor of political science."
"My wife is a professor of communications."
"Does she teach here in Iowa?"
"What I want to know is how you got credentialed to be on MSNBC."
I am not sure if it is how he spat the word credentialed, or if it is how he took another half step toward me, or if it is how he didn't respond to my question, but the hairs on my arm stood on end. I ignored it. Told myself everything was ok.
"Well. It is not exactly a credential…" I began.
"But why you? Why would they pick you?"
Now I know something is wrong. Now his voice is angry. Now a few other people have stopped talking and started staring. Now he is so close I can feel his breath. Before I can answer his unanswerable question of why they picked me, he begins to tell me why he has picked me.
"I just want you to know why I am doing this."
Oh – there is a this. He is going to do a this. To me. And he is going to tell me why.
She jumped up and put a table between him and her. Her friend jumped and put herself between them. They raised their voices, starting to make a fuss. The man ran out, jumped in a car, and drove off. They spoke with hotel security, who listened politely, "but this is the Iowa caucus, and I am not a candidate, so they go back to their evening. And we go back to ours."
This sounds like grudging to me. Particularly "But why you? Why would they pick you?" Perhaps, Megaera, you can find this – person – for counseling. And, if you have time, stop off at Breitbart, who loudly dismissed and mocked her story (Republican not linked). Thanks much.
Then, Tisiphone, I suspect you will be interested in the management of Tyson Foods in Arkansas. Tyson comes in for a lot of flack over the way it treats chickens inhumanely, and the way it overfeeds them antibiotics, but this isn't about the chickens. This is about the workers.
According to an email from the Unitarian Universalist Service Committee,
A stunning 91% of surveyed poultry workers reported having no earned sick leave, and almost two-thirds reported working while sick. More than half of these workers said they experienced discrimination, a very troubling statistic for a workforce made up mostly of first- and second-generation immigrants, as well as minority workers from the United States.
Women, in particular, cited gender discrimination in the way bathroom breaks are withheld by male supervisors. Some have even urinated on themselves because they were not granted breaks when needed.
Well, OK, maybe it is about the chickens too. That last sentence can't have improved anyone's appetite, even for non-Vegans. But I primarily was thinking of the vengeful destruction of the human spirit when you make people pee themselves to keep their jobs. I suspect a lot of these women are mothers, incidentally. Giving birth can be rough on the sphincters.
The stockholders' meeting was yesterday, and a Twitter/Facebook Thunderclap was planned. Not being on either, I don't know how it went, but, I hope well.
Finally, Alecto, I don't even know whether there is anything you can really do about the uncea$ing issues of privatization, prisons, and immigrants; although if anyone can, it's you. ITPI ("In the Public Interest") exists to study and bring to light the specific ills of privatization, which always ends up costing taxpayers more money for less service, while lining the pockets of people rich enough to own an empire to provide the private "service." Immigration is no exception. And whenever pri$on is a part of a cycle, and exists to make money, the stakeholders develop a vested interest in keeping people in them to make more and more money. But, as this graphic shows, there are a lot more people making money from prisons than just prisons. This contributes more and more to make the cycle never-ending – unceasing.
I think it speaks for itself. If you need to see it larger to read it you can easily click through. It does try to distinguish between civil offenders, who are offenders by just being here, and criminal offenders, who have actually committed a crime. In practice, I don't know.
Alecto, Megaera, Tisiphone, and I will be back next time. Whenever that is. Meantime, we wish everyone perfect blood pressure.