I'm  writing for tomorrow, day 12.  It's been a terrible day.  I feel like I've been ravaged by a bunch of horny sheep.
Jig Zone Puzzle:
Today's took me 2:39 (average 4:51).  To do it, click here.  How did you do?
Religious Agony:

Three key players were injured early in the game.  It was their worst outing this season.
Short Takes:
From Daily Kos (Hat-Tip JL A): The U.S. Supreme Court's unprecedented, highly politicized and extremely activist decision to take on a challenge to the structure of subsidies for people enrolling in Obamacare threatens to fatally undermine the law. But, there is a work around the White House could employ that could maintain subsidies for people who've purchased insurance on both the state exchanges and the federal exchange. At issue in the King case, which the court is hearing, is whether subsidies can be provided to the people in the three dozen states which are using the federal exchange.
The specifics would need to be worked out, but the crux is this: States could continue to use HealthCare.gov as their technical backdrop, but they would be considered state-based exchanges. That would allow the law's tax subsidies to keep flowing, even if the Supreme Court were to invalidate them on the federal exchange, as the lawsuit's plaintiffs argue it should…
…Politically, though, putting the onus on Republican governors and legislatures to maintain insurance for well over four million people is a pretty good idea. All of those people with their new insurance—and all of the insurance companies with their new customers—certainly have a stake in this, and could exert a great deal of pressure. This effort by Republicans—and the conservative justices—could end up biting them in the ass.
I like this. There would be Republican governors who will refuse to do this is the Republican Injustices of SCROTUS (Republican Constitutional VD) kick them of their ACA subsidized plans. Don't get me wrong, I want them to have health care, but they would need to understand that to keep it, they would have to dump their state level Republican Reich.  Then they would avoid the RepubliCare Death Benefit.
From Crooks and Liars: Fox News host Tucker Carlson on Sunday asserted that President Barack Obama had refused to restrict immigration from countries that were being invaded by ISIS Islamic radicals because giving social welfare benefits to terrorists was "exactly the policy" of the United States.
Barf Bag Alert!!
The country is overrun with terrorists. Most are employed by the Republican Reichsministry of Propaganda, Faux Noise or are elected Republicans.
From Blue Oregon: …Nonetheless, as Democrats back in DC are trying to figure out the lessons learned, some are pointing to Senator Jeff Merkley's success as a model for how a progressive and populist campaign can actually connect with voters. From the NY Times:
There were a handful of bright spots in an otherwise dismal year for Democrats, and progressives are holding up as models the success of three Senate candidates who ran as populists: Senator Al Franken of Minnesota, Senator Jeff Merkley of Oregon and Senator-elect Gary Peters of Michigan.

Mr. Merkley won by 19 percentage points with a campaign centered on the loss of well-paying jobs, the spiraling cost of college tuition and his opposition to trade deals that he said send jobs overseas. While Democrats nationally were losing whites without a college degree by 30 percentage points, Mr. Merkley narrowly carried that bloc of voters.
"We didn't lose them here in Oregon because we talked about what they care about," Mr. Merkley said.
What do you think? Is Oregon an anomaly? Or should the rest of the country learn a lesson from what happened here?
If Democrats everywhere follow Oregon's example, we can send the Republican Party the way of the Whigs.
Cartoon: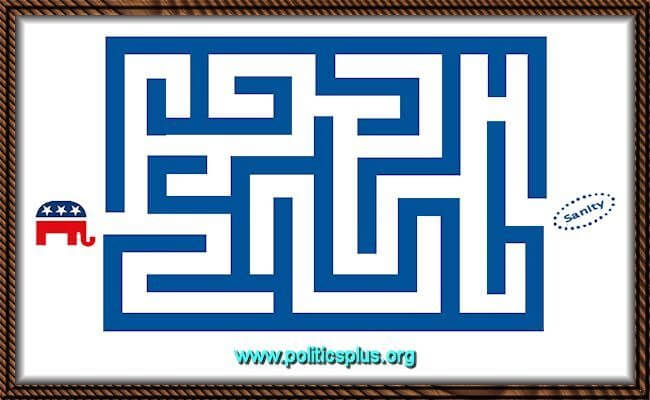 He'll never find his way.  He would have to turn left.