The first part of the day was steady with trying to finish some research and work on a more involved article. Then it was off to see my mother who lives in a care centre. She needs 24/7 care as she is in the late stages of dementia. I fed her dinner which smelled really good. There was an extra dinner at the table which staff said I should eat, so I did and it tasted even better than it smelled. As a member of the Family Council advocating for family members, I will be able to report back on the quality of food. Again this evening, I was breaking up fisticuffs between several women — I wonder if the full moon has anything to do with it. In addition to sitting with my mother and rubbing her back and shoulders which she really likes, I am an extra pair of eyes and hands to help staff. When I arrived home, I was exhausted but also anxious. It is hard to watch a parent die a little bit every day. So now I am calm again and I am off to bed. My three cats will be soothing to me, their gentle breathing and purring. Good night all.
Puzzle — Today's took me 3:13 (average 4:34). To do it, click here. How did you do? For those that don't know, we always do the 48 piece classic.
Short Takes
CBC — A U.S. drug company is taking the Canadian government to court for its attempt to lower the price of what has been called the world's most expensive drug.
Alexion Pharmaceuticals has filed a motion in Federal Court, arguing that Canada's drug price watchdog has no authority to force the company to lower its price for Soliris. …
A University of Ottawa professor who specializes in health law said he was shocked that Alexion would challenge Canada's authority to regulate drug prices. If Alexion's case is successful, it could end Ottawa's ability to control the cost of patented drugs, Amir Attaran told CBC News.
"This is the single greatest threat to pricing of drugs in Canada ever," he said Thursday.
The provincial governments in Canada negotiate drug prices directly. Medical associations are currently pushing the federal government to do this nationally. In the past, some Americans have also arranged to get their medications from Canadian pharmacies to take advantage of our lower prices. So, if Alexion Pharmaceuticals wins this case, the whole idea of affordable medicines goes out the door. For Alexion, this is all about their profits. For Canada, this is all about healthcare for 33 million Canadians. Watch also the rise in such things should the TPP come to fruition.
Daily Kos — Each week, TIME Magazine designs covers for four markets: the U.S., Europe, Asia and the South Pacific. Often, America's cover is quite, well – different. This week offers a stark example.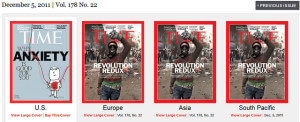 How much does this contribute to the "dumbing down" of the US population (and Canada's since we get the same US cover)? In general, the US population is wildly ignorant on international events, and often ignorant on domestic issues. Have a look at the current political rhetoric, particularly from the Republican side. It's a lot of marketing by fear . . . fear of diversity, fear of Iran, fear of Islam, and the list goes on. Faux Noise aka Fox (I refuse to call Fox news because it is at best, opinion) is a prime example, but not the only one by far. The author asks "do these moments of marketing (through a choice in covers) reveal more about Americans, or about the state of American journalism?" I think both because the magazine in this case is pandering to make more money and increase its market share. But it also serves to increase American xenophodia.
The Nation — Not content with alienating single women, Latinos and the LGBT community, the two front-runners for the Republican nomination indulged in some naked Islamophobia this past week.
Then Ben Carson appeared on Meet The Press, where he told Chuck Todd that Islam was inconsistent with the Constitution and said that he "would not advocate that we put a Muslim in charge of this nation." …
…and there's no evidence that they embrace extremism at a higher rate than Christians or Jews. …
It's time for this to stop. After 400 years in the Americas, and having helped build and defend this country, we need to accept that American Muslims are just as American—and just as loyal—as anyone else.
An excellent piece from The Natiion which I hope you'll read in its entirety. No one people or religion has a lock on extremism. Timothy McVeigh, a white Anglo Saxon Roman Catholic, blew up the Alfred P. Murrah Federal Building in Oklahoma City, OK where 168 were killed and over 680 were wounded.
My Universe — The Box!