What a day!  When I was in the hospital I had to buy one thing online with my credit card, and it was hacked from the hospital guest network.  US Bank caught the first bogus attempt to use it immediately, froze the card, and will have a replacement in my hands by Monday.  Their service is great, but I charge so many things, that I shall have to update a bunch of vendors, and it's a huge pain in the ass.  Having to reschedule my surgery was a brain fart.  I thought my preliminary appointment was next Thursday.  I was wrong.  It was tomorrow, and I'm not that far healed yet.  So it's on for Tuesday, 7/18.  My bowels have still not settled down.  I had three days or Republicitis, attacked per doctor's orders with ever increasing doses of Dulcolax and stool softener.  The breakthrough came this morning.  Instant Republicosis!  Who would have ever believed that so much shit could fit into one person!!!  ARGH!!  My friend Sandi, with whom I do volunteer work, will be here to visit in about fifteen minutes.  Store to Door is coming with my grocery order.  And Wendy comes this evening to de-stink the very stinky TomCat.  This will be my only article today.  What a day!!  (Later: I had a good visit with my friend.)
Jig Zone Puzzle:
Today's took me 3:42 (average 4:50).  To do it, click here.  How did you do?
Short Takes:
From YouTube: Jeff Sessions DOES NOT RECALL!!!
Sorry about the Morning Joe pollution at the end. The rest of KKK Beauregard's testimony can be summarized in three words: "I won't say." RESIST!!
From Daily Kos: As a team composed of Republican Congressman and staffers were practicing baseball at a field near Alexandria, VA, a shooter fired into the field, wounding Congressman Steve Scalise, along with a Congressional staffer and two Capitol Police officers.
The shooter was apparently a white male. According to Congressman Jeff Flake, the shooter was "in his 40s, maybe 50," white, with dark hair. Several observers noted that he was wearing a blue shirt.
At least two Congressman have reported that they spoke with the man they believed to be the shooter before the incident, with Congressman Jeff Duncan reporting that the man asked if the team practicing was Democrats or Republicans. However, Democrats practice at another field. Multiple Republicans had this morning's practice, which is preparation for a charity game, noted on their calendars. So it's likely the shooter would not have arrived on the field, armed, without knowing which team was present.
This is not the way to resist, so I trust this was not a Democrat.  However, it was only a matter of time before disgruntled Republican Ammosexuals opened the season on their Congress critters. RESIST!!
From NY Times: In 2016, the Democratic Party lost the presidency to possibly the least popular candidate in American history. In recent years, Democrats have also lost the Senate and House to right-wing Republicans whose extremist agenda is far removed from where most Americans are politically. Republicans now control almost two-thirds of governor's offices and have gained about 1,000 seats in state legislatures in the past nine years. In 24 states, Democrats have almost no political influence at all.
If these results are not a clear manifestation of a failed political strategy, I don't know what is. For the sake of our country and the world, the Democratic Party, in a very fundamental way, must change direction. It has got to open its doors wide to working people and young people. It must become less dependent on wealthy contributors, and it must make clear to the working families of this country that, in these difficult times, it is prepared to stand up and fight for their rights. Without hesitation, it must take on the powerful corporate interests that dominate the economic and political life of the country.
There are lessons to be learned from the recent campaign in Britain. The Conservatives there called the snap election with the full expectation that they would win a landslide. They didn't. Against all predictions they lost 13 seats in Parliament while Jeremy Corbyn and the Labour Party won 32. There is never one reason elections are won or lost, but there is widespread agreement that momentum shifted to Labour after it released a very progressive manifesto that generated much enthusiasm among young people and workers. One of the most interesting aspects of the election was the soaring turnout among voters 34 or younger.
The British elections should be a lesson for the Democratic Party. We already have among the lowest voter turnout of any major country on earth. Democrats will not win if the 2018 midterm election turnout resembles the unbelievably low 36.7 percent of eligible voters who cast ballots in 2014. The Democrats must develop an agenda that speaks to the pain of tens of millions of families who are working longer hours for lower wages and to the young people who, unless we turn the economy around, will have a lower standard of living than their parents.
Bernie Sanders makes several valid points here. RESIST!!
From Memes Happen: One that I made.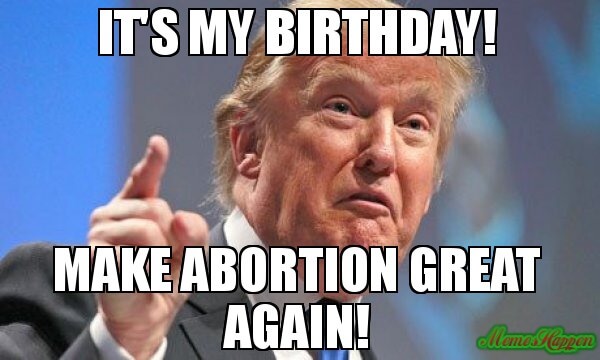 That Trump was not aborted is the most valid support for abortion that has ever existed.  RESIST!!
Cartoon: