I'm writing for tomorrow, day 169.  I took the regular bus to my Cat Scan.  Since I was actually there less than half an hour, the upside is that it took me 3 – 4 hours less than the Lift Bus would have.  The downside is that I had to walk about 1.75 miles in places where there was no shade.  I took water, but I'm quite worn out.  Fortunately I did research before I left, so you get a full Open Thread.
Jig Zone Puzzle:
Today's took me 3:03 (average 4:59),  To do it, click here.  How did you do?
Short Takes:
From NY Times: In its campaign across northern Syria and Iraq, the jihadist group Islamic State has been using ammunition from the United States and other countries that have been supporting the regional security forces fighting the group, according to new field data gathered by a private arms-tracking organization.
The data, part of a larger sample of captured arms and cartridges in Syria and Iraq, carries an implicit warning for policy makers and advocates of intervention.
It suggests that ammunition transferred into Syria and Iraq to help stabilize governments has instead passed from the governments to the jihadists, helping to fuel the Islamic State's rise and persistent combat power. Rifle cartridges from the United States, the sample shows, have played a significant role.
I've heard many ask, of late, why we don't just give weapons to the people fighting ISIL and let them deal with it. This is the reason.
From Think Progress: New Hampshire Sen. Kelly Ayotte (R) argued on Sunday that President Obama has declared war against ISIS in Iraq and Syria in order to help Democrats win the midterm elections in November and expressed concern that he would abandon the fight in the new year.
Is that a load of RS (fouler than BS) or what? Throughout his presidency, Obama has been more willing to use military force than most anticipated.
From Right Wing Watch:
Last month, a number of Americans joined anti-gay and anti-abortion-rights activists from around the world at a Kremlin-backed conference on "Large Families and the Future of Humanity" in Moscow. The conference was originally organized under the name of the Illinois-based World Congress of Families, but WCF "suspended" its planning of the event after Russia seized part of Ukraine…then the event went ahead as planned with only nominal changes. Two WCF officials, Don Feder and Larry Jacobs, attended the conference officially in their personal capacities, and Feder gave a speech on how the sexual revolution will make the human race extinct.
Despite doing it on the sneak, Republican Supply-side pseudo-Christians are still offering fool support for Vladimir "GOP Pootie" Putin (R-RU) in his Republican campaign of hatred against gay people.  This is also sedition.
Cartoon: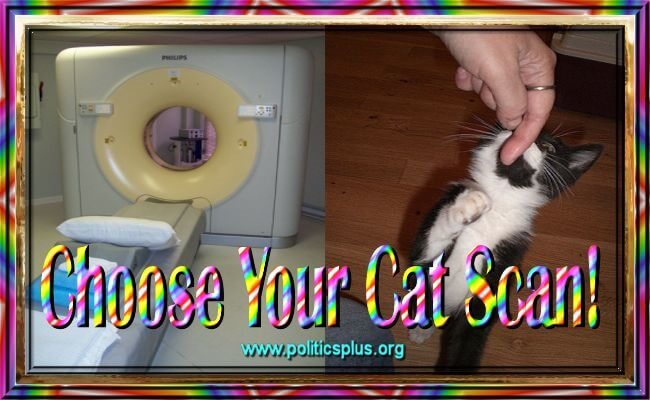 For a mere four bits…
I'll sniff your nose and your toes…
I'll sniff your eye and your thigh…
I'll sniff your lip and your hip…
Where else can you get such a thorough Cat Scan for fifty cents?