I'm writing for tomorrow, day 42.    I'm still mostly down and feeling pretty lethargic, so this my only article.  Tomorrow was supposed to be a prison volunteer day, but because it's social meeting rather than work, and since I need my groceries delivered tomorrow, I had to opt out.
Jig Zone Puzzle:
Today's took me 4:28 (average 5:10).  To do it, click here.  How did you do?
Fantasy Football Report:
Here's the playoff picture from our own fantasy football league, Lefty Blog Friends.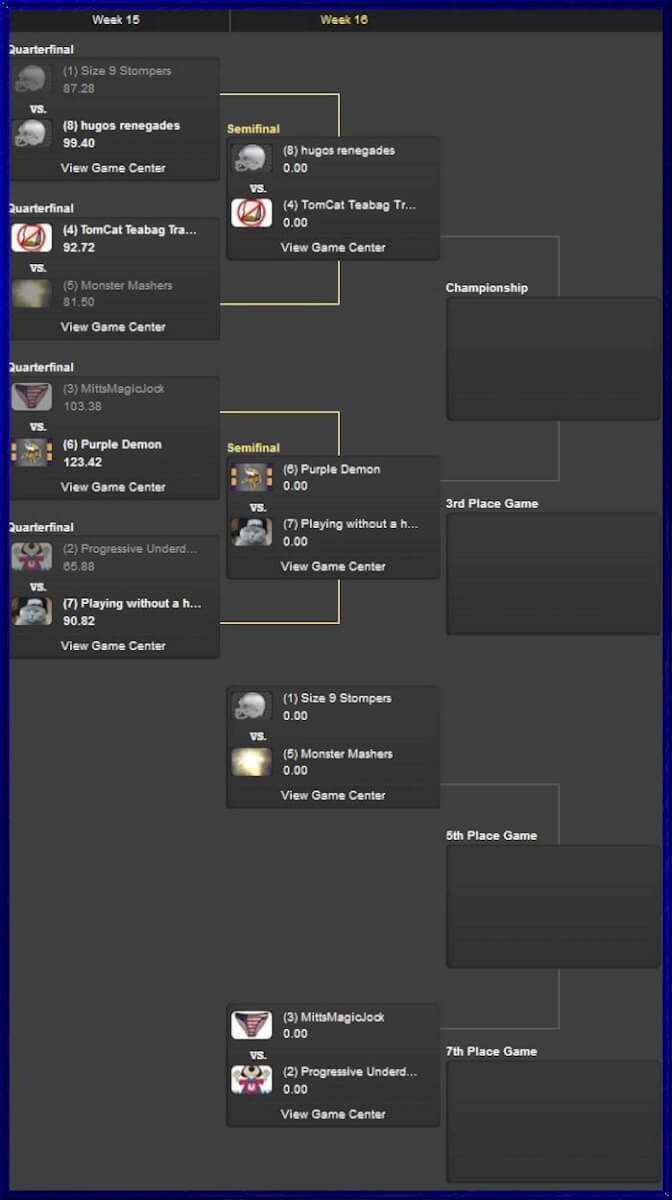 It's not at all unusual for leading teams to lose in the first round, but for those nwho did, there are still consolation games to play.
Short Takes:
From Daily Kos: 32 members of the Democratic caucus and 24 Republicans supported it. 22 members of the Democratic caucus and 18 Republicans opposed it.
So who were the naughty 32?
Tammy Baldwin (D-WI)
Mark Begich (D-AK)
Michael Bennet (D-CO)
Ben Cardin (D-MD)
Tom Carper (D-DE)
Bob Casey (D-PA)
Chris Coons (D-DE)
Joe Donnelly (D-IN)
Dick Durbin (D-IL)
Kay Hagan (D-NC)
Martin Heinrich (D-NM)
Heidi Heitkamp (D-ND)
Tim Johnson (D-SD)
Tim Kaine (D-VA)
Angus King (I-ME)
Mary Landrieu (D-LA)
Pat Leahy (D-VT)
Barbara Mikulski (D-MD)
Chris Murphy (D-CT)
Patty Murray (D-WA)
Bill Nelson (D-FL)
Mark Pryor (D-AR)
Harry Reid (D-NV)
Jay Rockefeller (D-WV)
Brian Schatz (D-HI)
Chuck Schumer (D-NY)
Jeanne Shaheen (D-NH)
Debbie Stabenow (D-MI)
Mark Udall (D-CO)
Tom Udall (D-NM)
John Walsh (D-MT)
Mark Warner (D-VA)
he rationale of some was, once it passed the House with Obama's support, Senate Democrats would take the blame for a subsequent shutdown. That is true.  You asked for the list.
From NY Times: The Senate on Monday confirmed President Obama's nominee for surgeon general, ending a long fight over gun control and politics that had left the country without a permanent top doctor for a year and a half.
In an early-evening vote, Dr. Vivek H. Murthy, an internal medicine physician, was approved, 51- to 43.
The confirmation was one of the last acts of business for the Democratic-controlled Senate. Had it not moved, the nomination would have died, making it unlikely the president would have been able to get anyone approved to the post for the remainder of his time in the White House.
We Actually have Ted "Go Back Home" Cruz to thank for this. His idiotic move to hold up the horrible budget deal, while he preened for the cameras, is what kept the Senate open over the weekend, providing time for this and other confirmations.
From Common Dreams: Promising to put forth and lobby on behalf of two bold progressive policy ideas in the months ahead, Sen. Bernie Sanders (I-Vt.) has announced his intention to push for new pieces of legislation in the next session, one of which would break up the nation's largest Wall Street banks and another that would expand the Social Security program for all Americans.
I fully support both of Bernie's ideas, but the chances of it passing the Senate, let alone even getting a vote in the House, bring snowballs and perdition to mind.
Cartoon: