Tomorrow morning, I'll be leaving for a prison volunteer trip to Salem, and I will not return until Friday afternoon.  Therefore, for the next three days, expect an Open Thread at most, and more likely, just a personal update.  Let me wish you an excellent week, in advance.
Jig Zone Puzzle:
Today's took me 4:01 (average 5:58).  To do it, click here.  How did you do?
Short Takes:
From The New Yorker: In the aftermath of Irish voters legalizing gay marriage, Louisiana Governor Bobby Jindal has used his emergency powers to ban all Irish products from the state.
The sweeping trade sanctions will prevent popular Irish products, such as Jameson whiskey and Guinness Extra Stout, from being sold in Louisiana.
Jindal explained that breaking off trade with Ireland was necessary to protect the sanctity of marriage in Louisiana.
Andy has exposed a Republican disaster. Without Jameson, Agent Orange will be incapable of visiting Louisiana.
From NY Times: They are only four words in a 900-page law: "established by the state."
But it is in the ambiguity of those four words in the Affordable Care Act that opponents found a path to challenge the law, all the way to the Supreme Court.
How those words became the most contentious part of President Obama's signature domestic accomplishment has been a mystery. Who wrote them, and why? Were they really intended, as the plaintiffs in King v. Burwell claim, to make the tax subsidies in the law available only in states that established their own health insurance marketplaces, and not in the three dozen states with federal exchanges?
The answer, from interviews with more than two dozen Democrats and Republicans involved in writing the law, is that the words were a product of shifting politics and a sloppy merging of different versions. Some described the words as "inadvertent," "inartful" or "a drafting error." But none supported the contention of the plaintiffs, who are from Virginia.
By now most Republican politicians realize that, if the fascist five Injustices of SCROTUS (Republican Constitutional VD) invalidate Obamacare, it will be a disaster for the Republican Party. However, they were so effective at brainwashing rabid sheeple to hate it, that they now have to live in fear of their own base.
From Washington Post: You may not have realized it, but a large cohort of Americans did something brave this month. For years — in some cases, decades — these lonely, marginalized souls had repressed their shameful feelings, hiding them from the world.
Then May came along, and they finally decided to come out of the closet.
As liberals.
That's right: A large chunk of Americans recently decided to come out as "liberal" — socially liberal, to be specific. As a result, for the first time on record, self-proclaimed social liberals are no longer outnumbered by their conservative counterparts.
That's according to a new Gallup poll that finds the shares of American adults considering themselves "socially liberal" and "socially conservative" each total 31 percent. (The remaining respondents either called their views "moderate" or had no opinion.) Gallup has been tracking these categories since 1999, and the latest numbers simultaneously signify the highest share ever recorded for liberals and the lowest recorded for conservatives.
I'm one, and I was admitting it when it was still a very dirty word. What shocks me is the 31% that are still goose stepping to the drum beat of Republican hate.
Cartoon: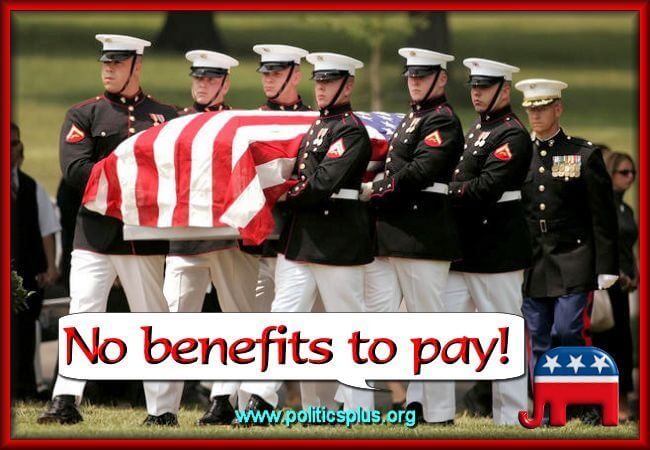 How Republicans celebrated Memorial Day.