So, the election is over. What now? Without doubt, the Democrats will be analysing their goals and values, their platform, their methods, their infrastructure, and their communication, not unlike the Republicans did after 2012 when Obama won re-election. Republicans made some surface changes but nothing really changed . . . there was still a war on women, a war on equality, a war on science, a war on civil rights, a war on affordable healthcare. Progressives must do much better.
* The title of this article is a direct quote from Garry Kasparov, former world chess champion and a vocal opponent of Putin.
Some ordinary citizens react to the Trump victory with mostly peaceful protests around the country.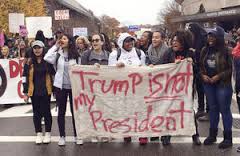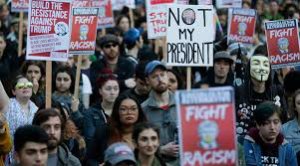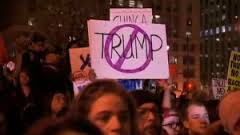 Some of that "hated" press reacts to the Trump victory: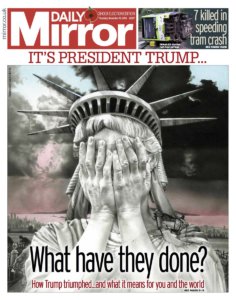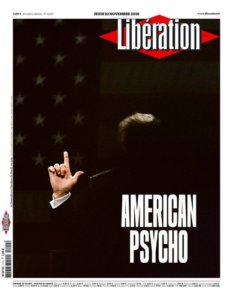 Click through for more headlines at The Guardian.
Reactions to Trump's election victory from around the world by MSN.com — PM Justin Trudeau of Canada said Canada and the US share the same values and is sticking with the "I'll work with him" but how that will go is anyone's guess, especially after the warm relationship with the Obamas. Respectfully, I disagree with him as I do not think that Canadians and the Trumpians share the same values. In Mexico, Andrés Manuel López Obrador called for calm and reminded all that Mexico is "a free, independent, sovereign country". BTW, the Mexican Pesos dropped in value so far that it's richest man, Carlos Slim, lost $5 billion from his investments over night. The EU wants to sit down with Trump to seek "reassurance on key issues on which Trump's remarks on the campaign trial have rattled European leaders, including migration, climate change and Russia's threat to Ukraine." George Freeman of the No 10 policy board in the UK "…at one point described him as Trumpolini, added: "the key now is how he governs, and who he appoints to his administration"." In France, François Hollande, who supported Hillary Clinton, said the win "opens up a period of uncertainty" that "must be faced with lucidity and clarity". The German defence minister, Ursula von der Leyen, said "I think Trump knows that this was not a vote for him but rather against Washington, against the establishment." Pablo Iglesias of Spain said "The vaccine against Trump's fascism is social justice and human rights, not more establishment. There are people in the US who will resist.". But the Prime Minister was more conciliatory. Of course Netanyahu was happy with Trump's win, but the Palestinians not so much. As should be expected given past relations, Mohammad Javad Zarif, Iran's foreign minister said "America has to implement the international obligation it accepted under the nuclear deal." Since many Republicans were against the nuclear agreement, I wonder if they will just tear it up. This is a big issue for some of my Iranian friends who still have family in Iran. They are very uneasy. A spokesperson for China's foreign ministry said "We will work with the new US president to ensure the steady and sound development of bilateral relations so as to benefit the people in both countries as well as around the world," I wonder if he is aware that Trump has said he'll move to have China on the carpet for currency manipulations and other faux pas.
The Washington Post reported that an amalgamation of reactions from Islamic extremists appeared on the Lebanon based Now News English website as: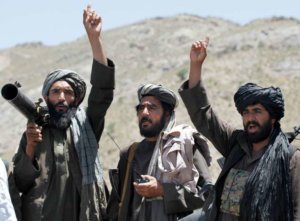 The remarks signaled the militants' apparent belief that the victory of a candidate like Trump, who has suggested potentially unconstitutional blocks on Muslim immigration and advocated torture, undermines the United States' moral standing in the world.
This reaction by Keith Olbermann
A tweet from Michael Moore courtesy of The Huffington Post
Morning After To-Do List:
1. Take over the Democratic Party and return it to the people. They have failed us miserably.
2. Fire all pundits, predictors, pollsters and anyone else in the media who had a narrative they wouldn't let go of and refused to listen to or acknowledge what was really going on. Those same bloviators will now tell us we must "heal the divide" and "come together." They will pull more hooey like that out of their ass in the days to come. Turn them off.
3. Any Democratic member of Congress who didn't wake up this morning ready to fight, resist and obstruct in the way Republicans did against President Obama every day for eight full years must step out of the way and let those of us who know the score lead the way in stopping the meanness and the madness that's about to begin.
4. Everyone must stop saying they are "stunned" and "shocked". What you mean to say is that you were in a bubble and weren't paying attention to your fellow Americans and their despair. YEARS of being neglected by both parties, the anger and the need for revenge against the system only grew. Along came a TV star they liked whose plan was to destroy both parties and tell them all "You're fired!" Trump's victory is no surprise. He was never a joke. Treating him as one only strengthened him. He is both a creature and a creation of the media and the media will never own that.
5. You must say this sentence to everyone you meet today: "HILLARY CLINTON WON THE POPULAR VOTE!" The MAJORITY of our fellow Americans preferred Hillary Clinton over Donald Trump. Period. Fact. If you woke up this morning thinking you live in an effed-up country, you don't. The majority of your fellow Americans wanted Hillary, not Trump. The only reason he's president is because of an arcane, insane 18th-century idea called the Electoral College. Until we change that, we'll continue to have presidents we didn't elect and didn't want. You live in a country where a majority of its citizens have said they believe there's climate change, they believe women should be paid the same as men, they want a debt-free college education, they don't want us invading countries, they want a raise in the minimum wage and they want a single-payer true universal health care system. None of that has changed. We live in a country where the majority agree with the "liberal" position. We just lack the liberal leadership to make that happen (see: #1 above).
From Daily Kos
Donald Trump has won the presidency after narrowly carrying a few states to put him above 270 electoral votes.
But according to the latest numbers, Hillary Clinton won the popular vote. The game is rigged.
In other words, we have a similar situation as in 2000—where the candidate who more voters picked did not become president. It is unfair, undemocratic & we must eliminate the Electoral College.
Eliminating the Electoral College does not even require a constitutional amendment. An effort known as TheNational Popular Vote Interstate Compact is an agreement among several U.S. states and the District of Columbia to award all their respective electoral votes to whichever presidential candidate wins the overall popular vote. Once states totaling 270 electoral votes join the compact–which only requires passing state laws– then the next presidential election will be determined the the popular vote, not the Electoral College.
As of November 9, 2016, ten states and the District of Columbia have signed the compact, totaling 165 electoral votes. So, we are already over 60% of the way there. If we can make this a national issue now, and if Democrats can do well at the state level in the 2018 midterm elections (which could happen under President Trump), then the winner of 2020 presidential election will be determined by popular vote.
Sign the petition: End the Electoral College. Elect Presidents by national popular vote. (click "Not Lynn" on the petition to get a signable blank form)

"So Drumpf, do you think the election is rigged now?" Drumpf is on record as saying that the only way he would accept that the election was not rigged is if he won. Well, unfortunately, he won. And as tired as we all are of the nasty politics that ushered in Drumpf and a Republican majority Congress, we need to look forward to 2 years from now, 2018, and the midterm elections, and 4 years from now, 2020, and build the progressive infrastructure starting now.
Now a little levity from Stephen Colbert and Jon Stewart on Monday night's Late Show to end on an up beat.