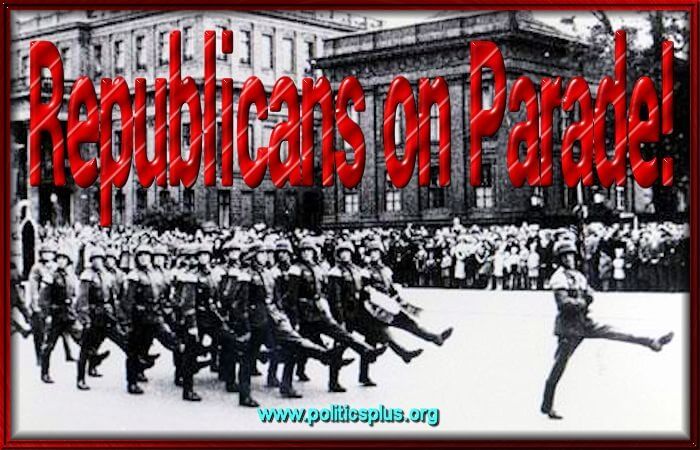 Here is the sixtieth article in our Republicans on Parade series, featuring individuals who personify what the Republican Party has become. Today's honoree is recent Arizona Republican Party vice-chair, Russell Pierce. He is so honored because he mistakenly told the truth about the Republican plan for women's rights and his Republican pseudo-Christian care for the poor.
The former Arizona lawmaker who sponsored the state's stringent anti-immigration law resigned as a top state Republican official late Sunday amid criticism for remarks he made supporting mandatory birth control or sterilization for Medicaid recipients.

Russell Pearce, a former state senator, stepped down as the party's first vice chairman late Sunday, after several fellow Republicans running for statewide office denounced his comments and a Republican congressional candidate called for his resignation.

During a discussion on Sept. 6 on his radio show about the state's public assistance programs, Mr. Pearce said: "You put me in charge of Medicaid, the first thing I'd do is get Norplant, birth-control implants or tubal ligations."

He continued, "Then we'll test for drugs and alcohol," before adding that those who want more children should "then get a job."…
Inserted from <NY Times>
Here's the audio.
Barf Bag Alert!!
Pearce has been on my radar for a long time now.  He is the racist with strong Nazi part credentials who was behind Arizona's infamous Papers Please law.  Four years ago I covered how he tried to steal his recall election.  Three years ago, I covered his defeat.
He has thoroughly upset fellow Republicans by exposing their plans for America's future.
I don't know what to say.  This walking sphincter is so prototypical of the Republican agenda, that it amazed me that I have not paraded him long ago.  Please accept my apologies for being so long overdue.