I'm back in the saddle after my appointment, and if you missed it yesterday, both my eyes are in fine shape.  I think I made the right choice when I chose lens replacements, whose best focal distance is the distance from my screen, since that's where I spend most of my time.  I have reading glasses for close in and distance glasses for out and about.  My new glasses will be progressive.  (I wouldn't dream of wearing Republican glasses!!)
Jig Zone Puzzle:
Today's took me 2:45 (average 5:00).  To do it, click here.  How did you do?
Fantasy Football Report:
Here are last week's results from our own fantasy football league, Lefty Blog Friends.
Scores: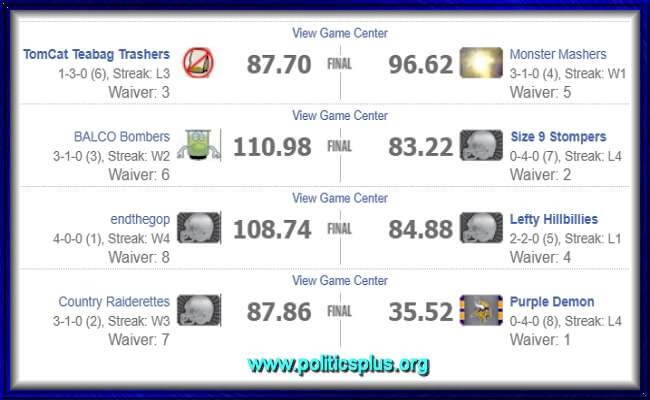 Every week, I need more Vaseline.
Standings: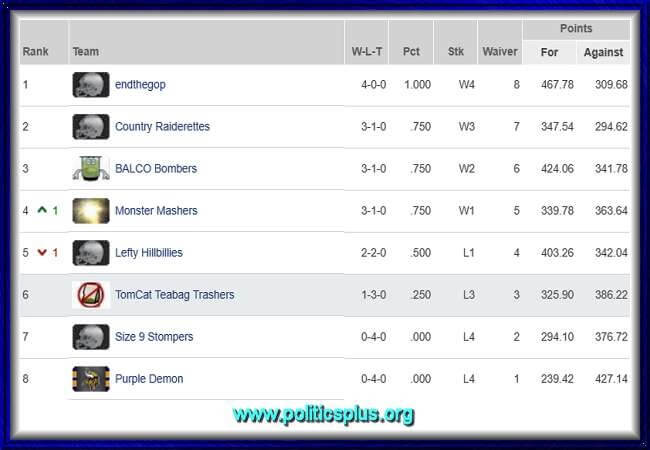 Congrats To Pam, who still leads the league.  I play the Squatch this week.  Players, have your lineup set by Thursday.
Short Takes:
From YouTube (GQ Channel): Trump's "Condolences and Sympathies" Won't Cut It
I could not agree with Keith more. RESIST!!
In sharp contrast, here is part of the Republican view.
From YouTube (RWW Channel): RWW News: Dave Daubenmire Says Vegas Shooting Was 'The Wrath Of God' On A Wicked Nation
Barf Bag Alert!!
Republicans love to use Republican Supply-side Jesus (the polar opposite of the real Jesus) to justify their terrorism. RESIST!!
From YouTube (MoveOn Channel): Ari Berman on Egregious Gerrymandering
I'm hopeful, but given the current makeup of SCROTUS (Republican Constitutional VD), I'm not making any bets. RESIST!!
Cartoon: