It has been a busy day with over 2 hours of physiotherapy and then 3 hours of teaching. After a quick trip for a loaf of bread — yum, cinnamon bread (has shaved cinnamon in it!) — I arrived home. No cat nap today, although I would have loved one!
Puzzle — Today's took me 4:03 (average 5:53). To do it, click here. How did you do? For those that don't know, we always do the 48 piece classic.
Short Takes
Alternet — Bill Maher took some time out on Friday night's Real Time to point out the modern GOP was currently worshiping a totally fantastical Jesus. One who's contemptuous of the poor, greedy, and less about values and more about maximizing shareholder value.
Read the remainder of this short Alternet article and watch the video above. Bill is always entertaining.
ABC News — South Carolina is enduring its worst rains "in 1,000 years," Gov. Nikki Haley said Sunday, urging residents to stay off the roads as conditions were "changing by the minute," with roads flooding and rivers at their highest levels in decades.
According to the National Weather Service, one area of downtown Columbia, the South Carolina capital, received nearly 17 inches of rain in 17 hours, and it was still raining.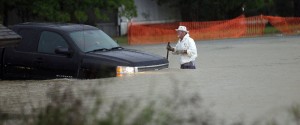 Consensus has it that this large and powerful storm is not part of Hurricane Joaquin but certainly influenced by Joaquin. Read the rest and see the live reporting at ABC News. There will be more and more extreme weather unless we learn to effectively deal with global warming and climate change. That is not a Democratic thing or a Republican thing. . . that is a human thing. Please keep the people of the affected areas and their families in your thoughts and prayers.
Mother Jones — "It seems like there is nothing like a mass shooting to suddenly spark political interest in mental health," Oliver said, while featuring the talking points of Republican presidential candidates Donald Trump, Ben Carson, and Mike Huckabee—all of whom steered away from discussing increased gun control legislation after the shooting in Oregon, to tout the need for better mental health programs.
John Oliver makes some very salient points about mental health and gun control. Society needs to look seriously at how we deal with mental illness , but it also needs to deal with gun control.
My Universe — I love me some Simon's Cat. What cat parent has not had to deal with this?