Today was one of those days! I missed my alarm and awoke 5 minutes before physio. I was going to be very late so we rescheduled to 14:30. I promptly fell back asleep for 2 hours. So much for getting some chores done. Over 2.5 hours of physio, which included 40 minutes of peddling my sasquatch butt on the recumbent bicycle, I was done. Tomorrow I take the furbabes for their annual checkups and vaccinations. I am guaranteed to be tired after corraling the beasts and transporting them. Their godfather (the vet) will be very glad to see them! When I saw my mother Sunday, I told her that her grandcats said "meow, meow, meow!" and she gave me a big smile.
Short Takes
Alternet — … William J. Kruvant described the process in a 1975 journal article:
"Disadvantaged people are largely victims of middle- and upper-class pollution because they usually live closest to the sources of pollution—power plants, industrial installations, and in central cities where vehicle traffic is heaviest. Usually they have no choice. Discrimination created the situation, and those with wealth and influence have political power to keep polluting facilities away from their homes. Living in poverty areas is bad enough. High pollution makes it worse."
Environmental racism. I had not heard the term before, but it certainly makes sense. And that same idea also extends to poor people. I remember as a small child living in a small house in a very working class neighbourhood. Next to the house (within 20 feet) was a railroad line that carried industrial supplies so trains were heavy and rattling. On the other side of the tracks was a canal, heavily polluted with industrial waste. Directly across the street was a hydro-electricity plant, and just across the canal on the same side as the plant, was the Massey Ferguson plant (manufactured farm implements) and all it's spewing of pollution. As soon as they could afford it, my parents moved us to a neighbourhood away from the pollution. Click through to see 7 US communities of colour subjected to a toxic assault. Here is the report mentioned in the article: Toxic Wastes and Race at Twenty 1987—2007 . Look at pages 124-133 to see New Orleans, post Katrina, and pages 134-151 to view Dickson County, Tennessee.
Huffington Post — A Texas grand jury has indicted two anti-abortion activists in a case involving covert videos on fetal tissue procurement talks with Planned Parenthood and found there was no wrongdoing on the part of the health group, a district attorney said on Monday.
The grand jury decision was a result of a probe launched last year under Texas Governor Greg Abbott, a Republican, who accused Planned Parenthood of the "gruesome harvesting of baby body parts." No evidence was provided by Texas to back the claim.
Good news! Now will there be a conviction when the case goes to trial?
Mother Jones — On Monday, the US Supreme Court permanently laid to rest North Dakota's controversial "fetal heartbeat" law that would have banned abortions as early as six weeks into a pregnancy. …
After a series of appeals, a federal judge again ruled the law unconstitutional in July. Once more the state appealed the ruling and it went to the Supreme Court. But the court on Monday refused to review the lower court's ruling, effectively overturning the ban.
More good news!
My Universe —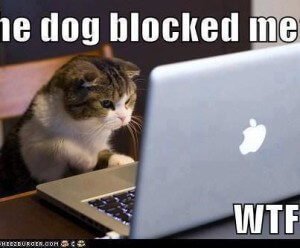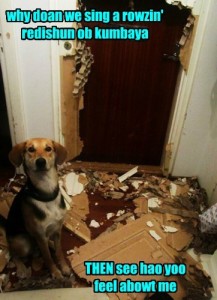 And that's not all the dog blocked!