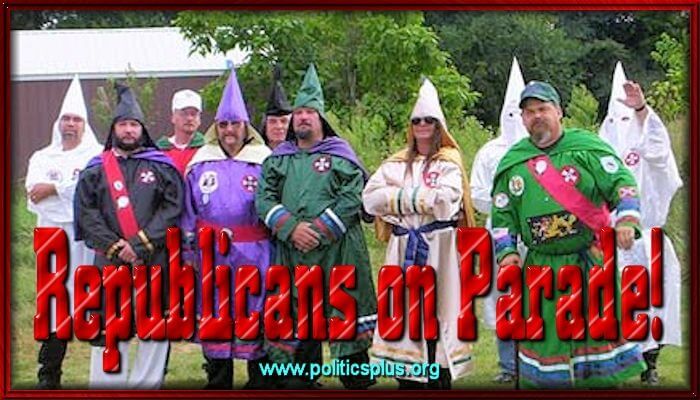 Here is the fifty-first article in our Republicans on Parade series, featuring individuals who personify what the Republican Party has become. Today's honoree is GOP State Representative and US House candidate Adam Kwasman. He is so honored for demonstrating his Republican hatred, racism and stupidity.
…As you might expect, there's been a major boneheaded failure already in these nascent attempts at pretending to have "compassion" for the migrant children and pretending that the desire to send them back is borne out of this "compassion". Adam Kwasman is one of those frothing-at-the-mouth anti-immigrant state legislators in Arizona—naturally, he's also running for Congress—and he was trying to strike the "I just care so much about these kids!" pose by describing what he said was a bus full of migrant children that he believed were afraid.

In pure politician bullshit mode, Kwasman said, "I was actually able to see some of the children in the buses. The fear on their faces…. This is not compassion." He went on to imply that the Obama administration is somehow failing at "border security" and that being stricter about it in some abstract way would prevent the "sad" kids, presumably by allowing them to die quietly in the desert instead of make it across the border. Compassion!

The problem is that the bus he saw was not actually a bus full of migrant children. It was a school bus full of kids on their way to a YMCA camp…
Inserted from <Raw Story>
The video in the article could not be embedded, but I was able to find one with similar content.  This fool thought he had succeeded in intimidating a busload of refugee children.  Watch him squirm, as he realizes he has TEAbuggered himself.
Regardless of whether or not the children were foreign, or whether or not they actually were afraid, Kwasman considered striking fear into the hearts of refugee children something to brag about. It's hard to get more Republican than that!
When you consider the determination and courage it took for such refugees to make it here, let me suggest that, given the chance, they would become far more productive citizens than the Republicans who are blocking the roads, waving their guns and venting their hatred.