It's a crazy day.  We have 87° and muggy forecast, which would tie the record for this date, so my AC is fighting to keep up with the sun on the wall.  I'm afraid it has ruined the lovely shower Wendy gave me yesterday.  My replacement credit card came this morning, and I updated my most critical vendors, but there are many more to update.  I hope you had a fantastic weekend.
Jig Zone Puzzle:
Today's took me 2:49 (average 4:45).  To do it, click here.  How did you do?
Short Takes:
From NY Times: A member of President Trump's legal team said on Sunday that the president was not under investigation by the special counsel looking into Russia's election-year meddling, contradicting Mr. Trump's assertion in a Friday morning tweet that he is a subject of the widening inquiry.
The denial on Sunday by Jay Sekulow, one of several personal lawyers Mr. Trump has hired to represent him in the Russia case, is the latest of many examples in which the president's aides and lawyers have scrambled to avert a public-relations mess created by Mr. Trump's tweets, off-script remarks or leaked private conversations.
How can you tell if a lawyer is lying? Look for any sign of life. Trump is not under investigation, the Pope is not Catholic, and bears never, ever shit in the woods. RESIST!!
From Huffington Post: Christian and Jewish clergy members have been part of the movement for reproductive rights for decades. Religious denominations, such as the Anglican Communion, the United Church of Christ, and the Presbyterian Church (U.S.A.), have passed resolutions supporting birth control. And during the 1960s, religious leaders were actually a "driving force" in the movement to legalize abortion in the United States.
Today, this history of activism has largely been overshadowed by prominent voices on the "religious right," who promote the idea that it is impossible to be both religious and pro-abortion rights.
There is no conflict between authentic Christianity and a progressive agenda. Conversely authentic Christianity and the Republican Reich are mutually exclusive. RESIST!!
From TPM: Authorities say a noose was found hanging from a lamp post outside a museum in the nation's capital, the third such incident in recent weeks.
U.S. Park Police Sgt. Anna Rose said the noose was found Saturday afternoon outside the National Gallery of Art.
She said her agency is currently investigating how it got there.
Tourists found a noose last month on the floor of the National Museum of African American History and Culture. A few days earlier another noose had been found on the grounds of the Hirshhorn Museum, which features contemporary art and culture.
Ever since the Dixiecrats became Republicans, the noose has been a Republican calling card. RESIST!!
Cartoon: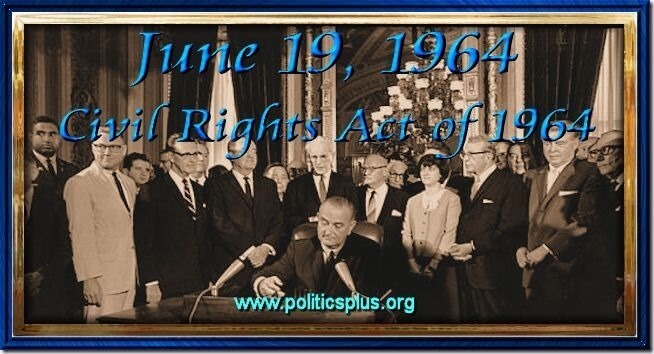 This is when Dixiecrats became Republicans.