Each day I continue to improve, but my stamina remains horrid.  The plan is to love my bed to avoid a relapse.
Jig Zone Puzzle:
Today's took me 3:47 (average 4:56).  To do it, click here.  How did you do?
Short Takes:
From YouTube (Daily Kos Channel): Rep. Jackie Speier on harassment in Congress
I fully agree with her, but am sick of Republicans and biased media using Clinton as an endless equalizer for scores of Republican perverts. RESIST!!
From Houston Chronicle: A Houston-area sheriff said Wednesday he's concerned the driver of a truck displaying an expletive filled message against President Donald Trump and those who voted for him is creating a situation that could lead to confrontations with people offended by the sign.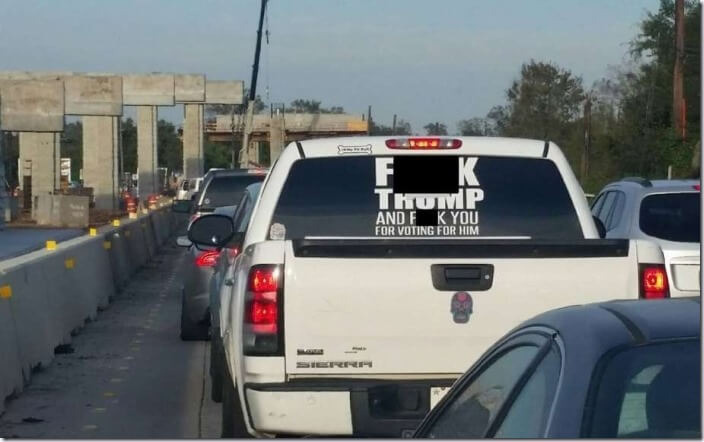 Best window sticker I've seen! RESIST!!
From The New Yorker: Breaking his silence on Alabama's embattled Republican nominee for the U.S. Senate, Donald Trump warned on Wednesday that dumping Roy Moore could start a "dangerous trend" of believing women.
"I think we need to be very, very careful here," Trump told reporters. "This is not just about Roy Moore. This is about our country deciding that we are going to start believing women, something that we have never done before.
"This is a very dangerous road we're heading down," he said.
Trump cautioned that, if instituted, a new practice of believing women would "totally destroy" the system that the country already has in place. "For years we've had a system of believing men," he said. "It's worked very well. It's done a great job."
Kudos to Andy for channeling Trump perfectly! RESIST!!
Cartoon: