I must say that I enjoyed meditation yesterday evening.  Today I made my grocery order.  My guys at OSP have a new staff advisor, and in spite of sending three emails, starting three weeks ago, I stall have not received confirmation that they are expecting me at the prison on Thursday, so I need to chase her down today (accomplished).  Tomorrow I have grocery delivery and Wendy, so my week is getting very busy very fast.
Jig Zone Puzzle:
Today's took me 3:06 (average 5:10).  To do it, click here.  How did you do?
Religious Ecstasy:

Fantasy Football Update:
Here's the latest from our own fantasy football league, Lefty Blog Friends.
Scores: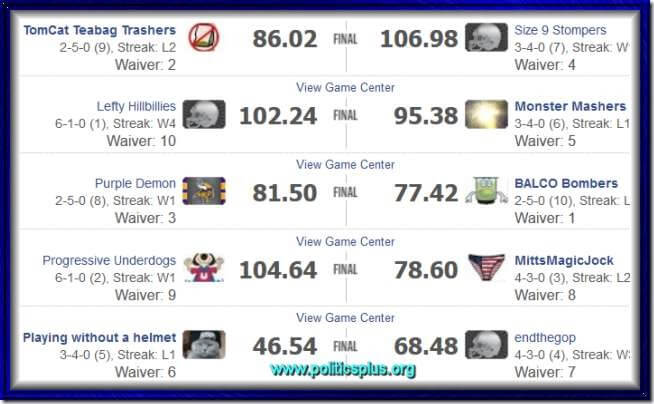 I'm still trapped inside a stinky blob of Sasquatch toe jam!
Standings: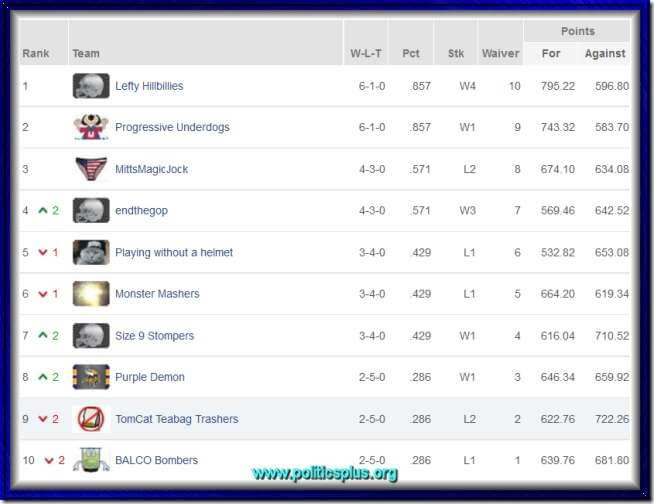 Congrats to Vivian and Rob for leading the league.
Short Takes:
From CBS: Senate Majority Leader Mitch McConnell has never had much to say about Donald Trump. But lately, he has fallen completely silent.
On the few occasions when the Republican leader has appeared publicly in his home state of Kentucky this month, he's either avoided answering reporters' questions, or explicitly refused to address the topic he acknowledged was on everyone's mind: His party's presidential nominee.
At a local Chamber of Commerce event in Danville, McConnell twice instructed the crowd not to ask him about the presidential race "even though that's what I know you all wanted me to talk about."
At an earlier event in Pikeville, McConnell refused to answer a reporter's question about Trump not paying any taxes.
If he had the slightest bit of integrity, he would disavow Trump and withdraw his endorsement, but he has none. That identifies him as a Republican and proves that he is still Bought Bitch Mitch.
From TPM: Outgoing Senate Minority Leader Harry Reid (D-NV) said he is confident that he has laid the groundwork for Democrats to nuke the filibuster for Supreme Court nominees if they win back the Senate in November.
Envisioning Hillary Clinton in the White House and Democrats controlling the Senate, Reid warned that if a Senate Republican minority block her Supreme Court nominee, he is confident the party won't hesitate to change the filibuster rules again.
How long have I been pleading for Democrats to do this?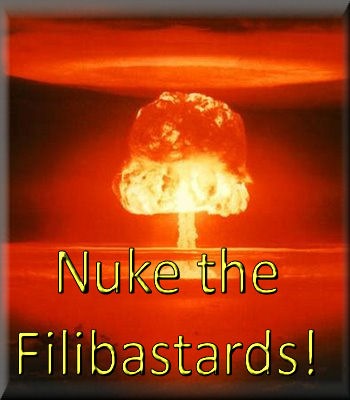 From NY Times: Senator Elizabeth Warren delivered a blistering rebuke of Donald J. Trump on Monday, warning him that "nasty women vote" and imploring a crowd to cast ballots for Hillary Clinton.
"I don't know about you," Mrs. Clinton said as she flashed a thankful smile and seized the microphone from Ms. Warren at a rally in Manchester, N.H. "But I could listen to Elizabeth Warren go on all day."
She might have to.
With polls and early voting data signaling that Mrs. Clinton is likely to prevail against Mr. Trump in two weeks, liberal Democrats are already looking past Election Day — and relying on Ms. Warren to become the thorn in chief in Mrs. Clinton's side, scrutinizing her appointments and agenda.
Please click through for much more. In my unmitigated support of Hillary Clinton over Rump Dump Trump, I have not become naive. Managing her will be far more difficult than electing her, and I expect Elisabeth Warren to be key in that capacity.
Cartoon: