Here are the results of our "Meaning of Christmas" poll.  Politics Plus Polls are not scientific, because those who respond are not balanced according to demographic categories.   Therefore, we do not accurately reflect the makeup of the US population.  Nevertheless, our are usually factually accurate, and more often than not, reflect will of the national majority.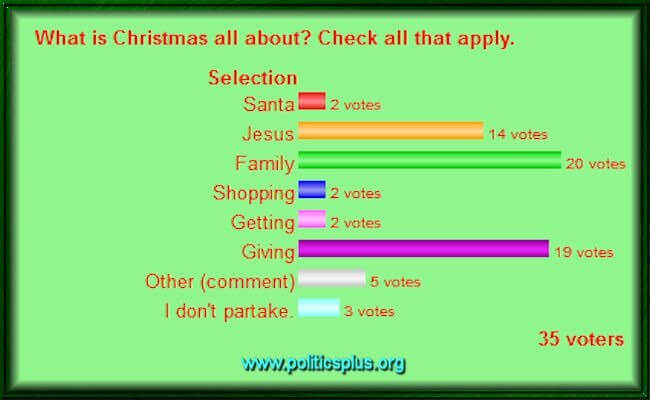 And here are your comments:
Showing comments 1-10 of 10.

Posted by Patty  December 13, 2014 at 3:51 am.  

 

Christmas to me is about Giving. 365 days a year are about Giving too.

 

Posted by Rixar13  December 11, 2014 at 7:05 am.  

 

http://youtu.be/ZGpATMO-6_o?list=PLAF22812129BFCD50

 

Posted by Rixar13  December 11, 2014 at 7:04 am.  

 

http://youtu.be/ZGpATMO-6_o?list=PLAF22812129BFCD50

 

Bill Maher is right on with this segment.

 

Posted by mamabear  December 3, 2014 at 5:40 am.  

 

I voted Santa,Family and Giving. When your children are little it's the wonder and innocents you see in their eyes. Family it's so exciting to get up 5am and see all the fun the day brings. But giving is by far the most fun because it brings such happiness to others.

 

Posted by Nancy W  December 1, 2014 at 5:22 am.  

 

Personally for me it's about Jesus although I don't belong to a church, family of course and giving. Despite the fact we donate food most of the year to food banks we also buy some toys.

I think it's more fun if you have young children who believe in Santa. But it really has become to focused on how many presents people get and what those presents are. And way too many parties if you ask me.

 

Posted by Joanne D  December 1, 2014 at 4:55 am.  

 

I don't really know how to answer this, as it is about all of the above, and more. Light. That just when the days are shortest and it is darkest, there is a turnaround, and the light will return. Rebirth. New beginnings. Equality (both rich are poor were called, the rich by a star, the poor by an angel, to come and see, and both responded – to an event that is for everyone.

In a way I don't participate, because I don't go to church, I don't go to parties, I don't decorate, I don't bake. All of those are because of allergies (well, I could bake wheat-free, but with limited mobility it's not a pleasure, and the result isn't really worth it to me). I could be resentful that I have had my Christmas stolen by allergies, but I'm not, because what Christmas is REALLY about is in the spirit. And I have all of that. And, as Lona says, the music.

 

Posted by SoINeedAName  December 1, 2014 at 3:47 am.  

 

For several decades now we dropped the gifts, and instead we each pick a charity to donate to. Before, all we were doing was exchanging shopping lists for each other. And none of us really needed anything to start with.

 

So now our Christmas is just like our Thanksgiving … only with better decorations!

 

(OK – when there were little kids, we would get THEM gifts. But there are no little kids now.

 

Posted by Lona  December 1, 2014 at 1:25 am.  

 

The Dutch weren't very big on Christmas 50 years ago, they celebrated St. Nicolaas on the 5th of December. But my mother had taken the grand German Christmas tradition with her when she came to Holland and we celebrated it with a tree, presents, cookies and fruit and a lavish meal with the whole family when nobody else did. But it has become popular, i.e. very commercialized here too and we stopped celebrating it after my parents died.

These past few years I've been Down Under at Christmas and I don't get into the Christmas feeling at all in the subtropics when it near 40 degrees Celsius out, even with Bach's Weinachtsoratorium or Händel's Messiah playing, so we now skip it all together and just donate money to charity – Doctors without borders fighting Ebola this year.

 

Posted by Edie  November 30, 2014 at 4:24 pm.  

 

For me, it is the pleasure of family being together and giving, both to family and those less fortunate.

 

Posted by Lynn Squance  November 30, 2014 at 1:45 pm.  

 

For me, as a Christian, Christmas is about Jesus, family and giving. But non Christians, and that includes right wing pseudo Christians as well as peoples of other faiths, can celebrate the spirit of Christmas too by giving of themselves to others that truly need to know they matter, that they are loved. Oh, and BTW, Christmas can be celebrated 365 days per year! Giving knows no limit or time frame.
I chose Jesus, family and giving.  The first is by definition.  The third is what he did.  While I am alone, my guys in prison and you all are my family.
The new poll is up and voting in a timely manner is critically important.