Last night I watched, and slept poorly afterwards.  Fortunately, I had the foresight to place George on the other side of the room.  That let me avoid using him as a receptacle during hours of Rump Dump Rectumite retching.  Seriously, the temperature reached 92° here yesterday with super-high humidity.  I slept poorly, because it was way too sticky for comfort.  Today's Short Takes also involve the debate.  It is thoroughly dominating the news.
Jig Zone Puzzle:
Today's took me 4:27 (average 5:14).  To do it, click here.  How did you do?
Fantasy Football Report:
Here's the latest in our fantasy football league.
Scores: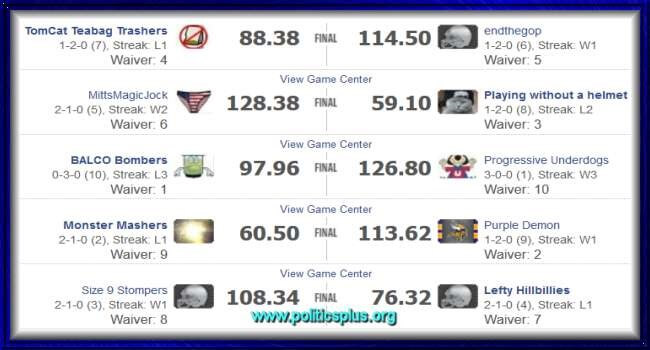 Did Pam kick my kitty-kitty butt, or what?!!?
Standings: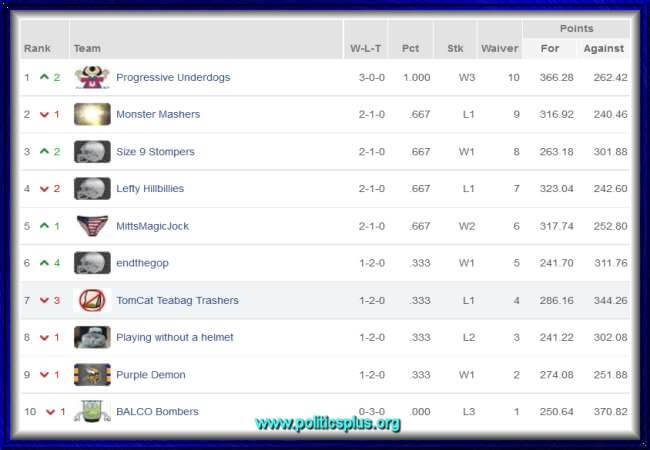 Congrats to Rob, who sits alone atop the league.
Short Takes:
From The New Yorker: As the nation awaits the first faceoff between Hillary Clinton and Donald Trump on Monday night, more Americans are expected to self-medicate than for any other Presidential debate in history.
With over a hundred million people projected to watch the debate, roughly sixty million of them will be barely sentient after ingesting what they deem to be the necessary dose of intoxicants.
Davis Logsdon, of the University of Minnesota, estimated on Monday that the level of self-medication for the Trump-Clinton debate could be seven hundred per cent greater than for the first Obama-Romney debate, in 2012.
"The stakes seem higher this time," Logsdon said. "There's a sense that, depending on the outcome of tonight's debate, all human life on the planet could be in peril."
Dang, Andy!! The one who should have self-medicated, but didn't, is Rump Dump Trump!
From TPM: It didn't take long for Donald Trump to interrupt Hillary Clinton during Monday night's debate, with the first interruption happening less than 15 minutes in. And once it started, he just couldn't stop.
Barf Bag Alert!
51 Times!!
From Public Policy Polling: PPP's post debate survey, sponsored by VoteVets Action Fund, finds that voters nationally think Hillary Clinton defeated Donald Trump in the debate, 51/40.
Perhaps most important for Clinton is that among young voters, who she has under performed with, 63% think she won the debate to only 24% for Trump. 47% of voters in that age group said the debate tonight made them more likely to vote for her, to only 10% who say it made them less likely to vote for her. For Trump with that group on the other hand, only 23% said the debate made them more likely to vote for him to 39% who said it made them less likely to.
Clinton also won the debate by particularly wide margins with women (54/36) and voters who are either African American or Latino (77/13). Among white voters the debate was basically a draw with Trump coming out ahead 47/45.
Speaking as a Caucasian, I'm thoroughly ashamed that so many white voters preferred Rump Dump Trump.
Cartoon: