I don't know why, but I slept poorly last night, so with your permission, I'll dispense with my normal chattiness and get to the task at hand.
Jig Zone Puzzle:
Today's took me 3:15 (average 5:28).  To do it, click here.  How did you do?
Short Takes:
From YouTube (GQ Channel): How the Media Needs to Respond to Trump Now | The Resistance with Keith Olbermann
Amen Keith! The Fourth Estate has two choices. They can do their duty or they can become an insignificant pawn of the Fifth Reich! RESIST!!
From The Rachel Maddow Show: PPP poll: Trump base deluded by false facts
Rachel Maddow gives an exclusive first look at the latest PPP poll showing Donald Trump with historically low approval ratings and that most Americans do not believe his lies about inauguration numbers, though his supporters do.
This reiterates what Keith said.  Media might as well report truth.  Only deplorables will believe the Fuhrer's lies anyway!  RESIST!!
From NY Times: It contained crossed-out phrases and typos. It said that the Sept. 11 attacks occurred in 2011, rather than a decade earlier. It was clearly not meant for public consumption.
But the draft of a Trump administration executive order that spilled into public view early Wednesday — a document that raised the prospect of reviving C.I.A. "black site" prisons like those where terrorism suspects were once detained and tortured — has the potential to further fracture a national security team already divided over one of the most controversial policies of the post-9/11 era.
Time to dust off the Statue of Republican Liberty. RESIST!!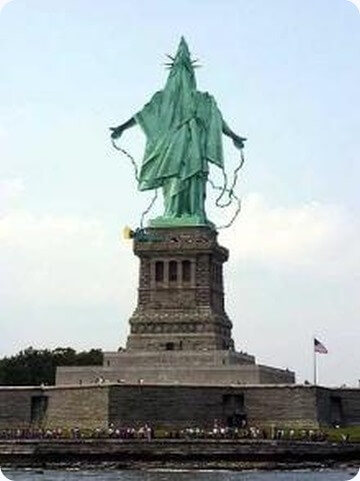 Cartoon: