Here are the results of our "Bernie or Hillary" poll.  Politics Plus Polls are not scientific, because those who respond are not balanced according to demographic categories.   Therefore, we do not accurately reflect the makeup of the US population.  Nevertheless, our polls are usually factually accurate, and more often than not, they reflect thinking or will of the national majority. This time, I think not.
Our Polling Host no longer allows us to copy and paste your comments made when taking the poll.  To read them, click here.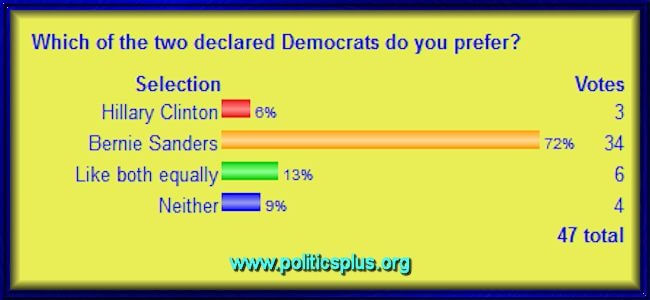 I voted for Bernie, like most of the rest of you.  Sadly we do not reflect the bulk of America on this issue.  I endorsed him, sent him money and will vote for him. if he's still on the ballot, which is doubtful, because the nominee is always a done deal, before the Oregon primary.  Unfortunately. mist American voters lack the political sophistication to understand Captain Kangaroo, let alone Bernie.
The new poll is up.  Please vote.