Here are the results of our Obama Dependability poll.  Politics Plus Polls are not scientific, because those who respond are not balanced according to demographic categories.   Therefore, we do not accurately reflect the makeup of the US population.  Nevertheless, our polls are often both accurate and indicative of the nation's view.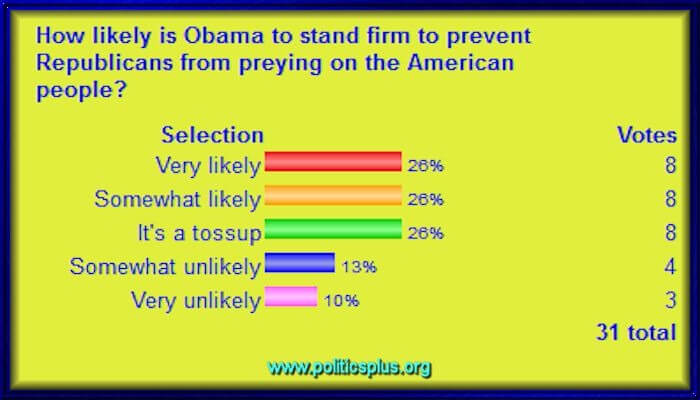 And here are your comments.
Showing comments 1-9 of 9.

Posted by Arielle   November 15, 2014 at 2:53 am.  

 

I believe he will do what he can – he no longer has to worry about elections or even the other spineless Dems. But, of course, there is only so much ONE person CAN do especially when surrounded by GOP snot heads.

 

Posted by Edie  November 12, 2014 at 5:50 pm.  

 

I voted toss up because I never can predict what he will do.

Posted by Yvonne White  November 10, 2014 at 9:37 am.  

 

I voted Toss Up because I'm not happy with his "advisors". I believe he's a good guy, but he kept too many Bu$h Leaguers in place to begin with, hasn't uncoupled himself from "moderates", and seems to NEED excessive & overwhelming feedback before he Realizes something is pissing us off or we are Demanding a certain thing. We're still being mugged by Ungodly Loan prices & Credit Card debt, no REAL Consumer Protection still..etc.

 

Posted by Patty  November 10, 2014 at 12:53 am.  

 

I think it's a toss-up ad depends on how well he can lie to them and offer them a deal that he reneges on like they have done to him for 6 years.

 

Posted by mamabear  November 9, 2014 at 6:42 am.  

 

very likely after all he seems to be one of the few who will stand with him. I think he is as a honest and trust worthy as a man can be. I think he has always been for the little guy he is the kind of man who against all odds he will still with us. We may always agree with how he goes about it but he at least has the answer on how to get the job done.

 

Posted by gene  November 7, 2014 at 4:34 am.  

 

I went very likely and that is hope more than anything. He is the ONLY person standing between the 1% and the rest of the country, they don't have enough votes to override a veto, so he has to stand firm; there is no one else to protect the rest of us from the oligarchy of the 1% and their GOP puppets.

 

Posted by Joanne D  November 7, 2014 at 3:48 am.  

 

Based on his first term, I would also have said "very unlikely." He has been a little better in his second term. But it's tough to be sure. Several groups have petitions started to him asking him to be a firewall. I have signed a couple.

 

Posted by Phil  November 6, 2014 at 7:51 pm.  

 

My "very unlikely" vote is based on Obama's past performance.

 

Posted by Jerry Critter  November 6, 2014 at 9:22 am.  

 

He already tired to shred the safety net, but he did not go far enough for the teabaggers. I don't see why he will be any different this time around.
I voted toss-up, because he caved-in after the debacle of 2010.  If I could change it, iw would change to Somewhat likely,.
A new poll is up.