Here are the results of our "Satisfaction with Legislators" poll.  Politics Plus Polls are not scientific, because those who respond are not balanced according to demographic categories.   Therefore, we do not accurately reflect the makeup of the US population.  Nevertheless, our polls are usually factually accurate, and more often than not, they reflect thinking or will of the national majority.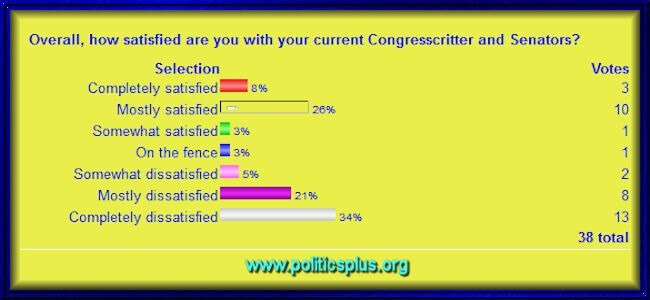 Our polling host has disabled our ability co copy and paste your comments to the poll.  To view them, click here.
There is no right answer here, because we all have different legislators.  I voted mostly satisfied.  I'm thrilled with Jeff Merkley quite happy with Earl Blumenauer. The only reason I'm not completely satisfied is that on Rare occasion, Ron Wyden tries to reach across the aisle and gives up too much.  Republicans then present his concessions as his position, even though they never actually make the deal.  He has suckered for that ploy, and they have used him for propaganda, about half a dozen times over the last few years.
I am more satisfied than most, I see.
The new poll is up and ready for your votes.  Stay in practice.