Here are the results of our "March 1 Leaders?" poll.  Politics Plus Polls are not scientific, because those who respond are not balanced according to demographic categories.   Therefore, we do not accurately reflect the makeup of the US population.  Nevertheless, our polls are usually factually accurate, and more often than not, they reflect thinking or will of the national majority.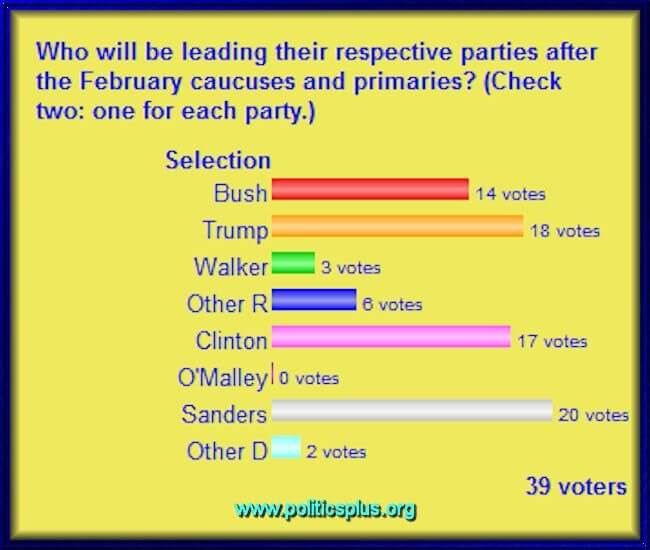 Our Polling Host no longer allows us to copy and paste our comments made when taking the poll.  To read them, click here.
For the Clown Car, I was one of the 6 that picked other.  Republicans seen to follow a pattern where most of the losers have a day in the sun, before the nomination finally goes to the clown with the most donor/PAC money.  In this case, it's Strike Three.  But God only knows which clown will lead at any point in time,
For the Democrats, I want it to be Bernie, but I voted Hillary.  She has the money, and her machine is already locking up super-delegates, that should not be allowed to exist, but that's another article.
The new poll is up.  The idea comes from Jim Phillips.  Thank you Jim.  He left it in a comment yesterday.  I stole it and fleshed it out for the poll.  Enjoy and vote!