Here are the results of our "Climate Change Effects" poll.  Politics Plus Polls are not scientific, because those who respond are not balanced according to demographic categories.   Therefore, we do not accurately reflect the makeup of the US population.  Nevertheless, our polls are usually factually accurate, and more often than not, they reflect thinking of the majority of those who actually do think.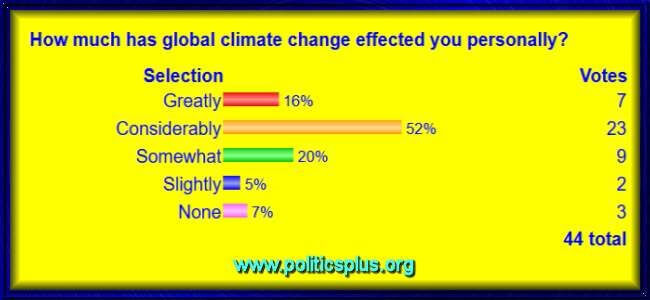 Since our polling site no longer enables us to copy and paste your poll comments, you may read them here.
I answered greatly, as the effects here have been so profound as to interfere with my mobility, but there is no correct answer, as the effects vary for each individual depending on situation and location.  Nevertheless, it's no accident that 95% of you chose somewhat or greater.
The new pool is up and it's about our favorite kind of peach for Putin's Peach Puppet.  After you vote, please…
RESIST THE REPUBLICAN REICH!!