I'm writing for tomorrow on what turned out to be a pretty busy day, because it turns out I have more paperwork to do do for the OSP specific part of my prison volunteer certification.  Nevertheless, there was still time to research and write.  Day 25.
Jig Zone Puzzle:
Today's took me 2:43 (average 4:37).  To do it, click here.  How did you do?
Short Takes:
From Upworthy: These fine folks had the brilliant idea to quantify peace and rank all the countries in the world. Unfortunately, the United States isn't doing so hot right now. We're — you guessed it — 99th out of the 162 countries on the list. How do we fix that? Take a look, and make sure to stick around until 2:01, when they explain why this list isn't just an exercise but could really change the way we think about minimizing conflict and achieving real world peace.
I'm surprised we're that high on the list. Note that all the factors the video makers say are needed for peace are high on the list of things Republicans oppose.
From Daily Kos: Noted Ohio politics and Iraq WMD expert Karl Rove has a new smear: That Hillary Clinton spent 30 days in the hospital at the end of 2012 and upon her release in January, 2013, she was "wearing glasses that are only for people who have traumatic brain injury."
First of all, she didn't spend 30 days in the hospital. It was four.
Second of all, if those glasses she was wearing are sign of brain damage, then the truth is even worse than Dr. Rove could possibly have imagined.
The article goes on to show many pictures of Hillary in the same glasses going back years. On the other hand, what does this pic of Karl Rove (R-Hell) say about him?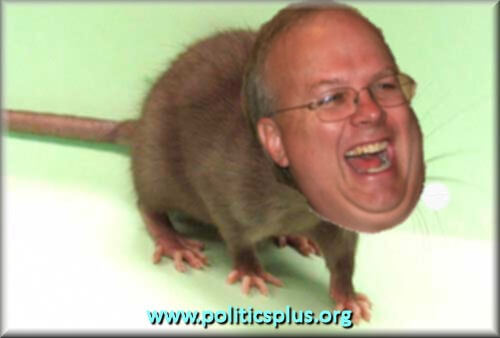 From The New Yorker: A delegation of conservative members of Congress paid a visit to the West Antarctic Ice Sheet melt today to witness firsthand what one of them called "the most beautiful expression of the free market I've ever seen."
The author of that remark, Rep. Paul Ryan (R-Wisconsin), said that he was awestruck after watching gigantic chunks of glacier disintegrate and crash to the sea.
"Every schoolchild in America needs to see this," he said. "This is the free market at work in the way that God and Ayn Rand intended."
Rep. Ryan said that watching the now-unstoppable Ice Sheet melt in action reaffirmed his belief in "the glory and might of free-market forces."
Andy's satire may well be prophetic. If Republicans ever do admit that global climate change is real, this is the form it will take.
Cartoon: