Whoever says that there is no such thing as climate change is out of their gourd!  We here in Metro Vancouver have had higher temperatures than usual this summer.  This follows a snowy winter that left substantial snow packs to feed the reservoirs.  This has meant basic water restrictions, but nothing like last year's stage 3 restrictions.  The winter was severe for Vancouver, and a lot longer.  That really gets Metro Vancouverites testy.  Of course then there are the wildfires in BC's interior which are even worse than the 2015 fires, which is saying something.  There has been so much smoke that the mid afternoon sun is literally blood red.  Hopefully some of the smoke will clear out this weekend.  My eyes and throat sure would appreciate that.  I can't even conceive of what the 47,000 evacuees must be feeling, although that number is down to about 7,000 for now.  Storms elsewhere are bigger and nastier.  As a planet, we owe it to each other to get our shit together.  Totally unrelated, today is my 46th anniversary of when I started in the banking industry.  Thank God I am now retired!
CBC — In a federal courthouse in Washington, D.C., between 16 and 23 citizens have reportedly been meeting in secret for weeks, tasked with deciding whether to bring charges in a probe of alleged collusion between U.S. President Donald Trump's campaign and Russia.
Collectively, they're known as a federal grand jury. And on Thursday, reporters learned they were "impanelled" — or brought together — by the all-star team of lawyers led by special counsel Robert Mueller.
Activating the grand jury is a sign Mueller's Trump-Russia investigation is heating up. Equipped with this tool, Mueller can request the issuing of subpoenas for documents and testimonies.
It marks the next phase in his investigation — "the most critical phase," according to attorney Seth Abramson, an assistant professor at the University of New Hampshire.
"That's because it's the phase in which he doesn't have to rely on voluntary production of documents or voluntary testimony from important witnesses."
Any requested documents — which could include phone records, text messages, hotel and restaurant receipts and emails — get shared with the grand jury for consideration as evidence against a target of the investigation.
Subpoenaed witnesses must appear in front of the grand jury to be questioned by first Mueller's team then the jurors themselves. Witnesses can plead the Fifth Amendment to invoke their right against self-incrimination.
Click through for the rest of this interesting, albeit long, article about this part of the US judicial system.  It may be that some know of the workings, but my guess is that many Americans do not fully understand it if knowledge of political issues are any indication.  Personally, being a Canuck, I found it very interesting and it is from a trusted source, not that the CBC does not make mistakes, but Matt Kwong is thorough.
Canadian Press — Six Americans have been charged with bringing handguns across the New Brunswick border so far this summer, as a Canadian prosecutor says it's proving difficult to let otherwise law-abiding people know they can't bring firearms on vacation.
"The offences continue to occur with alarming frequency during the summer months," federal prosecutor Peter Thorn said from Hampton, N.B.
Five men — three from Florida, two from New England — pleaded guilty and were fined between $1,500 and $2,000, he said.
Thorn, who has prosecuted these cases for years, said most of the people caught are "respectful and law abiding citizens of the U.S.A." who are unaware handguns are prohibited in Canada. [emphasis mine] …
That same day, a handgun was seized from a 64-year-old Jacksonville, Fla., couple at St. Stephen. It was found, undeclared, in the woman's suitcase, where her husband had hid it without telling her, Thorn said.
"(The woman) stated that she specifically told her husband not to bring his handgun into Canada," said Thorn.
I bring this to you because bringing hand guns across the US northern border into Canada is a no-no!  Canada is a sovereign nation and all must respect her laws.  Unfortunately, this happens all across Canada.  Many times, Americans driving to Alaska will bring their guns, sometimes declaring them, other times not.  With heightened surveillance, Canada Border Services are catching more people.  If you are caught, the weapon is confiscated and your entry into Canada is usually denied.  Leave your weapons at home!  It is cheaper.  And husbands, always listen to your wives!
Vancouver Sun — For the first of his 111 random acts of kindness, David McCann donated three works of art worth $1,400 to a Vancouver school for them to auction, with the proceeds going toward school supplies for the students.
For his 71st such act, McCann on Friday delivered 2,000 Roger's chocolates to the main station of the Vancouver Police Department, enough for all the officers and staff, his way of saying cheers.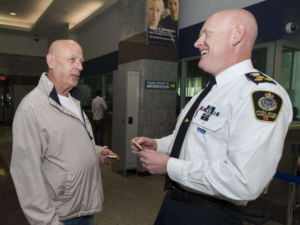 "It's a thank you for the VPD's willingness to change over the past 50 years in how they view and deal with the Vancouver gay community," McCann said. "In particular, how they have and continue to provide security so we can enjoy a safe and wonderful Pride celebration and parade."
McCann pledged to carry out 111 random acts of kindness in honour and memory of his 111-year-old friend, Mary, his partner's grandmother who died recently.
This is one of those "feel good" pieces — how one man performed 111 random acts of kindness and why.
The Intercept — If you ask Steve Bannon how he got the idea that Muslims in the Middle East are a civilizational threat to America, he will say that his eyes were first opened when he served on a Navy destroyer in the Arabian Sea. At least that's what he told the journalist Joshua Green, whose new book about President Donald Trump's senior counselor is a best-seller.
"It was not hard to see, as a junior officer, sitting there, that [the threat] was just going to be huge," Bannon said. He went on:
"We'd pull into a place like Karachi, Pakistan – this is 1979, and I'll never forget it – the British guys came on board, because they still ran the port. The city had 10 million people at the time. We'd get out there, and 8 million of them had to be below the age of fifteen. It was an eye-opener. We'd been other places like the Philippines where there was mass poverty. But it was nothing like the Middle East. It was just a complete eye-opener. It was the other end of the earth."
That's Bannon's version. There are a few problems with it, however.
Read on for some of the problems that were unearthed.  And this is a trusted White House senior adviser?  He does not know the truth nor where he was at! I do not buy the idea that Bannon was a confused young naval officer.  Tell me again why Drumpf would have him as an adviser.  Oh, right — two racist peas in a pod.
Bloomberg — Mueller's team of investigators has sent subpoenas in recent weeks from a Washington grand jury to global banks for account information and records of transactions involving Manafort and some of his companies, as well as those of a long-time business partner, Rick Gates, according to people familiar with the matter.  …
As prosecutors gather many years of information about his financial affairs, Manafort could be dragged deeper into any number of legal disputes. He has a history of doing business with oligarchs and politicians in Ukraine and Russia that predates his political work for President Donald Trump, with payments routed through foreign banks and investments in U.S. real estate.  …
As a practical matter, the blitz of recent subpoenas to global banks poses a challenge to Manafort's ability to continue his day-to-day business activities as a consultant and investor, said one of the people familiar with the matter.  …
Federal prosecutors in Manhattan were investigating Manafort earlier this year, examining allegations that he laundered money from eastern Europe into New York properties, according to two people familiar with the earlier inquiry. The Southern District of New York handed off their work to the special counsel's team once Mueller was appointed, the people said.
This is a follow-up to the piece that TC wrote about on 09 August 2017 Open Thread – 8/9/2017.
If I were Manafort, I'd watch my back because the Russian oligarchs are known to not play well with others when the game gets derailed.  Mueller's investigation is broadening and the cast of characters seems to be growing.  When Drumpf was asked about the raid, he said "I was surprised to see it.  I've always found Paul Manafort to be a very decent man."  I only have one question though, or more correctly, one statement . . . I'd like to know Drumpf's definition of "decent".  I doubt it is the same as mine.
Daily Kos — Popular vote loser Donald Trump's sabotage of the Affordable Care Act isn't limited to making threats and causing uncertainty for health insurers. He and his administration are taking active, destructive measures to wreck the law they were elected, and in the case of HHS Secretary Tom Price confirmed by the Senate, to uphold. The latest action by the administration is to halt federal outreach to Latinos, one of the communities that has the highest rate of uninsurance.  …
That labor of love included sending cabinet members to Latino communities, translating all the materials for enrollment into Spanish, working with Latino civil rights groups like LULAC and National Council of La Raza (now called Unidos), having townhall televised on Spanish-language channels, as well as an extensive advertising campaign in all forms of Spanish-language media. As a result of all the Obama administration's efforts, the Latino population saw the largest decline in its uninsured rate of any ethnic community.  …
None of these groups has heard a peep out of the Trump administration about efforts to promote enrollments in the new plan year.
How many times have we heard Drumpf say that Obamacare was "bad" and it was "imploding".  Drumpf said that he would replace it with something better and cheaper.  "You're going to love it," he said.  The numerous attempts to repeal and replace Obamacare fell flat, and rightfully so.  Imploding?  This is not the case.  Sure it has its faults, what plan doesn't?  But when you look at the numbers of citizens covered by medical insurance now that previously had none, I call that success.  Well it looks like the Drumpf administration is going to assist in the decline of Obamacare — sabotage it — which is what I figured he'd do, one way or another.  It is time to show Drumpf and the Republicans the door out!
My Universe
You know that fishing trip you went on with your dad, way back when?  The cat went on his own fishing trip!