It's a relatively lazy Saturday for a pooped Puddy.  Thoughts and prayers for all in the path of Irma [R-FL].
Jig Zone Puzzle:
Today's took me 4:19 (average 5:17).  To do it, click here.  How did you do?
Short Takes:
From YouTube (RWW Channel): Carl Gallups Says The 'Deeply Demonic' Deep State Is Working To Destroy Trump
Barf Bag Alert!!
The extent to which Republican Supply-side pseudo-Christians goose-step behind Trump is proof that they are NOT Christians. RESIST!!
From Daily Kos: An estimated 8,000 people are battling a series of 24 raging fires in Oregon, most notably Chetco Bar Fire, which has engulfed nearly 180,000 acres, and the Eagle Creek wildfire which is threatening the eastern edge of Portland. The Eagle Creek fire has burned 33,000 acres and while Oregon firefighters are starting to make some headway, containing about 5 percent of the fire through burnouts conducted on Wednesday, more resources are needed throughout the state. Oregon Public Broadcasting reports that Governor Kate Brown previously asked the Trump administration for help and they flatly refused any assistance:
But if there is wildfire management to second-guess, Oregon's Democratic governor would direct it at the Trump Administration and its response to a request she made last month.
"I talked with the federal authorities two weeks ago, asking for additional federal assistance, I was told point-blank 'no'," said Brown. 
The U.S. Forest Service has been helping, and Oregon is expecting the arrival of 200 active duty military from Joint Base Lewis-McCord in Washington.
But Gov. Brown argued federal officials should be directing more resources to Oregon, because of the disproportionate degree of fire danger in the state. Brown's numbers and those from the National Interagency Fire Center tell a similar story: that Oregon accounts for nearly one-third of the scorched acres in the country. Of 1.5 million acres or more burning across the country about a half million acres are in Oregon.
I can personally attest to how severe it is. Coming back from the motel on Tuesday, the sky was brown, and the smoke in downtown Portland was like fog. I have been unable to keep my window open, because the air burns my eyes. It has also been setting off my COPD. I wonder if the Republican Reich is withholding aid, because Oregon Governor, Kate Brown, is openly bisexual. RESIST!!
From Think Progress:
Rush Limbaugh will be evacuating South Florida, just days after the popular conservative radio host claimed that Hurricane Irma would not hit the United States and that scientists and the liberal media were hyping up the hurricane as proof of their global warming "lie."
"So there is a desire to advance this climate change agenda, and hurricanes are one of the fastest and best ways to do it. You can accomplish a lot just by creating fear and panic. You don't need a hurricane to hit anywhere," Limbaugh said on his show Tuesday. "All you need is to create the fear and panic accompanied by talk that climate change is causing hurricanes to become more frequent and bigger and more dangerous, and you create the panic, and it's mission accomplished, agenda advanced."
But on the show Thursday, Limbaugh said he would be off the air for the next few days.
"May as well… announce this. I'm not going to get into details because of the security nature of things, but it turns out that we will not be able to do the program here tomorrow," Limbaugh said Thursday. "We'll be on the air next week, folks, from parts unknown."
Scheesch! How do you spell hypocrite? R-e-p-u-b-l-i-c-a-n. RESIST!!
Cartoon: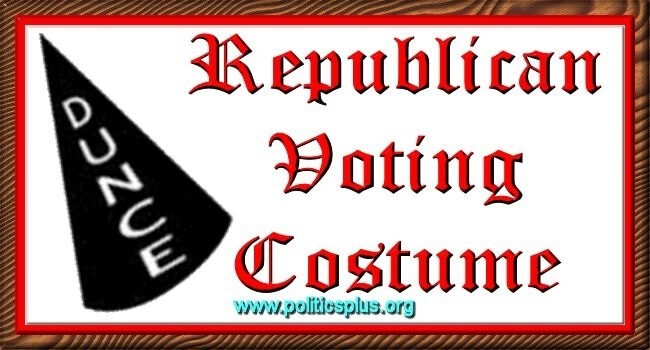 Their more popular alternative is sheets and hoods.