I've had another busy day, and catching up with sleep just makes me sleepier.  I ordered groceries from Store to Door.  I also spoke with the Safeway Store Manager.  She was highly apologetic and offered me $50 in compensation as an apology.  I refused, and told her I would reconsider, if they demoted the .com manager.  She said she will take my complaint to senior management and let me know what happens.  I doubt that I'll hear back, but I take pride in refusing to be bought off over the principal that they can't just dismiss cursing a justifiably irate crippled senior.
Jig Zone Puzzle:
Today's took me 3:09 (average 4:07).  To do it, click here.  How did you do?
Fantasy Football Report:
Here's the latest from our own fantasy football league, Lefty Blog Friends.
Scores: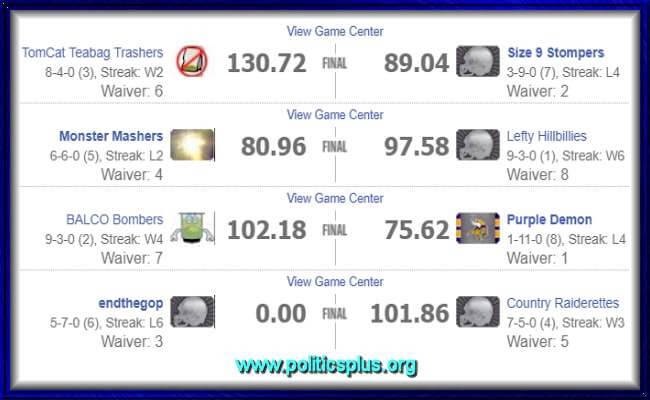 Woooo Hoooo!!  Did I put that Sasquatch under foot, or what?

Standings: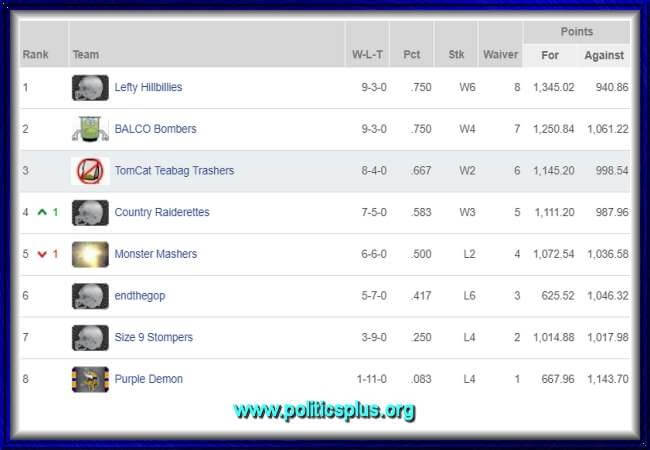 Congrats to Vivian and Seth, who lead the league.  Condolences to Jack, who is still eating Sasquatch toe jams.  There are only two weeks left before our playoffs.
Short Takes:
From YouTube (GQ Channel): Trump is Finished
On the one hand, I fully agree with Keith. On the other, I feel devastated over Keith's retirement from political commentary. We still need his clarity, integrity, and depth. RESIST!!
From YouTube (MSNBC Channel): Elizabeth Warren: This Is Donald Trump Bringing His Chaos
As of 12:30 PM PST the CFBP was still in limbo. Liz spelled it out with crystal clarity. May she win the White House in 2020. RESIST!!
From The New Yorker: Casting further doubt on the authenticity of his notorious "Access Hollywood" tape, Donald J. Trump said on Monday that the voice on the tape was actually that of Hillary Clinton, imitating him.
"That's not me on the tape," he said. "That's Hillary faking like she is me."
Trump said that he had a theory to explain how Clinton came up with the infamous "locker-room talk" that appeared on the tape. "It's so obvious that Bill came up with that," he said.
Dang Andy!  Now that you gave him the idea, that's coming next! RESIST!!
Cartoon: