I'm off to a late start, because I have a lot of paperwork to get done and a grocery order to prepare.  I also had to get my kitty solar basking started before 9:00 AM, so the intense heat did not scorch my fur.  Tomorrow will also be busy, because I have a volunteer related meeting here in town.
Jig Zone Puzzle:
Today's took me 2:06 (average 4:50).  To do it click here.  How did you do?
Fantasy Football Recruiting:
We still need two new players for Lefty Blog Friends, our fantasy football league.  How about you?  For more information, click here.
Short Takes:
From Daily Kos (classic: 5/2014): On May 22, The Campaign for America's Future gave a conference on The New Populist Majority. The keynote speaker was Elizabeth Warren. The conference confronted the meme that the US is a "center-right" country.
Most interesting to me was the fact that they obtained poll results from "the 1%." Typically, "upper income" in polling is considered "over $250K/yr" or even "over $150K/yr." Such people are rich compared to most, but they do not have enough money to buy elections with their spare change.
The poll results for this comparison came from the Russell Sage Foundation. "Elites" are defined as at or near "the 1%" in wealth with an average income of $1M/yr or more. The perspectives of this group are compared to responses from other polls such as Pew and Gallup.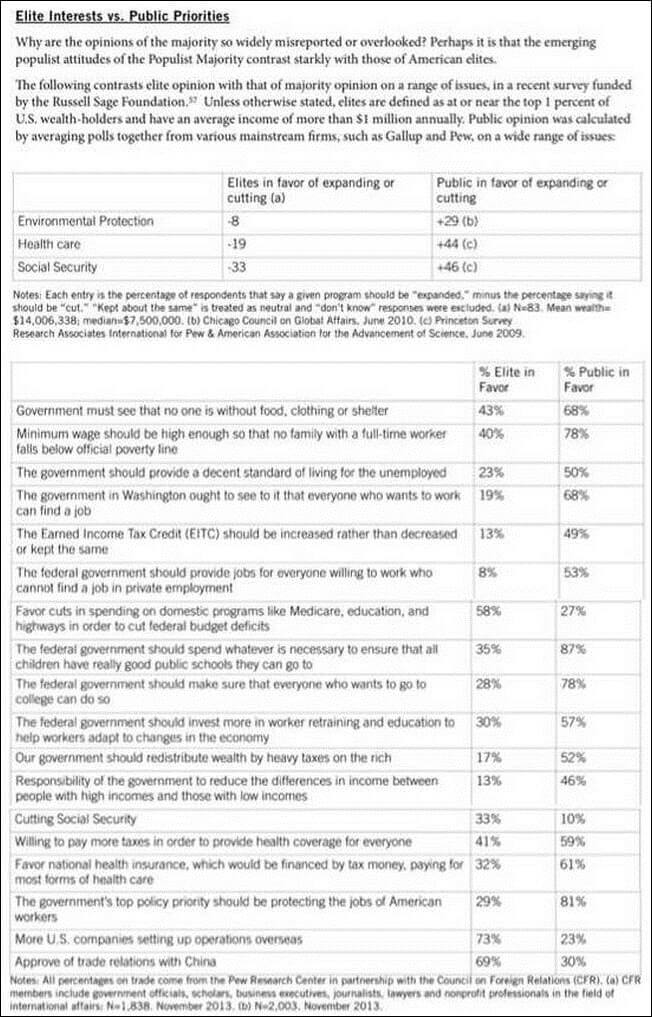 I wonder what the results would have been had they profiled the 0.1%, the people the Republican Party represent.
From Upworthy: A group of people gathered before sunrise on a beach in Los Angeles. They laid blankets and rugs on the sand, and with the tumble of the ocean at their backs, they joined together to begin a familiar ritual: prayer.
Authentic Muslims and Jews coexist without difficulty. The problem is the tight wing extremists running ISIL, Hamas, and the Israeli government. It's as it all three had Republicans in charge.
From NY Times: For more than six years, the short walk from the Oval Office downstairs to the Situation Room has all too often meant bad news or grim choices. Whether it was war in the Middle East, Russian aggression in Ukraine or the hunt for terrorists around the globe, President Obama's foreign policy has felt consumed by guns and drones.
So the 12-nation trade deal Mr. Obama has been negotiating in Asia took on special meaning for a president eager to change the world. It was a way to leave behind a positive legacy abroad, one that could be measured, he hoped, by the number of lives improved rather than by the number of bodies left behind. And if the Pacific really is the future, Mr. Obama wanted to position the United States to lead the way.
Several of you have stated that you don't understand how Obama could support this deal, Click through to get a pretty good understanding of his position. While I agree that China represents a potential economic threat to the US, I remain unconvinced that the TPP is the way to deal with it, and therefore I remain completely opposed to fast track. If Obama would open the deal for inspection, and studying it revealed that it does not benefit corporations and Banksters at the expense of US workers, I would be delighted to change my position.
Cartoon: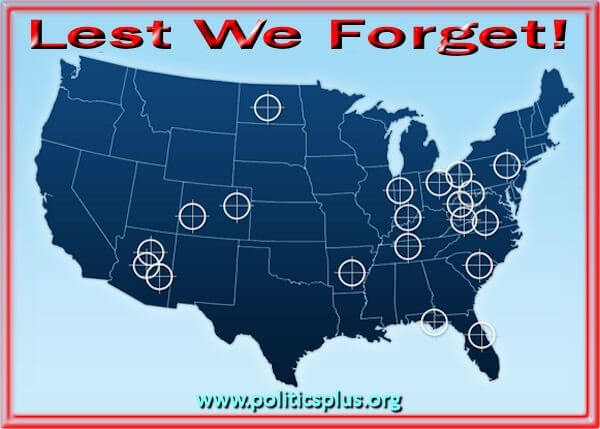 Who could forget the evil of Bloody Bullseye Barbie?