Another day, another nickel! I am still feeling a little lost time wise since my mother passed. I know things will right themselves before too long, if no other reason than I have taxes to do for the end of April, and of course I still have my mother's estate to prepare. I am running into a few bumps in the road estate wise, but nothing I can't handle. The rest of the week is busy but I hope to be back with another OT.
Short Takes
YouTube — Last Week Tonight with John Oliver – World War Trump (HBO) March 15, 2017
The Atlantic — As it turns out, this was only a warm-up for the dual press conference the two leaders held later Friday afternoon, during which Merkel stood beside Trump as he ridiculed a German reporter, lied about his statements on his baseless conspiracy theory that President Obama surveilled him, and refused to back down on claims that have set off a diplomatic incident with the United Kingdom.
The fact that it might be a tense conversation was clear from the two leaders' opening statements. Trump, during his, once again complained about the cost of NATO. "I reiterated to Chancellor Merkel my strong support for NATO as well as the need for our NATO allies to pay their fair share for the cost defense," he said. "Many nations owe vast sums of money from past years and it is very unfair to the United States. These nations must pay what they owe."
As for Merkel, she used her own statement to issue a veiled scolding for Trump, who previously said she was "ruining" Germany with a "catastrophic mistake" of an open-door refugee policy. "I've always said it's much, much better to talk to one another and not about one another, and I think our conversation proved this," Merkel said. …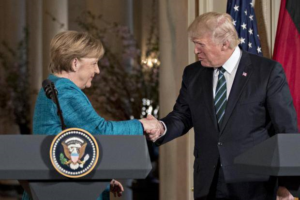 During the press conference, the American journalist Mark Halperin asked Merkel a question about whether she thought Trump's "different style" than past president was good for the world. The chancellor gamely tried to answer.
"For Germany I can say, well people are different, people have different abilities, different traits of character, have different origins, have found their way into politics along different pathways," she said through a translator. "Which, well, that is diversity, which is good! Sometimes it's difficult to find compromises, but that's what we've been elected for."
The fact that Merkel had to work hard to say something diplomatic in response to such a softball question said a great deal about the press conference. But give the chancellor credit for effort—Trump didn't even bother to try diplomacy.
Drumpf knows nothing of diplomacy. He is like the proverbial "bull in a china shop" and it is quite obvious that he doesn't care. The National Post ran an article in which it recorded the following,
President Donald Trump said Saturday that Germany owes "vast sums of money" to NATO and the U.S. "must be paid more" for providing defence, reiterating his stance that European allies need to end their part of the bargain if they are to continue benefiting from the military alliance."
It is quite clear that Drumpf does not know or understand the funding formula that was agreed upon in previous years. The NATO agreement was signed on 4 April 1949 and constitutes a system of collective defence whereby its member states agree to mutual defence in response to an attack by any external party. I probably know more about NATO than Drumpf does, and that can't be good. In the picture, this handshake is the most awkward looking handshake. Drumpf looks like a downright nasty beast.
msn.com (USA Today) — The Pleasant Run Elementary students had just won a robotics challenge at Plainfield High School, and the students — new to bot competition this year — were one step closer to the Vex IQ State Championship.
The team is made up of 9- and 10-year-olds. Two are African American and three are Latino.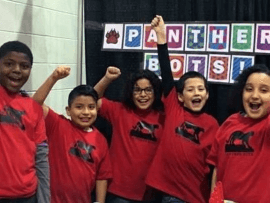 As the group, called the Pleasant Run PantherBots, and their parents left the challenge last month in Plainfield, Ind., competing students from other Indianapolis-area schools and their parents were waiting for them in the parking lot.
"Go back to Mexico!" two or three kids screamed at their brown-skin peers and their parents, according to some who were there.
More despicable behaviour as a result of Drumpf's targeting of minorities. What well adjusted young people that are putting the hate behind them and enjoying the learning experience and the competition.
Washington Post — On the 60th day of his presidency came the hardest truth for Donald Trump.
He was wrong.
James B. Comey — the FBI director whom Trump celebrated on the campaign trail as a gutsy and honorable "Crooked Hillary" truth-teller — testified under oath Monday what many Americans had already assumed: Trump had falsely accused his predecessor of wiretapping his headquarters during last year's campaign.
Trump did not merely allege that former president Barack Obama ordered surveillance on Trump Tower, of course. He asserted it as fact, and then reasserted it, and then insisted that forthcoming evidence would prove him right.
But in Monday's remarkable, marathon hearing of the House Permanent Select Committee on Intelligence, Comey said there was no such evidence. Trump's claim, first made in a series of tweets on March 4 at a moment when associates said he was feeling under siege and stewing over the struggles of his young presidency, remains unfounded.
Comey did not stop there. He confirmed publicly that the FBI was investigating possible collusion between Trump campaign officials and associates with Russia, part of an extraordinary effort by an adversary to influence the outcome of the 2016 U.S. election in Trump's favor.
I'll bet that "He was wrong." was hard to swallow for narcissistic Drumpf! . . . or did he really hear and understand it? Will he demand Comey's resignation? Who knows. My bet says he will bring it up again. . . . and again . . . and again. He doesn't know when to quit! After all the Monday drama, in dire need of some adulation to feed his narcissistic soul, Drumpf headed out to Missouri for yet another rally that is nothing more than a love fest so his supporters thinking he is looking after them. Or should I say to fleece his flock?!
YouTube — The Most Telling Thing About the FBI's Probe into Trump | The Resistance with Keith Olbermann | GQ
Keith hits it out of the park, doesn't he!
YouTube — The Only True Surprise? Trump's an Idiot | The Resistance with Keith Olbermann | GQ
Another fine piece by Keith. "These people are idiots!" Truer words have not been spoken!
Resist and Persist!!!
My Universe — This gives new meaning to going postal!