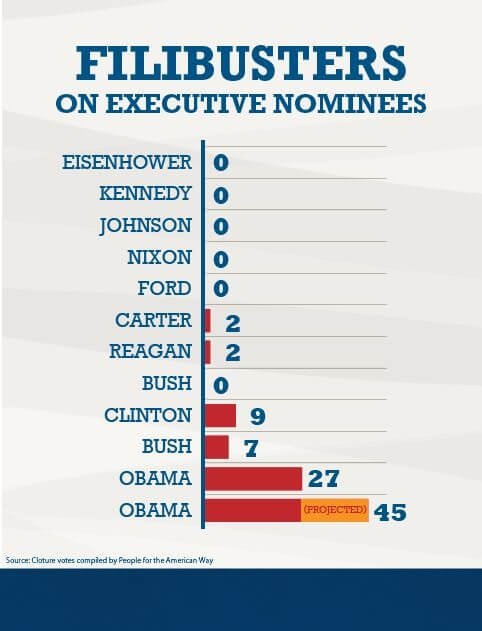 According to common wisdom,  both sides have abused the filibuster, and to a small extent it's true, but Democrats only filibustered extremists, and the equity Republicans are now claiming is a complete lie.  One glance at the above chart proves that.  So, although it does not go far enough, Harry finally did use his ObamaBalls!
The US Senate voted on Thursday to change the rules that have enabled Republicans to block Barack Obama's nominees for top administration posts.

By 52 votes to 48, senators approved along partisan lines a measure that would ban the use of the filibuster to prevent nominees from being confirmed. In a speech in support of the measure, majority leader Harry Reid accused Republicans of  blocking nominees in the pursuit of unrelated legislative goals.

"For the first time in the history of our republic, Republicans have routinely used the filibuster to prevent President Obama from appointing an executive team and from appointing judges," Reid said. "The need for change is so, so very obvious. It's clearly visible. It's manifest we have to do something to change things."

Until now, 60 votes have been required to lift or avoid a filibuster. Under the new rules, a simple majority of 51 would suffice. The new measure would not apply to supreme court nominees. "It's an undeniable fact that the obstruction we've seen in recent years is altogether new," Reid said after the vote… [emphasis added]
Inserted from <Alternet>
The ban needs to be extended to Supreme Court Justices and other bills, but at least this is a start.
The three cowards who betrayed America and goose-stepped with the Republican seditionists are Carl Levin (MI), Mark Pryor (AR) and Joe Manchin (WV).
In February, Jeff Merkley (D-OR), who has championed filibuster reform, explained the history of the filibuster
That is how the Republican Party became the Filibastards.
President Obama approved the use of his ObamaBalls.
He told it like it is, except he soft-pedaled the extent to which Republicans have used the filibuster to sabotage the majority.
Now that it this has happened, it will be easier to nuke Republican Filibastards on other Republican sabotage and sedition.
Also, it is especially important that Obama can now fill vacancies without having to bend over backward in his choices hoping to avoid a filibuster.
Here is a summary of the Republican response.