Well the Cat is back! Although he posted two pieces today, he has to remember to pace himself lest he end up in trouble again. As he said, he is still in some pain and no doubt a little tired from lying around in a hospital bed. TC has medical appointments and eye surgery coming up, so while I will back off a little now, I will be back. Today was a relaxing day for me, such is not the case for the rest of the week. I ate all that good cheese/herb and garlic fococcia so now I don't have any for supper . . . but oh it was sooooooooo good! I have to go out tomorrow so I'll be at Cob's Bakery to get some more. I may not keep my friends but I'll have a happy tummy!
Short Takes
The Hill — Legislation introduced in the House on Monday would prevent President Trump from receiving federally subsidized flood insurance amid warnings that the effects of climate change could cause parts of his Mar-a-Lago resort and other south Florida properties to be underwater in coming years.
Rep. Earl Blumenauer
Earl BlumenauerDem aims to block federally subsidized flood insurance for Trump propertiesKate Mara pushes feds to put animal welfare records onlineA unifying cause in Congress: animal protectionMORE's (D-Ore.) bill – titled the Prohibiting Aid for Recipients Ignoring Science (PARIS) Act – would ensure properties owned by a president or family members can't have access to subsidized insurance from the National Flood Insurance Program.
An analysis by Coastal Risk Consulting found that the Mar-a-Lago grounds in Palm Beach, Fla., could be under at least a foot of water for 210 days a year because of tidal flooding.
To quote Jackie Gleason, "How sweet it is!" Love the acronym —PARIS! Oregon leads the way?! While I applaud this, it will go nowhere with a Republican Congress.
CBC — Canada's longest-serving chief justice of the Supreme Court will retire from the bench on Dec. 15, 2017.
In a statement sent to reporters Monday, Beverley McLachlin said she would leave the court after serving for 28 years, including 17 years as the presiding judge.
The 73-year-old jurist was appointed by former prime minister Brian Mulroney in 1989. She became the first woman to hold the top job on the country's highest court after she was elevated to chief justice by former prime minister Jean Chrétien in 2000.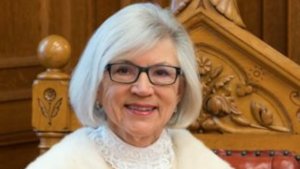 "It has been a great privilege to serve as a justice of the court, and later its chief justice, for so many years. I have had the good fortune of working with several generations of Canada's finest judges and best lawyers. I have enjoyed the work and the people I have worked with enormously," McLachlin said. …
Moreover, McLachlin, the daughter of prairie farmers, encouraged the court's nine justices to come to a consensus, which resulted in a rate of unanimity substantially higher than that of the U.S. Supreme Court.
Mulroney said Monday his appointee has "performed so well under difficult circumstances," and dismissed criticism from some Conservatives that she has been too activistic in her approach. "She was just doing what the constitutional amendment of 1982 told her to do," he said, speaking of the introduction of the Charter of Rights and Freedoms.
"I think her greatest achievement probably wasn't a particular case, rather it was that she provided such strong leadership, in a collegial and widely admired fashion across Canada by lawyers, judges and many politicians," he said in an interview Monday on CBC News Network's Power & Politics, adding McLachlin has played a strong leadership role in the "evolution of Canada."
A sad day for the country, but I am sure a good day for McLachlin. I mention this because the Supreme Court of Canada performs quite well, especially when contrasted to SCOTUS. McLachlin was appointed by a Conservative Prime Minister, Brian Mulroney, and elevated to Chief Justice by a Liberal Prime Minister, Jean Chrétien.
The Hill — Rep. Brad Sherman (D-Calif.) unveiled a proposed article of impeachment Monday against President Trump for allegedly obstructing justice in a federal investigation.
The legislative text argues that Trump's alleged attempts to pressure since-fired FBI Director James Comey to drop the agency's investigation into former White House national security adviser Michael Flynn amounts to obstruction of justice.
"In all of this, Donald John Trump has acted in a manner contrary to his trust as President and subversive of constitutional government, to the great prejudice of the cause of law and justice and to the manifest injury of the people of the United States," the proposed article of impeachment states. …
"As the investigations move forward, additional evidence supporting additional Articles of Impeachment may emerge. However, as to Obstruction of Justice … the evidence we have is sufficient to move forward now. And the national interest requires that we do so," Sherman wrote.
It should be noted that the Democratic leadership thinks it is premature. In a related article, The Hill notes
"We're still very early in the investigative process."

Rep. Linda Sánchez (Calif.), vice chairman of the House Democratic Caucus, said Schiff's view reflects the "overwhelming sentiment" among the Democrats.

"A majority of the Caucus is of the belief that we ought to allow the investigation to continue to its logical conclusion before making any determination," she told reporters in the Capitol.
From a Reuters piece concerning Preet Bhahara, the fired US Attorney for the Southern District of New York,
Bharara stopped short of saying whether he thought Trump had obstructed justice in his conversations and subsequent firing of Comey.

However, he said he thought there was "absolutely evidence to begin a case" into the matter.
Some caution is warranted. The ducks need to be properly lined up so as not to interfere with any investigation. One thing though, the Democrats have to be united in their actions or suffer the "slings and arrows of outrageous fortune" as Shakespeare would say.
YouTube — Comey's Testimony – Last Week Tonight with John Oliver
I have removed the original video and replaced it with this shorter version. This part is contained in the original. John Oliver offers his take on Comey's testimony with his usual humour.
My Universe
This is especially for Nameless who has trouble getting his puddy into the carrier.