It rained a few nights ago but stopped early the following morning.  By noon, it was -1 C (30F) and snowing.  It snowed for the rest of the afternoon and early evening.  Looking at the parking lot outside, there is plenty of ice under the snow.  Yesterday was clear and cold, and definitely very icy.  I made it to physio  but my student cancelled our session.  The rest of the week is busy too, including Sunday evening when I will have Christmas dinner with friends.  I am responsible for multigrain dinner rolls and fresh pomegranates.
Short Takes
The Nation — As 2017 winds down, signature gatherers across Florida are on a last push to qualify the Voting Rights Restoration Initiative for the 2018 ballot, an initiative that, if it passes, would restore voting rights to well over a million Floridians.
The campaign needs just over 766,000 certified signatures to qualify the initiative for the ballot. Since many signatures in any such drive are ultimately disqualified, campaigners are aiming for 1.1 million signatures statewide that they can take to the division of elections in Tallahassee, the state capital, for review and certification by the February 1 deadline. To do this, they have to submit all of their signatures to the counties by the end of this year, so that the counties can in turn forward them to Tallahassee.
So far, organizers believe they have close to 1 million signatures. In the next 10 days, they will be making their final push.
A few days ago, I published a piece, Voting Rights for Felons — A Contrast Between Two Countries, about restoring the voting rights of felons and ex-felons.  In Florida, felons' voting rights were restored in 2007 provided they had served their time.  But then, in 2011, Republican Governor Rick Scott reversed those reforms and felons were permanently stripped of their voting rights.  Let us hope that this ballot initiative does not meet with foul play from Republican Governor Rick Scott or others.  This is democracy in action.
TPM — Republican Roy Moore and hasn't conceded his 20,000-vote loss to Democrat Doug Jones in Alabama's Senate race, and provisional ballots and military votes totals announced Wednesday aren't enough for Moore to close the deficit.
Jones beat Moore on Dec. 12 to become the first Democrat elected to the Senate from Alabama in a quarter-century. Moore was beset by allegations of sexual misconduct involving teenage girls decades ago.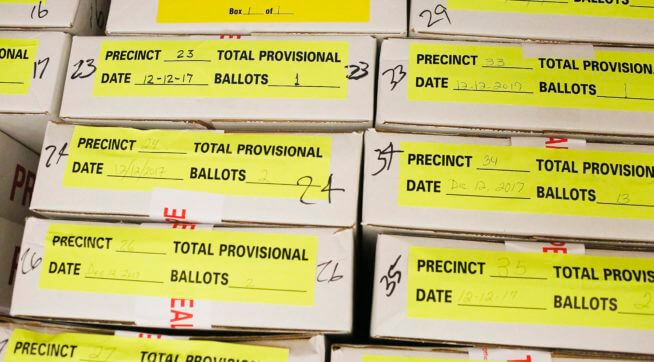 Alabama Secretary of State John Merrill announced Wednesday that a total of 366 military ballots were returned from overseas and 4,967 provisional ballots were cast. Even if all of those votes went to Moore, that is well short of the 20,000-vote deficit that Moore would need to close the gap. It also would not be enough to trigger an automatic recount.
It couldn't have happened to a more deserving person.  To my knowledge, Moore still hasn't conceded defeat and is now on a tear, according to Raw Story, blaming Muslims and Marxists.  In a FB post, Moore "… attacks Democrats for registering minorities to vote and warns Republicans that these minorities could end up toppling their rule."  I wonder how long it will be before Moore concedes. 
Roy, go home and don't bug us again. 
The Hill — A group of House Republicans has been quietly investigating the Justice Department and the FBI for weeks over concerns the agencies improperly handled the unverified contents of a dossier alleging ties between President Trump and Russia.
Politico reported Wednesday that the group, led by House Intelligence Committee Chairman Rep. Devin Nunes (R-Calif.), has been quietly working without the knowledge of the committee's Democrats alongside the House investigation to examine what they see as corruption in the nation's highest law enforcement body.
In a related Hill story, "Rep. Jim Jordan (R-Oh.) said late Saturday that he received an assurance from House Judiciary Committee Chairman Bob Goodlatte (R-Va.) that subpoenas would be issued for various senior FBI and Justice Department officials amid increased GOP allegations of anti-Trump bias in the bureau."   These Republicans should make better use of their time and do the People's business, not Trump's.  Devin Nunes is the last person who should be doing this investigation.  Plus, not including Democrats on the investigation is unconscionable, yet so Republican.  Further proof that Republicans need to go the way of the Whigs . . . or the dodo bird! 
My Universe
A beautiful and determined Bengal cat decided that she wanted to get away from all the noise downstairs and skillfully carried her matching bed up the stairs and around the curve despite the fact it was at least twice her size.