It's Monday.  I'm not taking a nap this morning, because I had a lot of paperwork to so, and now that it's done, I'll just write earlier than usual and publish right after lunch.  That's probably a good thing, because I'm battling a mild case of Republicosis again.  I seem to have that more often since my gall bladder was removed, so I think I'm going to cut out stool softeners, except for when I have Republicitis.  In the other hand, that might not be it.  Since there has been an asshole in the White House, mine has decided to RESIST!!

Jig Zone Puzzle:
Today's took me 3:34 (average 5:04).  To do it, click here.  How did you do?
Short Takes:
From Media Matters: Buzzfeed News has obtained and published "an explosive cache of documents" confirming Breitbart as the mouthpiece for neo-Nazis, white supremacists, and the racist right-wing movement known as the alt-right. Buzzfeed's entire report on Breitbart management's courting of neo-Nazis and white supremacists can be found here.
Breitbart actively courted and solicited neo-Nazis and white supremacist leaders for stories, even allowing them to contribute ideas and kill stories [emphasis original]
Click through. This is too horrid to ignore. RESIST!!
From Daily Kos: San Francisco 49ers Safety Eric Reid had something to say after his team lost to the Indy Colts in overtime — 26-23 — the game which Vice-Resident Mike Pence staged a planned publicity stunt walk out on to whine-protest players exercising the first amendment rights to protest the extra judicial executions of young black men by bad police officers.
Talking to reporters in the locker room Reid said:
"My honest reaction: … Does anybody know the last time he's (Pence) been to a football game? With that being said, he tweeted out a three-year-old photo of him at a Colts game, so with the information I have, the last time he was at a Colts game was three years ago. So this looks like a PR stunt to me. He knew our team has had the most players protest. He knew that we were probably going to do it again. This is what systemic oppression looks like. A man with power comes to the game, tweets a couple of things out and leaves the game with an attempt to thwart our efforts. Based on the information I have, that's the assumption I've made."
I'd say that's a safe assumption Eric, and well stated.
I'd say it's a safe assumption too, since Trump has admitted telling Pence to leave.  WE paid for one damn pricey photo-op!  RESIST!!
From NY Times: The White House on Sunday delivered to Congress a long list of hard-line immigration measures that President Trump is demanding in exchange for any deal to protect the young undocumented immigrants known as Dreamers, imperiling a fledgling bipartisan push to reach a legislative solution.
Before agreeing to provide legal status for 800,000 young immigrants brought here illegally as children, Mr. Trump will insist on the construction of a wall across the southern border, the hiring of 10,000 immigration agents, tougher laws for those seeking asylum and denial of federal grants to "sanctuary cities," officials said.
As much as I want to protect the dreamers, Trump is charging too high a price in his Republican oppression of other undocumented Latinos and their families.  RESIST!!
Cartoon: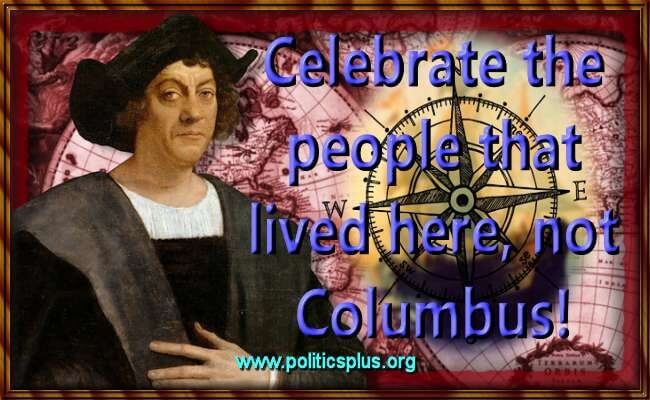 Portland OR celebrates Indigenous Peoples Day!