I have a cold or the flu.  I'm running a fever and have nasal congestion in addition to severe COPD.  I got it from chilling myself outside a bureaucrat's office.  On the other had, it could just be what I get for turning 67 on Friday the  13th.  Obviously, this is today's only article.  Some of the material is slightly outdated, but, as bad as I feel, it's the best I can do.
Jig Zone Puzzle:
Today's took me 3:22 (average 4:52).  To do it, click here.  How did you do?
Short Takes:
From The New Yorker: Stating that "their continuing hostilities are a threat to world peace," Iran has offered to mediate talks between congressional Republicans and President Obama.
Iran's Supreme Leader, Ali Khamenei, made the offer one day after Iran received what he called a "worrisome letter" from Republican leaders, which suggested to him that "the relationship between Republicans and Obama has deteriorated dangerously."
"Tensions between these two historic enemies have been high in recent years, but we believe they are now at a boiling point," Khamenei said. "As a result, Iran feels it must offer itself as a peacemaker."
He said that his nation was the "logical choice" to jumpstart negotiations between Obama and the Republicans because "it has become clear that both sides currently talk more to Iran than to each other."
He invited Obama and the Republicans to meet in Tehran to hash out their differences and called on world powers to force the two bitter foes to the bargaining table, adding, "It is time to stop the madness."
I'm afraid it won't work Andy. Some terrorists are just too far gone for Iran to be able to help.
From Media Matters: Sean Hannity lectured criminal defense and civil rights attorney Tamara Holder about former Secretary of State Hillary Clinton's impact on women's issues, telling Holder, "let me educate you."…
…Hannity's lecturing became so egregious, his female producer challenged him, asking if he was treating Holder this way because she is a woman:
If women follow the advice Hannity is giving, they will have nothing to do with him.
From Daily Kos: Six years too late, media call congressional Republicans 'traitors'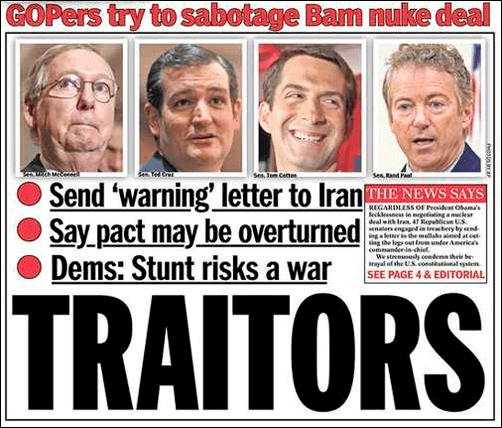 Now Republicans are claiming they were just being "cheeky". That's the truth, if the cheeks in question are the ones, between which their heads are inserted.
Cartoon: