I'm writing for tomorrow, day 117.  It's been a busy day with lots of chores, plus I made a chicken, rice and green bean casserole from scratch.  My sleep schedule is running later than normal today.  Tomorrow (Saturday) morning is our fantasy football draft.
Jig Zone Puzzle:
Today's took me 3:55 (average 5:07).  To do it, click here.  How did you do?
Short Takes:
From Daily Kos:
MSNBC resident blowhard Joe Scarborough just couldn't resist bloviating about the arrests of Washington Post's Wesley Lowery and the Huffington Post's Ryan Reilly. Scarborough's idiot opinion? They must have gotten arrested because they just "want to get on TV."
Lowery had a thing or two to say about that, when CNN interviewed him about his experience, and Scarborough's comments.
"Well, I would invite Joe Scarborough to come down to Ferguson and get out of 30 Rock where he's sitting and sipping his Starbucks smugly," Lowery said during a Thursday morning appearance on CNN. "I invite him to come and talk to the residents of Ferguson, where I've been since Monday afternoon having tear gas shot at me, having rubber bullets shot at me … I would invite Joe Scarborough down here to do some reporting on the ground, then maybe we can have an educated conversation about what's happening here."
Those who claim that MSNBC is the "liberal" should remember that this guy has as much air time as Chris Hayes, Rachel Maddow, and Lawrence O'Donnell combined.
From NY Times: Prime Minister Nuri Kamal al-Maliki said Thursday night that he had agreed to relinquish power, a move that came after days of crisis in which his deployment of extra security forces around the capital had raised worries of a military coup.
Mr. Maliki's decision held out the prospect of a peaceful transition of power, based on democratic elections and without the guiding hand of American military forces, which would be a first in modern Iraq's troubled history of kings, coups and dictatorships.
A few days ago, I said that I doubted this would happen. OOPS! When I'm, wrong I say so. I had good reasons for thinking otherwise, but good reasons do not always guarantee accuracy.
From Upworthy: Utah Drug-Tested Almost 5,000 People On Welfare, And The Results Almost Made Me Throw Something
I wonder what Utah thought they'd find when they implemented mandatory drug testing for welfare recipients? I doubt this is it. The moral of the story? I'd say the "sketchy drug addict" narrative that continues to be assigned to people on government assistance isn't really that accurate … or fair.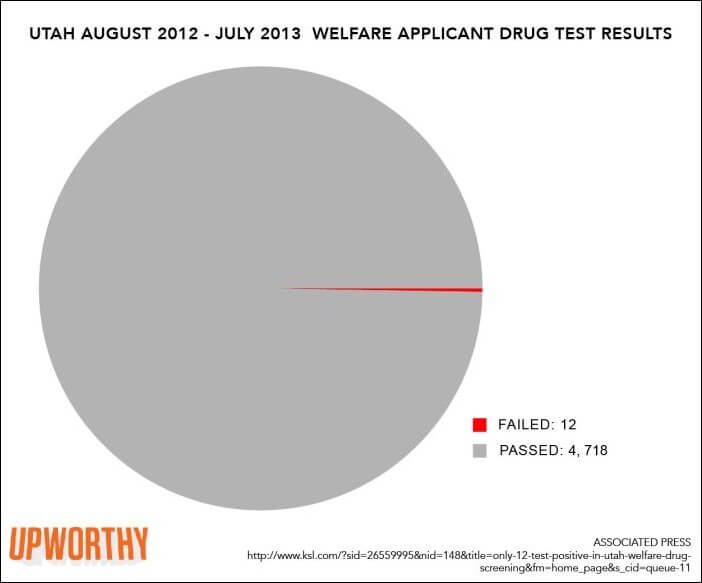 Those are results that Republicans do NOT want you to know, because it trashes their dishonest stereotype.
Cartoon: