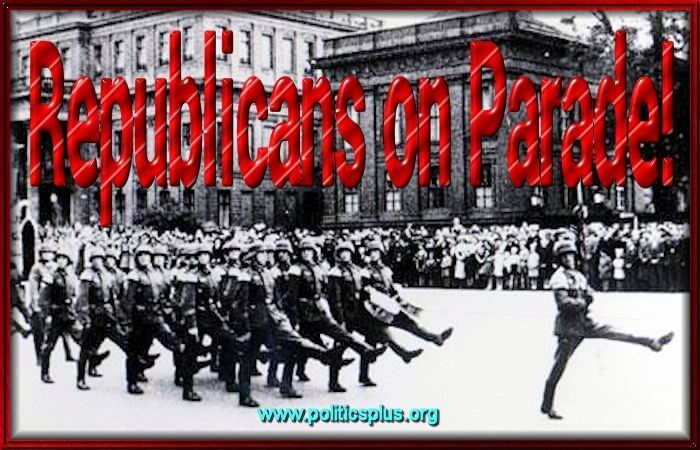 Here is the seventy-fourth article in our Republicans on Parade series, featuring individuals who personify what the Republican Party has become. Today's honoree is Tea Party member John Russell Houser, shown posing with a Republican symbol he had hung. He is so honored for demonstrating what a crazed Republican Ammosexual can do with gun.
John Russell Houser, of Phenix City, Alabama, posted frequently across a variety of online forums — from political discussions to message boards for Oldsmobile enthusiasts — where he complained about "moral decay" and media brainwashing.

"America is so sick that I now believe it to be the enemy of the world," he wrote under the name Rusty Houser in a December 2013 comment [Republican Hate Site delinked] on Fellowship of the Minds. "I know next to nothing about Iran, but the little I do know tells me they are far higher morally than this financially failing filth farm."

The 59-year-old Houser was less active on Facebook and Twitter, although he left behind some clues about his beliefs on those social media networks.

"If you don't think the internet is censored, try reading a newspaper from a country that hates liberals the way I do," reads his second — and last — Twitter post, from June 2013. The first argues that "Westboro Baptist Church may be the last real church in America [members not brainwashed]."

His Facebook account shows just two likes — the "I hate liberals!" political organization, which uses an avatar that reads "Stand with Rand," and the Crossroads Irish-American Festival.

Posts on his Facebook page reveals an interest in limiting women's influence over the church, a hatred for American culture, and complaints about liberals "brainwashing" Americans into hating their own country…
Inserted from <Alternet>
To be completely clear, to what extent, if any, Houser's Republican views served as a direct motivation for his shooting spree is unknown, as Rachel Maddow explains in her coverage of him.
However, time and time again, we see Republicans throwing up their hands and saying, "It was mental illness! We had nothing to do with it!" in response to violence by insane right wingers. We've herd that claim far too often. When Republicans keep using hate-filled rhetoric to keep the violent extremists they have welcomed into their party stirred up, they also need to take credit when one of the people they helped fill with hate goes off the deep end. So regardless of Houser's immediate motivation, his crime was Republican.