Today is another relatively busy day.  I have a grocery delivery coming to put away, volunteer editing to do, meals to prepare, and my helper friend coming to help me wash and change the sheets on my hospital bed.  I did managed to get a full night's sleep last night, and I needed it.  I still feel tired today.
Jig Zone Puzzle:
Today's took me 2:42 (average 5:11).  To do it, click here.  How did you do?
Short Takes:
From Upworthy: Take a minute to celebrate and discover these 25 black "firsts" from the last 25 years.
1. First African-American woman to win the Academy Award for Best Actress: Halle Berry (2002)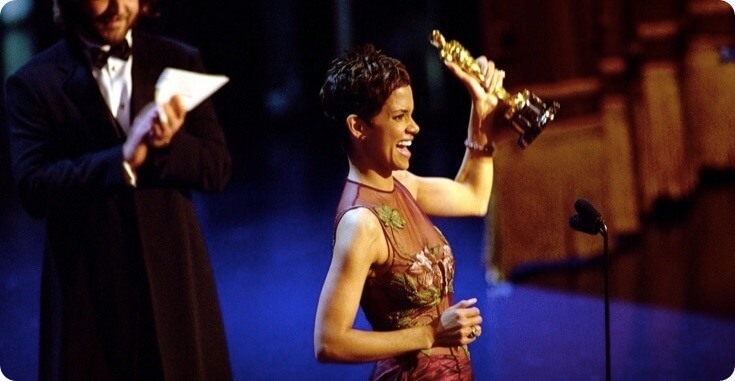 It's Black History Month. I shared the first Black "first" listed. Click through for the other twenty-four.
From NY Times: The state-appointed emergency manager of the Detroit Public Schools, who had also managed the city of Flint and oversaw its decision to draw its water from the Flint River, resigned on Tuesday, the day before a congressional committee hearing in Washington on Flint's water.
Michelle Zdrodowski, a spokeswoman for Detroit Public Schools, said the manager, Darnell Earley, had declined to testify before a panel investigating the widespread contamination of Flint's tap water after the city switched its water source, which led to elevated blood lead levels throughout the city.
On Tuesday evening, the House Oversight and Government Reform Committee issued a subpoena for Mr. Earley to testify on Wednesday, but his lawyer, A. Scott Bolden, said Mr. Earley would not be able to appear.
I'm glad this Republican race-traitor lost his job. Rachel Maddow explains why the Republican House hearings are just a smoke screen to protect Sturmbannführer Snyder. 
I bet a fiver against a donut that the goose-stepping, sham committee will blame it on Obama or Hillary.
From Crooks and Liars: Rand Paul, the libertarian-minded freshman senator who was once viewed as a formidable presidential contender, is suspending his White House bid on Wednesday, several sources close to Paul told CNN.
I was happy to see that the Clown Car had barfed Upchuck Huck. I'm equally happy to see that it puked Idiot, Son of Idiot, Named after Idiot!
Cartoon: