I certainly stand my opinion that Ron Paul should have had himself neutered before polluting America with Idiot, Son of Idiot, Named after Idiot.  My opinion that Ron Paul is a racist and misogynist, who disguises John Birch Society dementia for libertarianism remains unchanged.  But those of you, who have known me over several years, will remember the one thing I have said about him most: "Ron Paul has never mattered, and never will."  In that, I may have been wrong.  Ron Paul actually may matter, because his criminal behavior during the last Iowa caucus may have an effect in who controls the Senate in 2014.
A former Iowa state senator concealed payments he received in exchange for defecting from one presidential campaign to another ahead of Iowa's 2012 caucuses and then obstructed an investigation into the incident.

Kent Sorenson of Milo now faces up to 25 years in prison, after pleading guilty on Wednesday to two counts in federal court in Des Moines.

The case revolves around Sorenson's dramatic jump from the presidential campaign of U.S. Rep. Michele Bachmann to then-U.S. Rep. Ron Paul's rival campaign in late December 2011, just days before the Iowa caucuses.

According to a statement of facts [broken link removed] accompanying Sorenson's plea agreement, he secretly negotiated with the Paul campaign over a period of months to join the campaign and received $73,000.

The payments included several monthly payments, ranging in size from $8,000 to $33,000, routed through a film production company and a second company before being received by Sorenson. Those circuitous routes circumvented reporting requirements of the Federal Election Commission, ensuring the payments were kept hidden from the public…
Inserted from <Des Moines Register>
Now on the surface, it appears that this is nothing more that a squabble between two extremist fools that were going nowhere, except for one thing.  Bribery needs a person taking the bribe and a person doing the bribing.  Who was that? In addition to Ron Paul himself, the decision maker in  Paul's campaign was his Campaign Manager, Jesse Benton.  A key candidate for the US Senate was so impressed with the criminal way in which Benton managed Ron Paul's campaign that he made Benton his own Campaign Manager.  Guess who!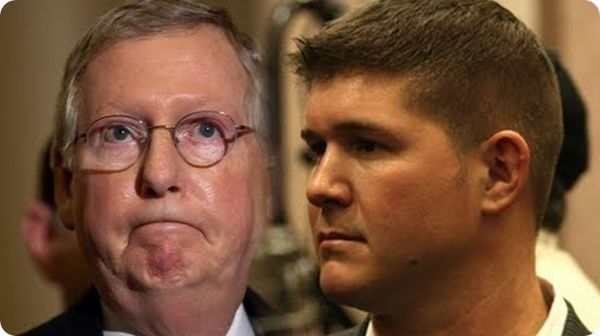 It was Rachel Maddow that made this connection.
If you cannot watch MSNBC video where you live, you can see the clip on YouTube.
Benton is likely to be indicted as well, but his criminal behavior certainly reflects on the character of Bought Bitch Mitch and we need to keep reminding Kentucky voters about yet another reason to Ditch Bought Bitch: Ditch Mitch!!
As for Ron Paul, were he not such a  dishonest walking, talking sphincter, we would not have this criminal record, so in this one small way. Ron Paul may have mattered.
Late Update: I just learned that the bag man who delivered the check to Sorenson for Paul And Benton also went to work for Bought Bitch Mitch!