Well, that didn't take long! Twitler's team managed to become a trending Twitter meme in the record-breaking time of less than 24 hours!
The honors go to Press Secretary Sean Spicer, who held a press conference on the Saturday after the inauguration and repeatedly told blatant LIES at the behest of Twitler himself. Among them was the whopper, and easily disproved fallacy, that his crowd of 1.5 MILLION was the biggest ever.
Immediately it gave rise to a number of hashtags like #SpicerSays, #SpicerFacts, etc. So let's enjoy a few:
Guess the number of jelly beans.

Me: 87
Wife: 134
Sean Spicer: 1.5 million #spicerfacts pic.twitter.com/dq7MmhgG3H

— Mark Zohar (@markzohar) January 22, 2017
This photo proves that Trump inauguration crowd was actually quite impressive!#SpicerFacts#TrumpInaugural#TrumpTreason pic.twitter.com/jdTG7Z4n4T

— Larkin (@larkin1235) January 22, 2017
"The Beatles, INCLUDING John & George, played the inaugural concert and President Trump applauded them with his HUGE HANDS." #SeanSpicerSays

— Mitch Benn (@MitchBenn) January 22, 2017
"Donald Trump has the biggest hands of any President in history. Period." #SpicerFacts pic.twitter.com/tnSyOUspmR

— Lt Tasha Yar 🖖❄️ (@ResistBLOTUS) January 22, 2017
Trump was America's first black astronaut. #SpicerFacts

— BadgerStew (@BadgerStew) January 22, 2017
"Coconuts are mammals 'cause they have hair & produce milk."#SeanSpicer #SpicerFacts #PressSecretary #TheResistance #TrumpLeaks pic.twitter.com/44wvAanqRs

— #NotMyPresident 📎 (@Riela2) January 22, 2017
But Spicer did manage to get one correct:
That was not empty space…that was millions of people wearing sheets. PERIOD. #Spicerfacts pic.twitter.com/APnSG4L9Pi

— DG Curry (@DGCanuck) January 21, 2017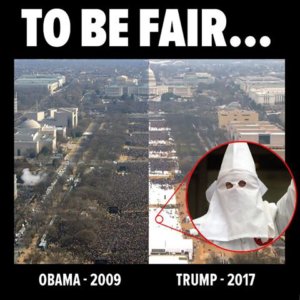 So on Sunday they sent out Kellyanne Conway (after wisely ditching her Paddington Bear or New England Patriots logo inaugural outfit …)
To try and clean up the outrage Spencer produce with his bald-faced LIES. So she appeared on Meet the Press, and did a bang-up job … of creating a NEW meme: "Alternative Facts"!
Merriam – Webster Dictionary actually Tweeted out the defintion of "Fact" to try to help – but to no avail:
📈A fact is a piece of information presented as having objective reality. https://t.co/gCKRZZm23c

— Merriam-Webster (@MerriamWebster) January 22, 2017
#alternativefacts
Largest Inaugural crowd. Period pic.twitter.com/QBfkJTOMRZ

— George D. (@xdelmar59) January 22, 2017
Millions cheer as Mike Pence greets adoring crowds along the #Inauguration parade route #AlternativeFacts pic.twitter.com/MCq12kZQxu

— Donald J. Drumpf (@RealDonalDrumpf) January 22, 2017
'Nobody has more respect for women than me, believe me.'

-Donald Trump

#AlternativeFacts pic.twitter.com/vDl4tZiQut

— Ashley Riggs (@Just1MoreAshley) January 23, 2017
Loving devoted husband, happy wife.#alternativefacts pic.twitter.com/F4BYUJvznZ

— Randi Mayem Singer (@rmayemsinger) January 22, 2017
And so America's descent into the depths at least begins with a few chuckles. But we all shudder to think of how it will end!
Kyrie Eleison
Lord, Have Mercy