I'm writing for tomorrow and am still feeling somewhat tired.  I may have little or nothing for Tuesday, because I have a doctor appointment (routine maintenance) with my Urologist tomorrow.  Hopefully he can help me remember what else it's for.  I'll be using the disabled van for the first time, so I have no idea when I'll return home.
Jig Zone Puzzle:
Today's took me 4:11 (average 5:20).  To do it, click here.  How did you do?
Short Takes:
From Daily Kos: The GOP's growing chart may need an update.  Perhaps a new bar at the bottom redefining rape as "pursuit of sexual freedom"?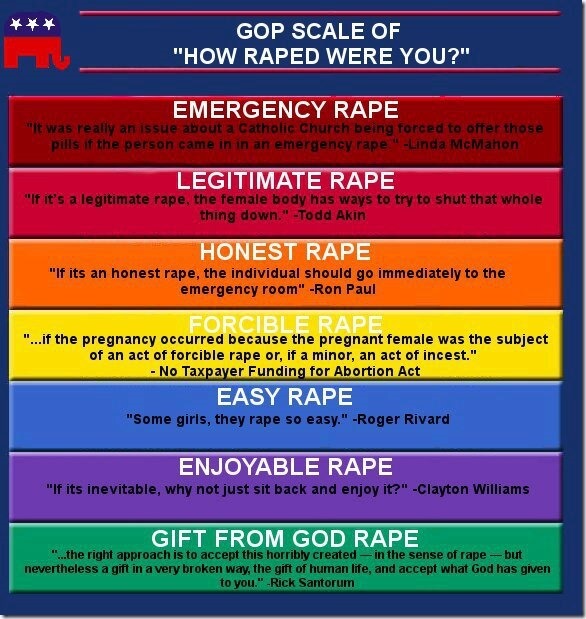 How about redefining it as any time the GOP gets involved with women's rights.
From Think Progress: Pennsylvania is one of just 15 states that ban predatory payday loans, for now. If state Rep. Chris Ross (R) and state Sen. Pat Browne (R) have their way, though, the Keystone State will open its arms to companies that already pull billions of dollars out of poor communities each year through loans with average interest rates of over 300 percent.
Here we have the Republican Party representing one of the most blatant forms of vulture capitalism.
From Robert Reich: House Speaker John Boehner says raising the minimum wage is "bad policy" because it will cause job losses. 
The U.S. Chamber of Commerce says a minimum wage increase would be a job killer. Republicans and the Chamber also say unions are job killers, workplace safety regulations are job killers, environmental
regulations are job killers, and the Affordable Care Act is a job killer. The California Chamber of Commerce even publishes an annual list of "job killers," including almost any measures that lift wages or protect workers and the environment.
Most of this is bunk.
When in 1996 I recommended the minimum wage be raised, Republicans and the Chamber screamed it would "kill jobs." In fact, in the four years after it was raised, the U.S. economy created more jobs than were ever created in any four-year period.
Robert Reich is spot on. The Republican Reich is full of it!
Cartoon: