I actually got to watch the Olympics for a few minutes last night.  I hope I live through the 2020 games.  I'd hate for my last Olympics to be the one I could not see well.  It's a busy day with lots of paperwork to do.
Jig Zone Puzzle:
Today's took me 2:57 (average 5:46).  To do it, click here.  How did you do?
Short Takes:
From The New Yorker: At a speech in Detroit on Monday, the Republican Presidential nominee, Donald J. Trump, spelled out the details of his economic plan, which calls for every American to inherit millions of dollars from his or her father.
"There are people at my rallies, desperate people, desperate because they want jobs," he told his luncheon audience at the Detroit Economic Club. "Once they inherit millions from their father, they will never want a job again."
Using an anecdote to show how his economic plan would work, Trump explained, "A man with zero dollars who inherited forty million dollars from his father would become forty million dollars wealthier."
"We are going to make America rich again," he said.
So, Andy, do you plan to return to doing satire?
From Daily Kos: And now for some friendly advice for my Republican friends. If you want to criticize President Obama on anything having to do with Iran, don't waste your energy seething about "Iran" and "ransom" and "hostages" and what Ronald Reagan would do. It won't end well for you. After all, it wasn't Reagan's inauguration that secured the release of 52 Americans held captive in Tehran, but months of negotiations by the Carter administration. And as it turned out during the Iran-Contra scandal, the American president who actually paid a "ransom" and "negotiated with terrorists" was none other than St. Ronnie himself.
In the midst of Republican accusations about Iran, don't forget that Republicans love to project, accusing Democrats of vile sins against God, nature, and their patron Saint Ronnie, when the one who actually committed them was Saint Ronnie Ray Gun, himself.
From Alternet: "None of us will vote for Donald Trump," a letter signed by 50 of the right's top national security officials read. Dozens of top aides and cabinet members for President George W. Bush issued the letter Monday to warn against the Republican presidential nominee as a "risk" to America's national security.
"From a foreign policy perspective, Donald Trump is not qualified to be President and Commander-in-Chief," read the letter drafted by legal adviser at the National Security Council and the State Department under former secretary of state Condoleezza Rice. Several of Rice's many of closest aides at the White House and the State Department are all signatories to the anti-Trump letter, although the former secretary of state has issued no public statements on Trump's White House bid.
In March, more than 100 GOP national security advisers signed a similar anti-Trump letter, calling the political neophyte "fundamentally dishonest" who "would use the authority of his office to act in ways that make America less safe." Monday's letter, however, is signed by several, even more prominent national security officials who cited Trump's recent remarks about Russia as a catalyst for action. More on the signatories from the New York Times:
Among the most prominent signatories are Michael V. Hayden, a former director of both the C.I.A. and the National Security Agency; John D. Negroponte, who served as the first director of national intelligence and then deputy secretary of state; and Robert B. Zoellick, another former deputy secretary of state, United States trade representative and, until 2012, president of the World Bank. Two former secretaries of homeland security, Tom Ridge and Michael Chertoff, also signed, as did Eric S. Edelman, who served as Vice President Dick Cheney's national security adviser and as a top aide to Robert M. Gates when he was secretary of defense.
I hate to say it, but that's 100 endorsements we don't want, considering that around ninety of them should be tried for war crimes.
Cartoon: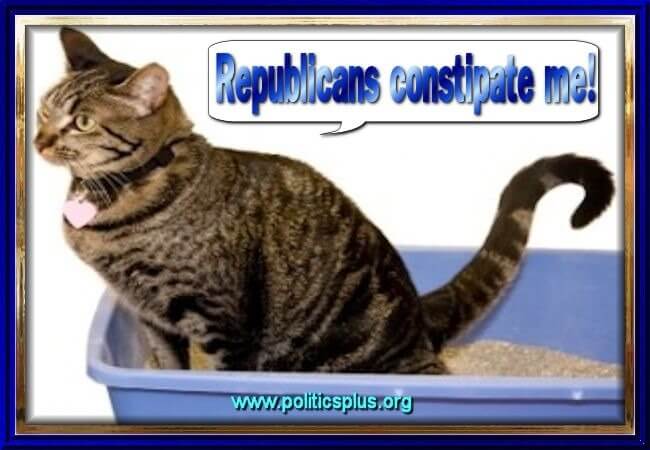 It's either Republicitis or Republicosis!!