I'll be leaving shortly for my appointment with my Ocular Oncologist, so I'm hurrying.
Jig Zone Puzzle:
Today's took me 3:21 (average 5:19).  To do it, click here.  How did you do?
Home Health Update:
Julie says goodbye.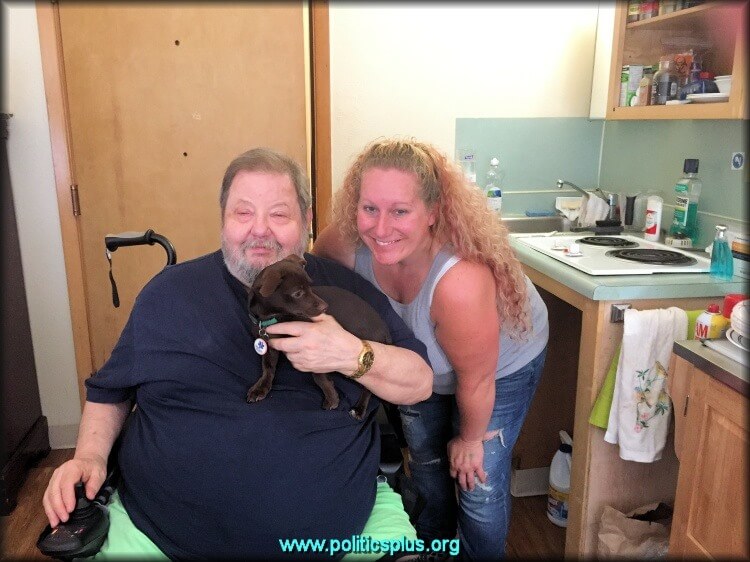 Wendy says Hi::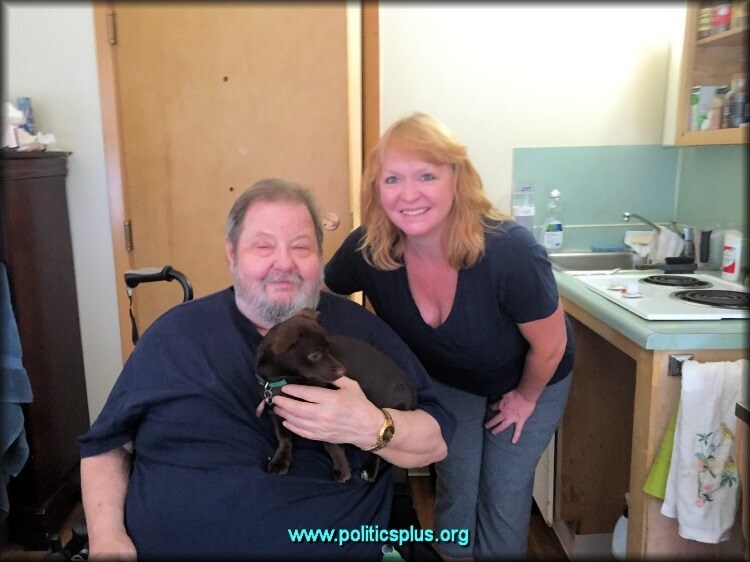 Killer Dawg is a camera hound!!!
Short Takes:
From Daily Kos: We've been listening to the plots of "Never Trump" Republicans to somehow stage a floor fight at their party's upcoming national convention to strip the nomination from the man with the most delegates and give it to, well, anyone else. We've had the announcement from white nationalist groups that they'll be "defending" the convention from troublemakers, and white nationalist groups are white nationalist groups because they have very specific and detailed notions about who the "troublemakers" in society might be.
The only thing that could up the chaos ante at this point would be a quasi-organized-ish movement to make sure the pro-Trump delegates bring their guns!
"There are a whole bunch of things happening: You go to various events, receptions, whatever, outside the convention hall," says Ash Khare, a delegate from the northwest corner of [Pennsylvania] who applied for a concealed carry permit in preparation for Cleveland. "And you walk on the streets and, you know, people know that you are a delegate, and who knows what the crazy people are going to do? So you've got to be vigilant about what's going on and prepare yourself."
I'd say the crazy people are going to be wandering downtown Cleveland with Donald Trump pins and loaded guns strapped to their hips—and yes, we're all trying to "prepare ourselves" for that.
Not only should guns be allowed inside the hall at the Republican Convention, but also, their use should be mandatory.

From The New Yorker: In a stunning rebuke to one of the nation's oldest and most established law-enforcement agencies, House Republicans voted unanimously on Tuesday to abolish the Federal Bureau of Investigation.
Unlike most House measures, which come up for a vote only after months or even years of sluggish effort, the bill to eliminate the F.B.I. was drafted in a matter of minutes on Tuesday morning, Republican staffers confirmed.
House Speaker Paul Ryan offered no specific reason for the Republicans' sudden frenzy of activity to abolish the F.B.I., but said that the Bureau represented "big government at its worst."
"This is an agency that, when given even the simplest task to do, can't manage to do it right," he said.
Andy, do you care to guess why?

From NY Times: The F.B.I. director, James B. Comey, on Tuesday recommended no criminal charges against Hillary Clinton for her handling of classified information while she was secretary of state, lifting an enormous legal cloud from her presidential campaign less than two hours before she boarded Air Force One for her first joint campaign appearance with President Obama.
But on a day of political high drama in Washington, Mr. Comey rebuked Mrs. Clinton as being "extremely careless" in using a private email address and server. He raised questions about her judgment, contradicted statements she has made about her email practices, said it was possible that hostile foreign governments had gained access to her account, and declared that a person still employed by the government — Mrs. Clinton left the State Department in 2013 — could have faced disciplinary action for doing what she did.
To warrant a criminal charge, Mr. Comey said, there had to be evidence that Mrs. Clinton intentionally transmitted or willfully mishandled classified information. The F.B.I. found neither, and as a result, he said, "our judgment is that no reasonable prosecutor would bring such a case."
The Justice Department is highly likely to accept the F.B.I.'s guidance, which a law enforcement official said also cleared three top aides of Mrs. Clinton who were implicated in the case… [emphasis added]
When this first came up, I, as a Bernie supporter, suggested that this would be the end result, as Hillary had adopted State's lax security standards that go back to the Nixon regime. While she clearly should have taken charge to correct the problem, her conduct was not criminal. However, I suspect the conspiracy theories and misrepresentations will continue, as long as Republicans and very few left wing regressives act out on what they want to be true, instead of what is true.
Cartoon: