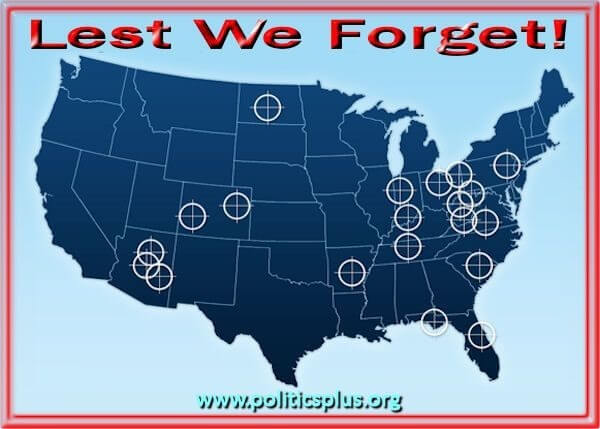 Let me begin by clarifying why I call Sarah Palin "Bloody Bullseye Barbie", lest we forget.  She put the map shown above on her Facebook page.  She placed one of the crosshairs she used to mark Democrats for violent attacks on the campaign HQ of Gaby Giffords (D-AZ), who was subsequently almost almost killed by Republican Ammosexual, Jared Lee Loughner.  She denied the blood on her hands then, but she is now quick to play victim and blame Obama for her own violently dysfunctional family.  Mill Maher called her on it, but he made one mistake.
We had to know what Friday's "Real Time with Bill Maher" would be like once Sarah Palin came out implying that President Obama was to blame for her son's domestic abuse charges earlier this week.

While Palin was endorsing Donald Trump in Iowa her son was being arraigned on four misdemeanor counts. In her speech she said that we send our sons to fight in wars and they come back "a bit different."

"And then just glossed over that," Maher said. "Like, we accept that now. We send our sons off to stupid wars and they come back 'a bit different' because he beat up his girlfriend, was talking suicide and she blamed that on Obama. And I'm sure that's why his girlfriend was cowering under the bed, because of Obama."…
Inserted from <Alternet>
I disagree with Bill on one key point.  The leftist wing-nut at Yale is not the same as Republican Ammosexuals like Ammon Bundy.  We have wing nuts on the left, and Republicans correctly identify them as useful fools.  They are harmless, and Democrats do not support them,  Republican wing-nuts are dangerous domestic terrorists and the Republican Party does support them,  Bull is funny, but he is mistaken on that point.