I had a relatively quiet day doing a few loads of laundry. Lucia called early this morning to cancel our session so time opened up. The babes spent the day sleeping and trying to follow me to the laundry in the basement. They are not allowed down there because they won't help folding and they leave fur all over the clean laundry. The weekend looks quiet too.
Short Takes
The New Yorker — Across the United Kingdom on Friday, Britons mourned their long-cherished right to claim that Americans were significantly dumber than they are.
Luxuriating in the superiority of their intellect over Americans' has long been a favorite pastime in Britain, surpassing in popularity such games as cricket, darts, and snooker.
But, according to Alistair Dorrinson, a pub owner in North London, British voters have done irreparable damage to the "most enjoyable sport this nation has ever known: namely, treating Americans like idiots."
"When our countrymen cast their votes yesterday, they didn't realize they were destroying the most precious leisure activity this nation has ever known," he said. "Wankers."
In the face of this startling display of national idiocy, Dorrinson still mustered some of the resilience for which the British people are known. "This is a dark day," he said. "But I hold out hope that, come November, Americans could become dumber than us once more."
Oh Andy! And here I thought that English football (soccer) was the most precious leisure activity. Although now that I think about it, football is a calling . . . almost a religion! Let's hope that the final British wish does not come true.
Alternet — In a stunning and historic move, citizens of the United Kingdom voted Thursday to leave the European Union—a decision colloquially dubbed the "Brexit"—making the U.K. the first country to voluntarily withdraw from the 28-member political and economic bloc.
The vote is seen as a referendum on globalization, combining the economic impact of EU trade regulations with the fearful refrain about immigration, which, for many pro-Brexiters, is bolstered by the Schengen visa agreement that allows those who have gained entry to an EU member state to move freely among other EU countries. Supporters of the Brexit cited the EU's onerous regulations, dissatisfaction with Britain's recovery after the 2008 recession and concerns over immigrant access to Britain's strained resources as their top reasons for leaving. …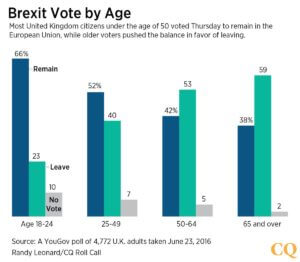 For Britons, those perhaps most impacted by the Brexit vote are the people who wanted it the least (a trend paralleled in the United States as young voters overwhelmingly declare their hatred of Trump's nationalistic bloviating). An incredible majority of younger voters opted to stay in the EU. Among 18- to 24-year-olds, 75 percent voted to remain, according to a YouGov poll, as did a majority of voters aged 25 to 49.
I have seen a number of petitions asking the British government to allow 16 and 17 year olds to vote in the referendum. The younger groups of voters are the ones that will have to deal with the results of leaving the EU. In a Think Progress article which I read earlier, those most affected by the Brexit decision will be the working class. Yet it is to those same people that the leave side sold the idea of increasing fortunes after leaving the EU.
"Ultimately, the British economy has suffered alongside much of the E.U. over the course of the past few years, and those most affected have been blue collar workers. The 2008 financial crisis dealt a hard blow to working families, who still earn £40 less per week than they did before the crash. They have also faced growing obstacles to higher education and increasing challenges when eyeing upward mobility. Questions about the impact of globalization, single markets, and inequality are all fair and long overdue — but so far, it's clear that Brexit was marketed to voters as something it is not."
Another point it made was that the leaders of the leave side, like Nigel Farage and Boris Johnson, are wealthy individuals, not working class. The article is well worth reading.
Think Progress — As House Democrats fed up with Congress' lack of response to America's gun violence epidemic continued their #NoBillNoBreak sit-in into the wee hours of Wednesday night, Rep. Louie Gohmert (R-TX) came down to the House floor to confront them about what he perceives to be the real problem.
"We are talking about radical Islam! Radical Islam killed these people!" Gohmert shouted …
Orlando aside, many recent mass shootings haven't involved Islam at all. In fact, a recent study found that Americans are seven times more likely to be killed by a right-wing extremist than they are by a Muslim terrorist.
Thursday morning, Gohmert went on Fox News to talk about the House floor confrontation. Instead of discussing the role he believes radical Islam plays in American gun violence, he decried gun free zones and immigration, saying, "If this administration would protect us from people coming in, then we wouldn't have to worry" as much about terrorism. (None of the nearly 800,000 refugees settled in the United States since September 11, 2001 has been involved in plotting a credible terrorist attack.)
Barf Bag Alert! Barf Bag Alert! Barf Bag Alert! Barf Bag Alert! Barf Bag Alert! Barf Bag Alert!
I had originally thought to include this video in a dedicated story about gun control but given the fast moving events this week, I'll forego that article and put it here. Sam Bee is always good to watch. If you want to read the base article see Politico.
Why is it that Americans are so obsessed with guns? After all the shootings such as Colorado, Orlando and Sandy Hook, just to name three of the many, there have been calls for action. But lawmakers seem to be paralysed by fear of the NRA or their vision is clouded by other special interests and their money. I watch with dismay as common sense gun control laws are tossed aside in favour of anyone having a gun at any time . . . or at least that's how it seems to this Canuck. According to Mass Shooting Tracker, there have been 295 deaths and 707 wounded in US mass shootings thus far in 2016. Do you think there is a problem here? In Canada, where gun laws are stricter, a Conservative MP wants to see AR-15s removed from the restricted class of weapons. Total lunacy!
My Universe — This was a gift from the Napster (Lona) today. These guys are just so cute! . . . and they remind me of how my 3 often sleep, although without the plant. Thanks Lona!