It took me a lot of time to do my research, because the news fixated on whether Roy Moore will pay more attention to the election or the erection.   Keep your fingers, toes, and whatever else will cross (eyes for me) crossed.
Jig Zone Puzzle:
Today's took me 3:37 (average 7:51):  To do it click here.  How did you do?
Fantasy Football Report:
Here's the latest from our own fantasy football league, Lefty Blog Friends.
Scores: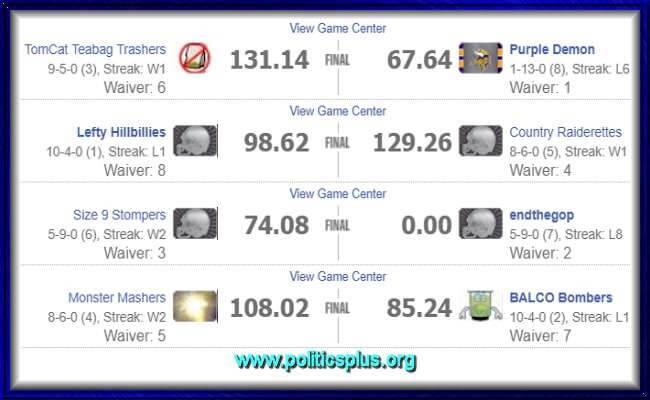 Woooo Hoooo!!
Standings: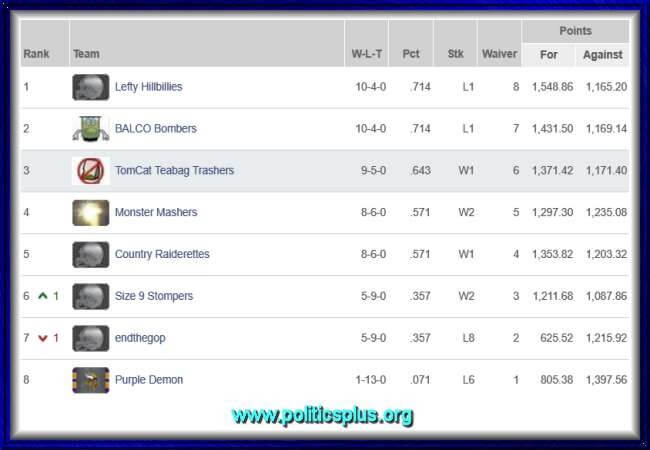 Congrats to Vivian for winning the regular season.
Playoff Schedule: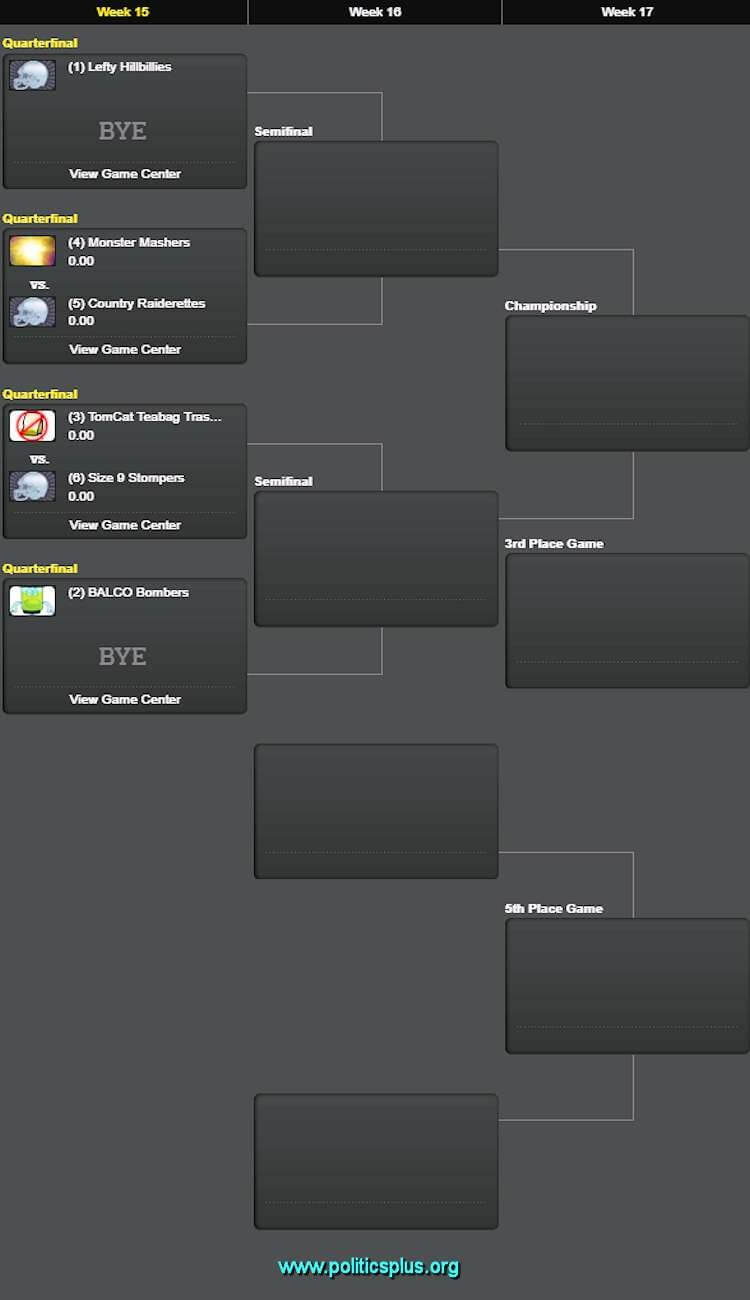 Good luck to all!
Short Takes:
From NPR: President Trump has formally told NASA to send U.S. astronauts back to the moon.
"The directive I'm signing today will refocus America's space program on human exploration and discovery," he said.
Standing at the president's side as he signed "Space Policy Directive 1" on Monday was Apollo 17 astronaut Harrison Schmitt, one of the last two humans to ever walk on the moon, in a mission that took place 45 years ago this week.
Since that time, no human has ventured out beyond low-Earth orbit. NASA doesn't even have its own space vehicle, having retired the space shuttles in 2011. Americans currently ride up to the International Space Station in Russian capsules, though private space taxis are expected to start ferrying them up as soon as next year.
I'd bet a buck that Fuhrer Drumpfenfarten intends to use the moon as a weapons platform. Fortunately, whoever he puts in charge will be too incompetent to launch a fart, let alone a space mission.  RESIST!!
From Daily Kos: It's getting worse.
Before Trump decided to enflame the Middle East, just this past week he tweeted violent, fake, racist videos and said the Access Hollywood tape was faked.
Yale psychiatrist Dr. Bandy Lee:
What we're seeing is someone mentally falling apart. This is what we mean when someone is coming unglued or unhinged. With stress, they will be less able to tell apart what is real from what is unreal, become more bizarre and, in the case of Mr. Trump, will likely become violent. He will have thoughts and reasoning that will be hard for us to follow because he is pulled more by his internal processes, what's going on in his head, be they fantasies, conspiracy theories or imaginary threats than what is going on in the real world.
At no other time in U.S. history has a group of mental health professionals been so collectively concerned about a sitting president.
If a regular person was acting as delusional as this president—making repeated calls for violence,  denying reality, saying he never said or did things we all saw him do—we'd be compelled to take action.
Throw a net over him, give him a nice padded cell, and treat internally with a cattle prod. RESIST!!
From Alternet: The Alabama Supreme Court stepped into Tuesday's U.S. Senate race between Republican Roy Moore and Democrat Doug Jones on Monday night by blocking a lower state court's ruling earlier in the day that ordered election officials to take steps to preserve digital images of every ballot cast Tuesday.
In effect, the Alabama Supreme Court's stay—or freezing—of an earlier court order to preserve the digital ballot images undermines the best-case scenario for ensuring that an accurate vote count can be verified in the controversial Senate race.
You know what they are up to. Republican courts  prevented a recount 17 years ago today.  RESIST!!
Cartoon: