Wendy is due to arrive in about ten minutes, and am I ever ready for a shower!  I have been since five minutes after I got out of the shower on Wednesday evening.  I have a light week coming up, and I don't need to go out, except for a trip to the bank, which I'll probably take tomorrow morning.  Yesterday was only 93°.  Humidity is 88%.  My AC filters the air in my room, but in the hallways and outside, the smoke from wildfires is bad enough to irritate my eyes.  I hope you are enjoying your weekend.  Later: Wendy arrived, before I added the third Short Take.  We got a lot done, and she is still a national treasure, but she just left, and I already need a shower.  ARGH!!
Jig Zone Puzzle:
Today's took me 3:30 (average 5:06).  To do it click here.  How did you do?
Short Takes:
From YouTube (Funny or Die Channel): The West Wing: Trump Reboot
Barf Bag Alert!!
Are they right about the Executive Producer or what? RESIST!!
From Daily Kos: Over at our favorite website for classy headlines and snarky stories, Wonkette, there's a fall-flat-on-your-face article about a twitter exchange that begins with a post by White House correspondent Lucian Wintrich, who writes for the right-wing conspiracy blog The Gateway Pundit. Seems Mr. Wintrich was none too pleased with a photo of three Native Americans flipping off Mount Rushmore. Below is the photo with his response…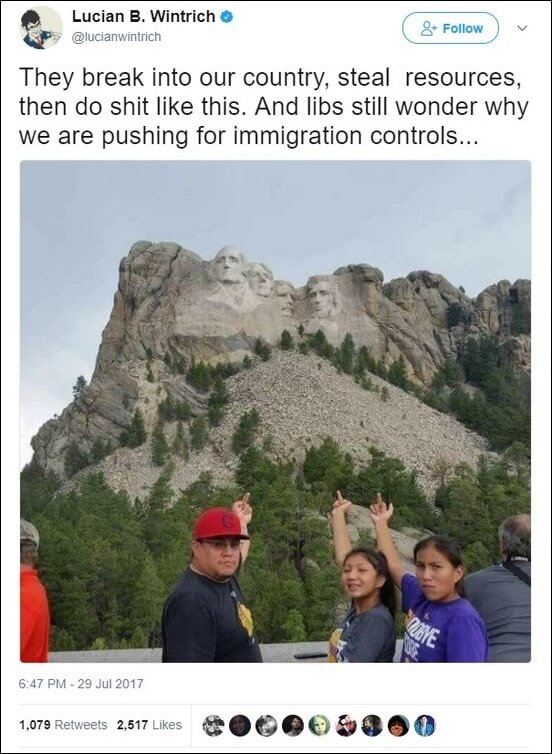 …The most braindead responses come from Wintrich's cronies who believe, as he does, that 'Native Indians' snuck into the continent and stole the land and resources. This exchange is classic:
Why make the trip to do that, go back to your country if you don't like the country or its history.

This is their country. They were here first

Really? They don't look British at all

Not at all huh

They don't look native Indian either

[facepalm]
On a scale of one to ten, Republican activists are racist idiots! RESIST!!
From TPM: House Speaker Paul Ryan on Thursday emphasized that congressional Republicans must pass major legislation or they will risk their majority in the 2018 elections.
"If we don't do our job we will depress turnout," Ryan told the Wisconsin State Journal. "I am frustrated as well."
Ryan blamed inaction on the Senate, which recently failed to pass a bill to repeal Obamacare.
"We're pretty frustrated with the slow pace of things (in the Senate), but in the House, we've actually done most of our agenda except for welfare reform and tax reform," he said.
The speaker also lamented the distractions from the White House, though he did not mention President Donald Trump by name.
The tip of Lyin' Ryan's nose is an orange shade of brown! RESIST!!
Cartoon: