I'm writing for tomorrow, day 163.  It's a busy day, and I have much to do.
Jig Zone Puzzle:
Today's took me 4:46 (average 5:43).  To do it click here.  How did you do?
Fantasy Football Report:
Here's the latest from our own fantasy football league, Lefty Blog Friends.
Scores: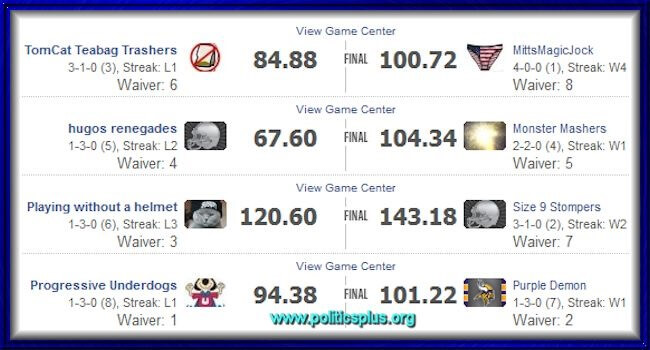 Standings: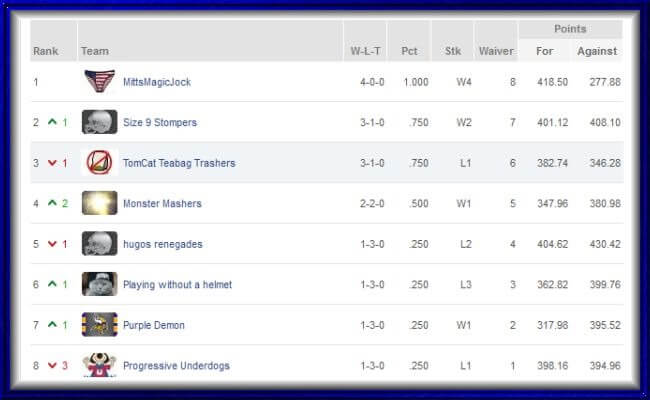 Since my best players have returned from a bye week, I hope to do better.
Short Takes:
From Rolling Stone (Hat-Tip Daily Kos): [T]he enormity of the Koch fortune is no mystery. Brothers Charles and David are each worth more than $40 billion. The electoral influence of the Koch brothers is similarly well-chronicled. The Kochs are our homegrown oligarchs; they've cornered the market on Republican politics and are nakedly attempting to buy Congress and the White House. Their political network helped finance the Tea Party and powers today's GOP. Koch-affiliated organizations raised some $400 million during the 2012 election, and aim to spend another $290 million to elect Republicans in this year's midterms. So far in this cycle, Koch-backed entities have bought 44,000 political ads to boost Republican efforts to take back the Senate.
What is less clear is where all that money comes from. Koch Industries is headquartered in a squat, smoked-glass building that rises above the prairie on the outskirts of Wichita, Kansas. The building, like the brothers' fiercely private firm, is literally and figuratively a black box. Koch touts only one top-line financial figure: $115 billion in annual revenue, as estimated by Forbes. By that metric, it is larger than IBM, Honda or Hewlett-Packard and is America's second-largest private company after agribusiness colossus Cargill. The company's stock response to inquiries from reporters: "We are privately held and don't disclose this information."
But Koch Industries is not entirely opaque. The company's troubled legal history – including a trail of congressional investigations, Department of Justice consent decrees, civil lawsuits and felony convictions – augmented by internal company documents, leaked State Department cables, Freedom of Information disclosures and company whistle­-blowers, combine to cast an unwelcome spotlight on the toxic empire whose profits finance the modern GOP…
Click through for the rest of this inclusive exposé on the evil brothers Republicans love to … nevermind.
From Slate (Hat-Tip Daily Kos): Many of the police officers present during protests that followed the killing of Michael Brown in Ferguson, Missouri, did not wear nametags and refused to identify themselves to members of the public when asked, a practice that is prohbited by law in some places and by department policy in many others. Per a Department of Justice letter sent to Ferguson police on Tuesday, Ferguson officers are in fact required to wear identification by the department's own regulations. The DOJ instructed officers to begin following this requirement immediately. From Reuters: 
… the Justice Department said its investigators had observed Ferguson police officers not wearing, or obscuring, their name tags on their uniforms, a violation of the police department's rules.

"The failure to wear name plates conveys a message to community members that, through anonymity, officers may seek to act with impunity," the letter said.
The Justice Department then reiterated the identification requirement in a second letter to Ferguson police (whose main purpose was demanding that officers stop wearing "I Am Darren Wilson" solidarity bracelets):
It further was reported to us that some officers affirmatively displaying these bracelets had black tape over their name plates. The practice of not wearing, or obscuring, name plates violates your own department's policies, which we advised you earlier this week when we requested that you end the practice imrnediately.
The second letter is dated Friday.
Indict the pigs! (I use this not a generic term for police officers, but an insult to these racists, who should not be wearing the uniform.)
From NY Times: The Supreme Court on Monday blocked an appeals court ruling that would have restored seven days of early voting in Ohio.
The Supreme Court's order was three sentences long and contained no reasoning. But it disclosed an ideological split, with the court's four more liberal members noting that they would have denied the request for a stay of the lower court's order extending early voting. Dale Ho, a lawyer with the American Civil Liberties Union, said the court's action "will deprive many Ohioans of the opportunity to vote in the upcoming election as this case continues to make its way through the courts."
The ruling, which reflected a partisan breakdown in many court decisions nationwide on voting issues, saw the five Republican-appointed justices uphold the voting restrictions enacted by the state's Republican-controlled Legislature in February. The new limits removed the first week of Ohio's 35-day early voting period, in the process eliminating the only week that permitted same-day registration, a feature most often used by minorities.
The Fascist Five Injustices of SCROTUS (Republican Constitutional VD) just took another bite out of Democracy. Only Democrats can occupy the White House until these totalitarian bastards are gone!
Cartoon: