I'm trying to be lazy today, so I can watch the VP debate tonight.  The best outcome is that Kaine makes a convincing argument that Pence, Trump and the downballot Republicans are all virtually the same.
Jig Zone Puzzle:
Today's took me 4:48 (average 5:13).  To do it, click here.  How did you do?
Fantasy Football Report:
Here's the news from Week 4 in our own fantasy football league.
Scores: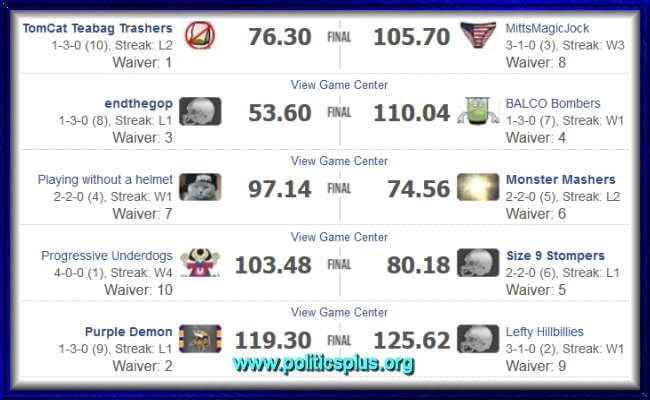 Standings: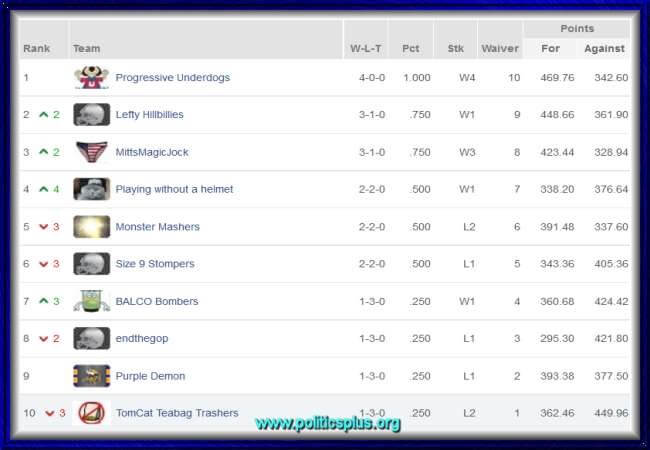 Oh how the mighty hath fallen!
Short Takes:
From KP Daily Funnies: Drunk Trump 4: The Drunkest Guy at the Bar
I have to admit that there have been several times I wondered what drug he was on.
From Daily Kos: In 1997, Keith Cooper was arrested and convicted for an armed robbery in Elkhart, Indiana. After serving 10 years for the conviction, DNA evidence pointed to another man, already in custody for a similar crime. Every eyewitness account also recanted their testimony that led to Mr. Cooper's conviction, as the witnesses were denied a police line up they requested before the trial. Cooper's retrial was ordered, but the new prosecutor, Curtis Hill, offered Keith a plea deal which would give him an immediate release, rather than waiting months or years for the retrial. All Keith had to do was admit his guilt for a crime he didn't commit. Keith's wife and children were about to become homeless, so what else could Keith do? What would you do? Keith has been living with the stigma and real limitations of being a convicted felon ever since.
And now, Governor Mike Pence, Trump's Vice-Presidential running mate, refuses to provide justice to Keith Cooper, even after admitting Cooper's innocence. In an ongoing battle to remove his felony status, Mr. Pence finally responded…by delaying a decision. His reasoning?
"Although the judicial system may not be perfect, given the extraordinary nature of Mr. Cooper's request, we need to be certain the judicial process is complete and has been given every opportunity to address any error that may have occurred."
In other words, he basically doesn't want to, and goes on to make the absurd argument that no governor has ever pardoned an innocent man.
I keep hearing the argument that, if Rump Dump is elected, he'll be a figurehead, and Pence will be running things. I don't believe it, but if it's true, Pence is no better than Trump. In spite of Republican disingenuous claims to the contrary, Trump and Pence reflect the policies and positions of the Republican Party perfectly.
From The New Yorker: Governor Chris Christie, of New Jersey, called Donald J. Trump a "genius" on Monday for his controversial plan to burn down the White House to collect insurance money.
Appearing on Fox News, Christie said that Trump's scheme to collect fire-insurance payments on the White House would "make a serious dent" in the national debt.
"It's not just the White House," Christie told Fox's Sean Hannity. "That building is chock-full of priceless antiques, paintings, and rugs, all of which, when burned, would fetch a pretty penny."
Actually, Andy, it's a pretty good idea. If Trump becomes President, he'll destroy the government and the nation so quickly, that there will no longer be a need for a White House.
Cartoon: