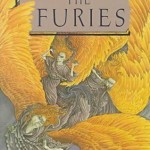 Just one article this week which seems to call for the efforts of the Greek Furies (Erinyes) to come and deal with it. As a reminder, though no one really knows how many there were supposed to be, the three names we have are Alecto, Megaera, and Tisiphone. These roughly translate as "unceasing," "grudging," and "vengeful destruction."
I saw on AlterNet and traced to Raw Story the report that a teacher at a private Christian Science high school in St. Louis, MO was fired after reporting that her underage daughter had been sexually abused by a school employee. Looking for more information, I found the Courthouse News Service website to have a great deal more on the story, and after checking their Terms of Use, which explicitly grant permission to other blogs to copy an individual article provided Courthouse News Service is credited, I will be quoting their coverage of this complex story. (Any emphasis – bolding – will be mine.)
A former teacher at a Christian Science boarding school claims in court that she was fired after reporting that a fellow faculty member raped her daughter.
Phoebe McVey sued The Principia Corporation in St. Louis County Court on Thursday.
The Principia operates a school and college in suburban St. Louis.
Neither the School nor the College is affiliated with the Christian Science Church, but the principles of Christian Science form the basis of community life at Principia, according to Principia's website.
McVey claims 31-year-old Zachary Retzlaff began sexually assaulting her daughter, M.M. in the lawsuit, when she was 16. Retzlaff is not named as a defendant.

McVey, who now lives in Arizona, lived on the Principia campus at the time with her husband and daughter. She says Retzlaff was Principia's director of telecommunications and related to several people at the school. He [is a] nephew-in-law of Adriane Fredrikson, the dean of admissions, and Hans Fredrikson, a former trustee, and also nephew-in-law of Bill and Cheryl Whitney, who both worked with Retzlaff in the computer information department.
None of them are parties to the lawsuit.
McVey says the sexual abuse went on from July 2014 to May 2015 and that Retzlaff spent time with M.M. at the Fredriksons' home during that time. She says she found out about the relationship while chaperoning a class trip to New Hampshire and Boston on May 21, 2015.
She reported Reztlaff to the police the next day.
A grand jury indicted Retzlaff for statutory rape in the second degree on July 22, 2015. He pleaded not guilty and is free on $35,000 bail. The criminal case is pending.
Two days after she reported the rapes, McVey says, the school told her she would be terminated effective July 31, 2015.
"Just prior to her termination, plaintiff had reported to the police that one of Principia's employees had committed the criminal acts of sexual intercourse with a minor, her daughter," the complaint states. "Such criminal acts were in violation (among other statutes) of Section 566.034 RSMo. As a result of McVey's reporting of illegal conduct, Principia's employee, Retzlaff was indicted on July 22, 2015.
"Any other reason offered for Plaintiff's termination is pretextual to cover up Principia's illegal conduct."
McVey's lawsuit does not go into detail, but a separate lawsuit filed by a Jane Doe against The Principia on Oct. 16, 2015, in St. Louis County may. Though it does not name McVey as Doe's parent, it states that Jane Doe was sexually assaulted dozens of times by Retzlaff during the same time period as McVey's daughter.
That complaint says Retzlaff practiced sadomasochism with Doe.
"During several of the sexual assaults, assailant choked Ms. Doe with his hands until she lost consciousness," the complaint states. "After the child was unconscious, assailant would begin engaging in vaginal intercourse with her while she was passed out so that when she awoke, his penis would already be inside of her."
That lawsuit also accused Retzlaff of forcing Doe into group sex.
"In addition to the sadomasochism, assailant invited other minors to join him in 'group sex' with Ms. Doe, including other Principia students, both male and female," the complaint states. "On several occasions, these other minors chose to flee the group sex session because the sexual acts assailant was performing on Ms. Doe became so extreme."
That lawsuit claimed The Principia knew about Retzlaff's actions and even told him to "cut it out."
That lawsuit was voluntarily dismissed in February.*
McVey seeks punitive damages for wrongful termination and breach of contract. She is represented by Brandy Barth with Newton Wright and Barth in St. Louis.
Laurel Walter, communications director at The Principia, said in an email: "We are in the process of reviewing the allegations and do not have any comment at this time."

Principia was involved a football hazing scandal involving sexual violence in August 2014. Three football players were kicked out of the school and faced criminal charges. Two were charged with four counts of first-degree sodomy and another with seven counts of third-degree assault.
In an Oct. 22, 2015 story about the first lawsuit, the St. Louis Post-Dispatch reported that Retzlaff, then 33, was accused of sexually assaulting an underage student "more than 40 times on or around the campus here, choked her as part of sex play and held group sex parties for students."
Despite the comments I have been reading on this, both on AlterNet and on Raw Story (Courthouse News Service does not appear to have comments), I trust that I don't need to remind the Erinyes, or anyone here, that any man who thinks that a sixteen year old child has the mental capacity to consent to sex is thinking with the wrong head. While Tisiphone, therefore, addresses herself to Mr. Retzlaff, I believe Alecto and Megaera are needed to deal with misconceptions which seem to be all too common in society about the nature of consent – and that sex without both parties consenting is rape.
*Incidentally the lawsuit referred to as "voluntarily dismissed in February" was specifically dismissed in such a way as not to preclude Ms. Doe from re-filing (presumably after the criminal charges have been dealt with).
The Furies and I will be back.
Cross-posted to Care2 at http://www.care2.com/news/member/101612212/3985226