It has taken me longer to get this out than I'd like, but finally it is done. I have been getting ready for my mother's memorial service and the arrival of my brother and his wife this Friday.
Short Takes
Metro News — Former prime minister Brian Mulroney and musician David Foster made for an unlikely Canadian duo to entertain Donald Trump and guests at his Florida estate Saturday night.
With Foster, the famed songwriter and producer, on the keyboards, Mulroney took to the stage and performed, "When Irish Eyes Are Smiling," to audience that included Trump.
It was an encore performance for Mulroney, who famously sang that tune with President Ronald Reagan at the so-called Shamrock Summit in Quebec City in 1985. …
Mulroney, dressed in a black tuxedo, came on stage and joked, "Mr. President, I hope this doesn't fracture Canadian-U.S. relations. . . I apologize in advance for it."
Mulroney was the Prime Minister of Canada from 17/09/84 to 25/06/93 and the leader of the Progressive Conservative Party (Harper dropped the word 'Progressive' from the party's name during his later tenure and took it much further right.) so there is an ideological relationship to the US Republicans. However despite that, I find it repugnant that Mulroney would stoop so low to sing at Mar-a-Lago, even at a fund raiser.
Vice.com — President Donald Trump's administration name dropped two terror attacks that happened on Canadian soil this week, but neither one was the recent mosque shooting that killed six worshippers in Quebec City. …
Trump's list happened to include the 2014 attack on Parliament Hill in Ottawa. As any Canadian with an internet connection will recall, Michael Zehaf-Bibeau managed to kill one soldier before being shot dead by authorities. …
What does this all mean? Media are playing a dangerous, racialized game with their editorial choices, according to Naureckas. With Zehaf-Bibeau swiftly branded a Muslim convert harbouring radical opinions about Middle East politics, the Ottawa shooting was perhaps an easy narrative to sink into—an outsider that hated the "dominant" culture. On the other hand, the slow and contradictory release of info from Quebec City, muddled by anti-Muslim truther conspiracies, was not as easy bait for American networks.
"It's hard to escape the conclusion that the story isn't as big because the victims are Muslim, that Muslim life is not considered as important as Christian life," Naureckas told VICE. By the same token, he says on some level attacks by Muslims are generally seen as more threatening than people motivated by white supremacy.
Make no mistake . . .the Québec massacre of 6 praying Muslims and the wounding of 9 others in their mosque was a terrorist attack by a young anti Muslim man who followed Drumpf. A number of sources have noted that domestic terrorists are responsible for more attacks and deaths in the US than any Muslim attack. The Oklahoma bombing in 1995 killed 168 and wounded over 680 people. If I recall correctly, there have been 19 domestic terrorist attacks and no Muslim terrorist attacks in the US.
NY Times —On Friday night, Fox News aired an alarming six-minute segment in which the host, Tucker Carlson, interviewed a documentary filmmaker about a crisis of violence in Sweden ignited by the recent wave of Muslim migration.
"The government has gone out of its way to try to cover up some of these problems," declared Ami Horowitz, the filmmaker.
"That is grotesque," Mr. Carlson responded.
One of his viewers agreed, and in that moment was born a diplomatic incident that illustrates the unusual approach that President Trump takes to foreign policy, as well as the influence that television can have on his thinking. After watching the program, Mr. Trump threw a line into a speech the next day suggesting that a terrorist attack had occurred in Sweden the night before. …
But the episode underscored that Mr. Trump obtains, processes and uses information differently from any modern president. He watches television at night and tends to incorporate what he sees into his Twitter feed, speeches and interviews.
"It begs the question of where the president gets his information as he articulates his administration's global approach," said Mark Brzezinski, the ambassador to Sweden under President Barack Obama. "To do so in an improvisational way, based on snippets picked up from cable news, is a major mistake."
Faux Noise versus the intelligence community professionals — so which would you trust to provide accurate intelligence data? Turns out, the noted attack was not the night before and it was an attack by neo Nazis on an refugee centre. What is of further concern, Faux Noise is one of the media sources allowed in the WH press briefing room while other, more respected companies were shut out.
Washington Post — The reporter who helped expose an infamously paranoid, manipulative and destructive president said Sunday that Richard Nixon had nothing on Donald Trump.
"Trump's attacks on the American press as 'enemies of the American people' are more treacherous than Richard Nixon's attacks on the press," former Washington Post reporter Carl Bernstein said Sunday on CNN.
Trump's comments — made publicly, whereas Nixon attacked his enemies in private — brought to mind "dictators and authoritarians, including Stalin, including Hitler," Bernstein said. …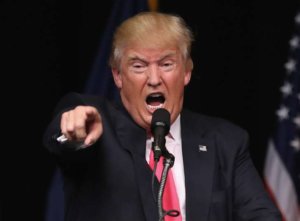 Bernstein — whose reporting of the Watergate break-in and cover-up helped bring about Nixon's resignation — said Trump's rhetoric is potentially more dangerous than Nixon's attacks on the news media.
"There is no civic consensus in this country like there was at the time of Watergate about acceptable presidential conduct," Bernstein said on "Reliable Sources."
"Trump is out there on his own, leading a demagogic attack on the institutions of free democracy," he said. "We are into terrible authoritarian tendencies."
When a respected journalist like Carl Bernstein says "Richard Nixon has nothing on Donald Trump", we know things are not good and we should sit up and listen.
CBC — A lawyer is governed not just by normal criminal and civil law, but by clearly defined ethics, interpreted by quasi-judicial boards of his or her peers. The same self-regulation is practised by most other professions.
Not journalism. There is no uniform qualification for a reporter, no uniform code of behaviour. Journalism has vigorously resisted any efforts to legally define journalism, or any sort of peer review. …
A huge swath of journalism doesn't even bother pretending self-regulation. …
Apparently, one of U.S. President Donald Trump's favourite sources of political news is a fellow named Alex Jones, who has, among other things, asserted that the Sept. 11 attacks were an inside job, and that the Sandy Hook massacre of schoolchildren never happened. …
To the president of the United States, Jones is a real journalist, as opposed to most of the rest of us, whom he now characterizes as a cesspool of lying, dishonest purveyors of fake news and outright falsehoods, or, most recently, "enemies of the people."
Drumpf really needs to be schooled in the meaning of journalism versus opinion and conspiracy theories (à la Alex Jones). He also needs to realise that just because he does not like the slant of a story, it is not "fake news". Drumpf lives in his own reality which bears no resemblance to ours.
Canadian Press — Some 1,200 people considered to be among the most vulnerable refugees in the world are to be housed in Canada by the end of this year, the Trudeau government announced Tuesday — a move praised by Conservative MP Michelle Rempel as a message to the world that the persecuted Yazidi population needs to be a greater priority for safe-haven countries.
Nearly 400 Yazidi refugees and other survivors of Islamist extremists have already been accepted over the last four months, Immigration Minister Ahmed Hussen said in announcing the initiative, which is expected to cost $28 million.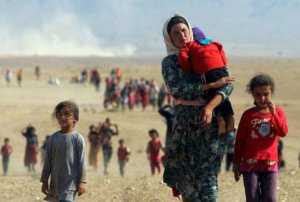 But unlike the thousands of refugees fleeing violence in Syria who were greeted by flashing cameras and intense public exposure, the Yazidis have been entering the country with no fanfare. That won't change, say government officials who are protecting the identity of the asylum seekers because of just how vulnerable they are.
"Some of these women haven't even told their own families about what they experienced" at the hands of their persecutors, associate deputy immigration minister Dawn Edlund told a news conference alongside Hussen.
The Yazidi are a persecuted people whose religion puts them at odds with the Islamic State. There have been mass graves of men and boys while women have been made into sex slaves. Despite all this, the Yazidi have not been a priority for resettlement . . . until now.
Youtube — John Oliver covers Obamacare and the Republican plan to repeal and replace it.
Listening to John tell it like it is is funny, but also spot on.
My Universe