I'll keep this short and sweet — it has been dreadfully hot here in Metro Vancouver getting up to 36 C (97 F) in my area of town. It wasn't as hot in the areas near the ocean which are the temperatures one normally hears on the news. We had some lower temperatures today and Sunday is supposed to be about 19 C (66 F) with some rain. Oh how nice for some rain! I really don't know how people in Texas, Arizona and Florida, just to name three, can handle the heat. I had difficulty with the heat when I lived in Ontario many years ago, and recently it has been as high as 40 C (104 F) perhaps hotter. I hope everyone is finding ways to stay as cool as possible.
Short Takes
CBC — Syrian opposition activists have released haunting footage showing a young boy rescued from the rubble in the aftermath of a devastating airstrike in Aleppo. …
The strike occurred during the sunset call to prayer, around 7:20 p.m local time, said Raslan, a correspondent for Al Jazeera Mubashir.
Omran was rescued along with his three siblings, ages one, six, and 11, and his mother and father from the rubble of their partially destroyed apartment building, according to Raslan. None sustained major injuries, but the building collapsed shortly after the family was rescued. …
Doctors in Aleppo use code names for hospitals, which they say have been systematically targeted by government airstrikes. Abu al-Ezz said they do that "because we are afraid security forces will infiltrate their medical network and target ambulances as they transfer patients from one hospital to another." …
A Russian aircraft drops bombs on Aleppo on Aug. 16. Activists were warned ahead of the airstrike on the M10 hospital that a warplane was en route from the Russian air base at Hmeimim. (Russian Defence Ministry Press Service/Associated Press)
And THIS is the same dictator that Drumpf would cozy up to?! I know this is 10 days old, but I think it bears remembering and restating that Drumpf has some kind of 'bromance' going with Putin (R-RU), not to mention possible financial ties to the Russian oligarchs. If he were POTUS, how would that influence his positions? He must never be allowed to get into that position. This appears to be a conflict of interest, a clear and present danger to the national security of the US.
Alternet — To American progressives, this retirement story should sound familiar. After decades of pension cutbacks and declining unionization, many retiring seniors depend increasingly on underfunded government-run programs. Amid rising inequality, some wealthy seniors can afford to retire, while others must keep working lest they lose their toehold in the middle class. The notion that seniors are entitled to a comfortable retirement is fading, and fast.
But this retirement security saga is unfolding not in the United States, but in Canada. The difference is that Canada, which confronts virtually all the same problems that plague the U.S., has decided to act.
On June 20, Canada's federal and provincial governments agreed to expand what's known as the Canadian Pension Plan (CPP), a program analogous to American Social Security and one of three in Canada that supports retirees. The agreement, which officials expect to finalize by the end of the summer, could add thousands of dollars to the yearly retirement incomes of Canadian workers. …
Expanding CPP is just one of three steps that Canada's recently-elected Liberal Party has taken to protect current and future retirees. Led by Prime Minister Justin Trudeau, the government also approved a 10 percent increase in the Guaranteed Income Supplement that the government provides to single, low-income seniors. Trudeau also dropped the previous administration's plans to raise the age of eligibility from 65 to 67 for both the Guaranteed Income Supplement and the country's third senior citizen pension program, known as Old Age Security.
To American liberals, Canada's retirement-care progressivism is a frustrating reminder that in the U.S., public debate on Social Security has until recently centered not on how it can be expanded, but how it can be trimmed.
Even in Canada there are some issues with the expansion. Québec and Manitoba did not agree in principle back in June 2016. BC, which approved in principle, did not ratify the agreement by the 15/07/2016 deadline, instead opting for a series of public consultations. It should be noted that while the BC government is "Liberal", it is a misnomer in my view as it is right of centre and it bears no association with Justin Trudeau's federal Liberal Party. For the expansion to go through, 7 provinces representing 2/3's of the Canadian population must agree. See First Reference Talks for a short description of the expansion. So if Canada is having a few hiccups, the US with its general mindset and its Republican dominated Congress will have great difficulty — don't hold your breath. Republicans are so bent about social security, continuing to say that it contributes to the deficit. But it doesn't because it is made up of personal contributions. Of course, social security expansion is one of Bernie's talking points. Let's hope that Democrats take the WH and the Congress. Then there is a possibility of an expansion, but not before.
Newsweek — Today there are more than 2,000 fighters from Russia on the battlefields of Syria and Iraq fighting on behalf of the Islamic State.
A large number of these fighters are Muslims originating from the Northern Caucasus, a fact that feeds a narrative back in Russia that has been growing since the 1990s.
Many Russians now link the Muslim populations of the North Caucasus with extremism and terrorism. That perception is not entirely without basis: the North Caucasus region has been rent by war, terror and brutal state crackdowns for over two decades.
© Maxim Zmeyev/reuters Muslims attend morning prayer to celebrate Eid al-Fitr, marking the end of the holy month of Ramadan, in Moscow on July 5. Denis Sokolov writes that often, if a known Islamic activist is out of Russia, law enforcement will orchestrate a surprise search at the person's home where a hand grenade or ammunition is planted. The message is simple: "Do not come back or we will put you behind bars."
But the story of the territory is as much about rapid social change as it is about conflict. Russian state policies over the past two decades have done much to build today's pipeline of radicalized extremists originating from the North Caucasus to spread across Russia and beyond to the battle zones of the Middle East.
Now, who is copying who — Putin copying Drumpf, or Drumpf Putin? This is a long but interesting piece. Russia is supporting the Assad government of Syria, with some support from Turkey and Iran. The US is standing with the rebels. From Wikipedia: "A special investigation by Reuters claimed that in the lead-up to the 2014 Sochi Olympics, Russian security services had allowed and encouraged militants to leave Russia to fight in the Syrian Civil War, in order to reduce the risk of domestic attacks." These North Caucasus fighters are Sunni which is inline with ISIL. By bombing ISIL, Russia increases the chances of killing some North Caucasus extremists that played havoc at home. It is very clear that Russia is trying to quel its Muslim population with the added "benefit" of fighting a proxy war with the US. And there is no doubt in my mind that Drumpf sees the same extremism that exists in Russia being possible in the US.
MSN — If you've spent any time in downtown D.C., you've likely seen 80-year-old Wanda Witter.
Shock white hair, a determined, unsmiling set to her mouth, jeans. She may have asked you for some change and probably didn't smile if you gave her some. This month you may have also been taken aback by the black eye and stitches across her face.
For years, Witter bedded down for the night at 13th and G streets in Northwest Washington, on the cement in her blue sleeping bag, pulled up tight to keep the rats and cockroaches out. Her tower of three suitcases was stacked on her hand cart and bike-locked to the patio chairs next to her.
She may have even told you that inside those bags is all the paperwork to prove the government owes her more than $100,000. And she was right.
Nobody should have to endure such bureautic incompetence that puts their life at risk! Wanda Witter is one very strong, determined and smart woman . . . the kind of woman that I would like to talk to and know, smile or not.
The Weather Network — Warm temperatures in Wisconsin's upper atmosphere recently created a stagnant air mass that trapped hot air and toxic manure fumes over a farm, leaving a 29-year-old farmer and 13 of his cows dead.
The incident occurred at Biadasz Farm near Amherst.
Michael Biadasz was found dead Monday by workers who had arrived to remove manure from a tank on the property.
Coroner Scott Rifleman told the Associated Press he was "overcome" by methane or sulfur oxide present in the manure.
One has to wonder how the Congress manages to survive with all the toxic Republican BS and the heated rhetoric.
My Universe — All hail Olly, Lord of Sainsbury's and guardian of the produce, bakery, meat and seafood departments!
The grim-faced tabby, a regular at the supermarket in the district of Brockley, London, has reportedly been showing up on store shelves since November. Despite efforts to keep the feline out of the store, he nearly always finds a new way to saunter right back in.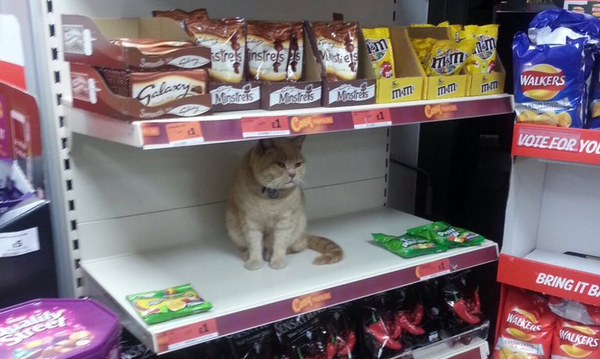 London animal of the week: The badass cat in Brockley Sainsbury's
One thing is for sure, Sainsbury's won't have a rodent problem . . . if it ever did! Check for more pictures at the link.