Please Pardon my brevity.  I want to finish in time for a nap before it's time to go prison.  I won't return until late tonight, so please  expect no more than a Personal Update tomorrow.
Jig Zone Puzzle:
Today's took me 4:01 (average 5:12).  To do it, click here.  How did you do?
Short Takes:
From Me: Our Next First Lady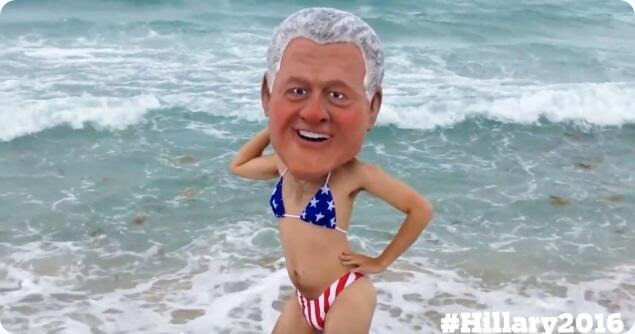 Since yesterday, I showed you what kind of nekkid first lady Rump Dump would bring to the White House, it's only fair that I do the same for Hillary.
From Daily Kos: The Fifth Circuit Court of Appeals began hearing ​a case Tuesday on the legality of the Texas voter ID law. It's viewed as the most restrictive such law in the nation and the circuit court's ruling could have impacts well beyond the Lone Star state…
…To prove how twisted it is: If all you have is a college student ID, that's not acceptable for voting. But if you're a college student with a gun permit, they will happily give the nod to that and let you cast your ballot.
So for voting in Texas, having a gun is more important than having a brain.
From NY Times: A bitter divide over the Middle East could threaten Democratic Party unity as representatives of Senator Bernie Sanders of Vermont vowed to upend what they see as the party's lopsided support of Israel.
Two of the senator's appointees to the party's platform drafting committee, Cornel West and James Zogby, on Wednesday denounced Israel's occupation of the West Bank and Gaza and said they believed that rank-and-file Democrats no longer hewed to the party's staunch support of the Israeli government. They said they would try to get their views incorporated into the platform, the party's statement of core beliefs, at the Democratic National Convention in Philadelphia in July.
Bernie's delegates could not be spot-on!
Cartoon: