The elevator is now working, but basking in the rain doesn't quite cut it.  However, I have had a couple power naps and do have some interesting content.
Jig Zone Puzzle:
Today's took me 3:50 (average 5:50).  To do it, click here.  How did you do?
Short Takes:
From Media Matters: ABC News reported that it "uncovered errors" in Peter Schweizer's upcoming anti-Clinton book, Clinton Cash. Schweizer has a long history of sloppy research and reporting — earlier this week, ThinkProgress revealed that the conservative author cites a hoax press release in the book.
On April 23, ABC News explained that their independent review of the source material used for Clinton Cash "uncovered errors in the book, including an instance where paid and unpaid speaking appearances were conflated." The book purports to reveal connections between Hillary Clinton's time as secretary of state, donations to the Clinton Foundation, and paid speeches given by the Clintons, but Schweizer reportedly admits in the book he cannot prove his allegations.
In this Republican pseudo-scandal there is no quid pro quo. The quid and the quo exist, but the Republican propagandist is uses the post hoc ergo propter hoc deception and substitutes innuendo for the pro. Of course, the Republican bubble machine accepts innuendo as absolute proof.
From Daily Kos: In this visually beautiful and mesmerizing piece, 27 year-old Prince Ea apologies to future generations for what we are doing, and not doing, to the planet today. The six-minute video contains so many great thought-provoking quotes, it's bound to be shared for many years. So far, in less than 48 hours, his video has garnered over 35 million views on Facebook.
Extreme Kudos!
From The New Yorker: In an urgent memo to the field of G.O.P. Presidential candidates, the Republican National Committee chairman, Reince Priebus, praised them for their relentless personal attacks on Hillary Clinton, but warned that their hatred for the former Secretary of State might be "peaking too early."
Priebus called the candidates' ongoing evisceration of Clinton "magnificent," but expressed his concern that "no human beings, even an impressive group like yourselves, could possibly sustain such a high intensity of throbbing hatred for an entire year and a half."
"Remember, this is a marathon, not a sprint," he wrote. "You need to leave some hate in the tank."
In the conclusion of his memo, Priebus advised the candidates to take an occasional day off from hating Clinton so that they could "return to despising her with renewed freshness and vigor."
Andy does have a point. The constant flood of filth from the clown car just tends to toughen Hillary, for now. I worry more about an eleventh hour lie that comes too late for the Democratic nominee to counter it effectively.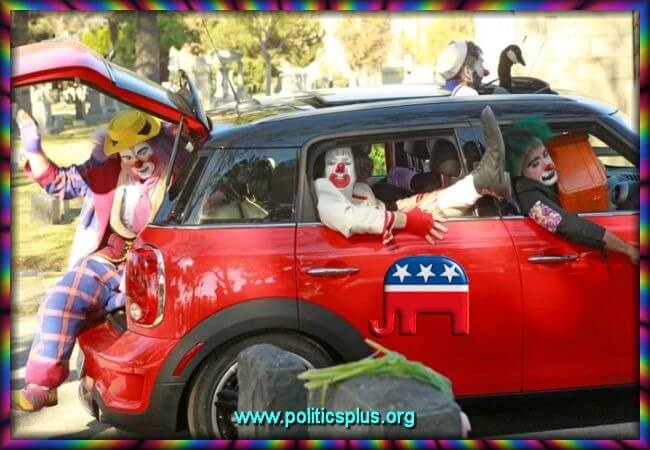 The 2016 clown car is getting crowded.