I'm trying to take advantage of the last relatively temperate day, before the new heat wave begins in earnest.  I got up early and cooked a 3-day spaghetti with hot Italian sausage dinner.  Then I made a big breakfast of fried eggs and potatoes.  Because my friend with cancer is taking a rare trip to the prison tomorrow, I get to take a volunteer day with a small group of my guys for a CoDA meeting.  Then on Friday, I have to go out into the extreme heat for the routine quarterly surgery on my foot, so please expect me to be somewhat scarce for the rest of the week.
Jig Zone Puzzle:
Today's took me 3:06 (average 5:20).  To do it, click here.  How did you do?
Fantasy Football Tips:
Our season opens on Thursday, September 10, but there's a lot to do between now and then.  Get to know your players.  Check for Bye week conflicts.  Keep track of injuries.  Follow your players' progress during preseasons. Use Add/Drop to make needed changes from unclaimed players or propose trades with competitors.  If you have any questions ask.
Short Takes:
From Daily Kos (classic 6/2014): America's gun death rates — both nationwide and in the states — dwarf those of most other Western industrialized nations. The gun death rate in the United Kingdom in 2011 was 0.23 per 100,000 while in Australia it was 0.86 per 100,000.
States with the Five Highest Gun Death Rates 
(Rank State Household Gun Ownership Gun Death Rate Per 100,000)
1 Louisiana 45.6 percent 18.91
2 Mississippi 54.3 percent 17.80
3 Alaska 60.6 percent 17.41
4 Wyoming 62.8 percent 16.92
5 Montana 61.4 percent 16.74
States with the Five Lowest Gun Death Rates
(Rank State Household Gun Ownership Gun Death Rate Per 100,000)
50 Rhode Island 13.3 percent 3.14
49 Hawaii 9.7 percent 3.56
48 Massachusetts 12.8 percent 3.84
47 New York 18.1 percent 5.11
46 New Jersey 11.3 percent 5.46
For a list of gun death rates in all 50 states, Visit Here.
This is what I'd expect except for one thing. NJ hadn't caught up to PIGnocchio's policies yet.
From The New Yorker: The Republican National Committee has released the format for its first 2016 Presidential debate, to be broadcast by Fox News on August 6th:
1. Question from moderator to Donald Trump;
2. Ignoring of question by Donald Trump, followed by personal attack on Jeb Bush;
3. Feeble attempt at rebuttal by Jeb Bush;
4. Interruption by Donald Trump, followed by attack on other eight candidates on stage;
Andy has it pegged. Click through for the rest.
From NY Times: Rick Perry's voice softens when he talks about the joy he gets from looking at his iPad and seeing "that 20-week picture of my first grandbaby." Marco Rubio says ultrasounds of his sons and daughters reinforced how "they were children — and they were our children." Rand Paul recalls watching fetuses suck their thumbs. And Chris Christie says the ultrasound of his first daughter changed his views on abortion.
If they seem to be reading from the same script, they are.
With help from a well-funded, well-researched and invigorated anti-abortion movement, Republican politicians have refined how they are talking about pregnancy and abortion rights, choosing their words in a way they hope puts Democrats on the defensive.
The goal, social conservatives say, is to shift the debate away from the "war on women" paradigm that has proved so harmful to their party's image.
The Republican war on women has changed little, as barefoot and pregnant is still the objective. They are just using an even less honest tactic.
Cartoon: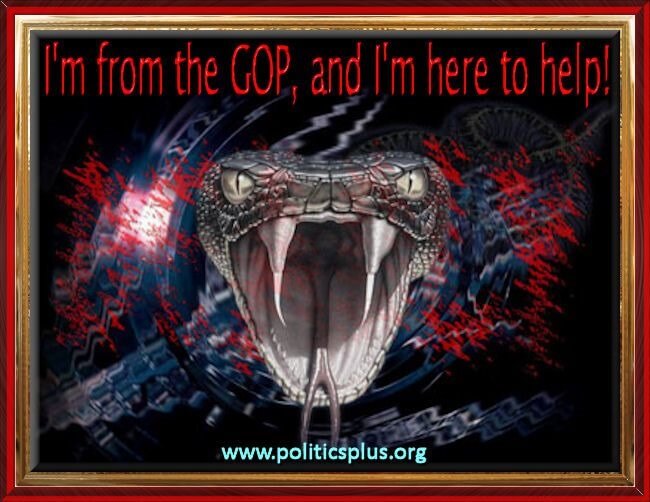 Apologies to the snake.