It's another super-busy day, because I have the Monthly Report to write, and I have an essay to write on why prisoners' memories of crimes committed years before, don't always line up with police reports and victim statements.
Jig Zone Puzzle:
Today's took me 2:59 (average 4:51).  To do it, click here.  How did you do?
Lynn's New Mouse: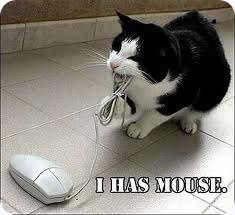 Short Takes:
From Daily Kos: Yesterday Georgia became the first southern state to ban the box.
This policy, signed into law by Governor Nathan Deal through an executive order, postpones questions about a job applicant's criminal history until it is demonstrated that he or she is one of the most qualified candidates. The policy also requires that the applicant have the opportunity to explain his or her criminal history before denial, and that only a relevant conviction will be used as the basis for disqualification.    – See more at: http://www.gjp.org/…
Kudos to the people of Georgia. Frankly, I'm surprised that Raw Deal didn't veto it. In Oregon, only Multnomah County (one if the three that make up the Portland Metro Area) and the City of Portland have banned the box.
From NY Times: The Justice Department has nearly completed a highly critical report accusing the police in Ferguson, Mo., of making discriminatory traffic stops of African-Americans that created years of racial animosity leading up to an officer's shooting of a black teenager last summer, law enforcement officials said.
According to several officials who have been briefed on the report's conclusions, the report criticizes the city for disproportionately ticketing and arresting African-Americans and relying on the fines to balance the city's budget. The report, which is expected to be released as early as this week, will force Ferguson officials to either negotiate a settlement with the Justice Department or face being sued by it on civil rights charges.
Oh My! The Ferguson PD is racist?!!? Are you as surprised as I am?
From Washington Post: …ISDS would allow foreign companies to challenge U.S. laws — and potentially to pick up huge payouts from taxpayers — without ever stepping foot in a U.S. court. Here's how it would work. Imagine that the United States bans a toxic chemical that is often added to gasoline because of its health and environmental consequences. If a foreign company that makes the toxic chemical opposes the law, it would normally have to challenge it in a U.S. court. But with ISDS, the company could skip the U.S. courts and go before an international panel of arbitrators. If the company won, the ruling couldn't be challenged in U.S. courts, and the arbitration panel could require American taxpayers to cough up millions — and even billions — of dollars in damages.
If that seems shocking, buckle your seat belt. ISDS could lead to gigantic fines, but it wouldn't employ independent judges. Instead, highly paid corporate lawyers would go back and forth between representing corporations one day and sitting in judgment the next. Maybe that makes sense in an arbitration between two corporations, but not in cases between corporations and governments. If you're a lawyer looking to maintain or attract high-paying corporate clients, how likely are you to rule against those corporations when it's your turn in the judge's seat?
If the tilt toward giant corporations wasn't clear enough, consider who would get to use this special court: only international investors, which are, by and large, big corporations. So if a Vietnamese company with U.S. operations wanted to challenge an increase in the U.S. minimum wage, it could use ISDS. But if an American labor union believed Vietnam was allowing Vietnamese companies to pay slave wages in violation of trade commitments, the union would have to make its case in the Vietnamese courts…
This just a snippet from an article by Elizabeth Warren, explaining a huge reason to oppose the TPP. I urge you to click through to read it all.
Cartoon: