I'm writing for tomorrow, day 156.  It's another busy day, because I'm packing for tomorrow's trip to Salem for prison volunteer work.  I'll be leaving shortly before noon and returning early Friday afternoon.  I expect to post at least a brief Personal Update each day, while I'm gone.
Jig Zone Puzzle:
Today's took me 3:03 (average 4:44).  To do it, click here.  How did you do?
Fantasy Football Report:
Here's the latest from our own fantasy football league, Lefty Blog Friends.
Scores: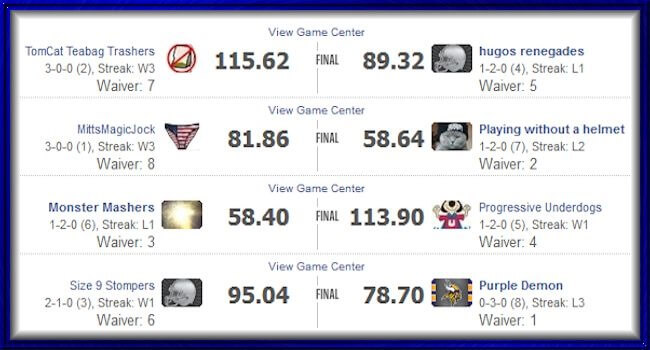 Standings: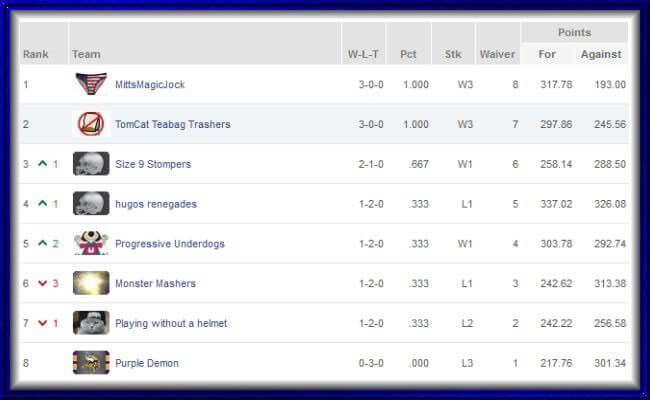 I'm in trouble.  I play the other undefeated team on Peyton's bye week.

Short Takes:
From Upworthy: A homeless man named Sandy and some vloggers on YouTube decided they wanted to explore the idea of transforming a "homeless man" into a suit-sporting "businessman." Same man, different duds, and a completely different way of how people treated him. It's a true lesson in "clothes do make the man."
It tells us a lot about our cultural attitude, doesn't it?
From Daily Kos: Connie Wilson, who just moved from California to the Houston area with her wife Aimee and their three children, received a hell of a welcome from the Department of Public Safety (DPS). The couple has been together nine years, and they finally tied the knot last year in California, after which Connie took Aimee's last name. Connie was able to get all of her records updated with her new name, from her California driver license to her Social Security card to all of her financial and medical records. And then, upon moving to the Houston area, she visited the DPS office in Katy to obtain a Texas driver license. No big deal–when I moved to Texas, aside from waiting in a horrendous line at DPS, getting my driver license was painless. But I also didn't have my name changed to that of my same-sex spouse. Wilson's experience with DPS in Texas, where gays are barred from marriage by both statute and constitutional amendment (just to be safe, you know), has been quite different:
With her California driver's license nearing expiration, Wilson took her documents to a DPS office in Katy last week to obtain a Texas driver's license. When a DPS employee noticed that Wilson's name didn't match her birth certificate, she produced the couple's California marriage license identifying her spouse as Aimee Wilson.

"Her only words to me were, 'Is this same-[sex]?'" Connie Wilson recalled. "I remember hesitating for probably 10 seconds. I didn't know how to answer. I didn't want to lie, but I knew I was in trouble because I wasn't going to be able to get a license."

[...]

"She immediately told me, 'You can't use this to get your license. This doesn't validate your last name. Do you have anything else?'" Wilson said. "She told me I would never get a license with my current name, that the name doesn't belong to me."
This is why we need a Federal law that requires states to recognize marriages from other states without prejudice. And, if this treads too heavily on Bubba Bagger's states' rahts, let states do as they please, but make it a requirement for them to get federal highway funds.
From AlterNet: While most would argue that this is place where the people get  screwed many different ways [Faux Noise delinked], in  Washington, D.C., engaging in any sexual position other than missionary is illegal.
Dang!  No wonder Congressional Republicans always want to get out of town.  DC hookers must be more boring that the ones from home.  This is just one of the ten craziest sex laws in the US.  Click through for the other nine.
Cartoon: