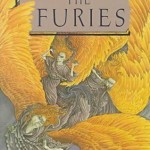 It's been a good week for Bernie (not that we aren't all working to make it even better), but stuff can still happen which seems to me to call for the efforts of the Greek Furies (Erinyes) to come and deal with it. As a reminder, though no one really knows how many there were supposed to be, the three names we have are Alecto, Megaera, and Tisiphone. These roughly translate as "unceasing," "grudging," and "vengeful destruction."
I have only one story this week. I just didn't think it gets any more complete than this. Here's the headline:
"A New Low" — Cop Suing the Family of a Teen HE Killed, Saying it Caused HIM Emotional Trauma
Yes, you read that right.
(In fact, you've probably seen it – it is so outrageous as to have gotten a lot of attention.)
Chicago, IL — A Chicago Police Officer who responded to a call for assistance by killing an unarmed 19-year-old college student and a neighbor, who was uninvolved in the situation, has now filed a lawsuit against the estate of the student HE killed — saying the shooting left him traumatized.
It beggars belief.
I can give names and dollar figures.
Officer Robert Rialmo is inexplicably seeking $10 million in damages from the estate of Quintonio LeGrier — apparently because killing someone is so traumatic, he must also sue for what he did.
I can give quotes from attorneys:
According to the Associated Press, Rialmo's attorney, Joel Brodsky, "said it was important in the charged atmosphere [in Chicago] to send a message that police are not 'targets for assaults' and [they] 'suffer damage like anyone else.'"
Attorney Basileios Foutris is representing Antonio LeGrier in the wrongful death suit he filed days after Quintonio's death and said he was astonished at the "temerity" Rialmo has displayed in suing the still-grieving family of the man he shot. "That's a new low, even for the Chicago Police Department," he said. "First you shoot them then you sue them."
I can provide bare bones facts:
Quintonio LeGrier was killed on December 26, after his father summoned police for what he thought would be help handling the distraught teen. Instead of giving aid, Rialmo shot LeGrier — six times — as well as neighbor, Bettie Jones, who had simply been watching for police to direct them to the appropriate apartment. Though a statement from police wasn't forthcoming at the time of the incident, they did say LeGrier was "combative" and carrying a baseball bat.
I can give a general idea of the conflict in the stories:
While Rialmo claims LeGrier was "3 or 4 feet away" from him and was advancing aggressively with the bat, descriptions from LeGrier's and Jones' families say the officer was 20 or 30 feet away when he fired his weapon — and therefore could not possibly have feared for his life. Additionally, Quintonio placed the original call to 911. As Foutris stated, "If you're calling multiple times for help are you going to charge a police officer and try to hit him with a bat? That's ridiculous."
I can tell you the FBI has been asked to investigate, and I can quote someone who knows a little about these situations:
Phil Turner, a former federal prosecutor and current defense attorney who is not involved with this case, told the AP such a lawsuit is highly unusual, and "said it appeared intended to intimidate LeGrier's family. He said he had never heard of an officer blaming his shooting victim for causing trauma."
But I can't say anything more telling than the author of this article said:
Maybe if Officer Rialmo hadn't shot and killed an unarmed teenage college student and 'accidentally' shot a neighbor in the neck, but had instead used de-escalation techniques and any number of less-than-lethal options, like backing up, perhaps he wouldn't be 'suffering' so horribly — and these families would not have lost their loved ones.
In fact, the way I feel, if I has said that, it would have been laced with profanity. So I won't.
I will save my breath to ask Alecto, Megaera, and Tisiphone to hurry on down to the Chicago Police Department, and to Officer Rialmo's home, if he is on paid vacation, as so often happens. There's counseling needed here. Thank you, ladies.
This article appeared in AlterNet credited to the Free Thought Project, which I have also credited and linked as primary source. Because their view on copyright is "Feel free to republish all original content from this site. We just ask that you link back to us. You will not be sued for aiding humanity in the struggle for peace!"
The Furies and I will be back.