Individually and as a society, we must examine our attitudes towards terrorism, and our response to terrorist attacks.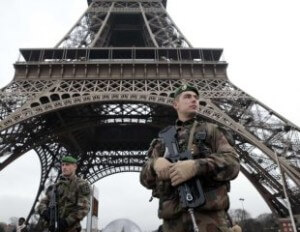 Anytime there is an attack on civilians in the post-9/11 West, demagogues immediately blame it on Muslims. They frequently lack evidence, but depend on the blunt force of anti-Muslim bigotry to bolster their accusations.
Actual evidence, on the other hand, shows that less than two percent of terrorist attacks from 2009 to 2013 in the E.U. were religiously motivated. In 2013, just one percent of the 152 terrorist attacks were religious in nature; in 2012, less than three percent of the 219 terrorist attacks were inspired by religion.
The vast majority of terrorist attacks in these years were motivated by ethno-nationalism or separatism. In 2013, 55 percent of terrorist attacks were ethno-nationalist or separatist in nature; in 2012, more than three-quarters (76 percent) of terrorist attacks were inspired by ethno-nationalism or separatism.
These facts, nonetheless, have never stopped the prejudiced pundits from insisting otherwise.
On Friday the 13th of November, militants massacred at least 127 people in Paris in a series of heinous attacks.
There are many layers of hypocrisy in the public reaction to the tragedy that must be sorted through in order to understand the larger context in which these horrific attacks are situated — and, ultimately, to prevent such attacks from happening in the future. …
The Paris attacks, as horrific as they are, could be a moment to think critically about what our governments are doing both abroad and here at home. If we do not think critically, if we act capriciously, and violently, the wounds will only continue to fester. The bloodletting will ultimately accelerate.
In short, those who promote militarist policies and anti-Muslim and anti-refugee bigotries in response to the Paris attacks are only going to further propagate violence and hatred.
Click through for the rest of this inward looking article from Alternet. Do we want a world at peace? How far are we willing to go to bring about peace? Are we even capable of bringing about peace? Such will require a great deal of hard work.