Well here I am . . . another rainy day in Lotus Land! At least there is no snow here in Metro Vancouver and the temperature is 10 C (50 F). Back in Ontario where my brother lives, they are digging out. And this house, just south of them on the shores of Lake Ontario in NY state gives new meaning to ice.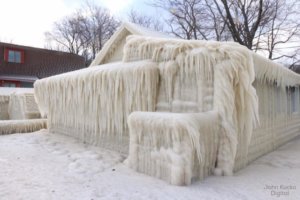 I think I'll take the rain, thank you! I'm off to a meeting very shortly and will send links when I get back.
Short Takes
Politico — … House Republican leaders plunged into damage control mode Monday after a brutal budgetary assessment of their Obamacare replacement threatened to upend Senate GOP support and armed their critics on the left.
Speaker Paul Ryan's team quickly pinpointed rosier elements of the report by the Congressional Budget Office, from cost savings to lower premiums. But the bottom line — that the number of uninsured Americans would climb by 24 million within a decade — threatened to upend the GOP leadership's fragile efforts to unite congressional Republicans around the plan. …
"After reviewing this legislation and receiving the Congressional Budget Office score today, it is clear that this bill is not consistent with the repeal and replace principles for which I stand," he [Rep Rob Wittmann (R-VA) said in a statement. "I do not think this bill will do what is necessary for the short and long-term best interests of Virginians and therefore, I must oppose it." …
"Every single House Republican owns this catastrophic bill and should be prepared for backlash at the ballot box, particularly given the anticipated loss of coverage for 14 million people as early as next year," said Democratic Congressional Campaign Committee spokesman Tyler Law.
One might think that the new Republicare bill is a 'hail Mary' attempt at healthcare reform. But House Republicans are divided on the subject, and Democrats are opposed. The CBO analysis indicates that an additional 24 million people will be without health insurance, and the death rate will increase.
As Shakespeare said in Hamlet's solioquy in Act III Scene I "Aye, there's the rub.". Do Republicans do what will help get them re-elected in 2018, or do they stand firm with this ideological piece of crap legislation that will result in the deaths of tens of thousands of citizens who will not be able to afford health insurance?
Daily Kos — In a presidency largely defined by lies, one pants-on-fire whopper now stands out as Donald Trump's biggest — and deadliest — yet.
Conservative politicians, pundits and people across the nation loved parroting one of the biggest lies of the Obama era, that — all together now — "if you like your health care plan, you can keep it."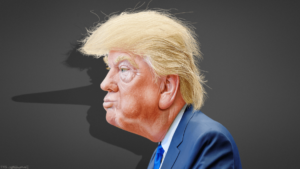 On the campaign trail in the fall of 2015, Trump promised to "take care of everybody."
"Everybody's going to be taken care of much better than they're taken care of now," the billionaire businessman told CBS News. "The government's gonna pay for it," he said, raising right-wing eyebrows and ire, as he did when he rightfully praised Canada's superior universal health care system. …
Enter the American Health Care Act, which House Speaker Paul Ryan (R-WI) said was the product of Republicans keeping their promise to the American people to repeal and replace Obamacare, but which critics from both sides of the political aisle are calling a disaster. Yes, even Republicans — especially Republicans — have been blasting the proposed bill, with Rep. Justin Amash (R-MI) calling it "Obamacare 2.0," former vice presidential candidate Sarah Palin slamming it as "socialized medicine" and Sen. Tom Cotton (R-AR) even warning the bill might cost Republicans their House majority come the 2018 midterm elections. …
…people will die. A lot of people will die.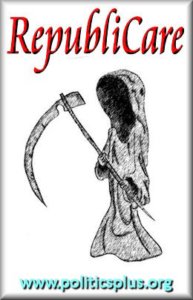 Need I say more? Republicans don't care about anybody but themselves and money . . . the more money that can go to the 1%, the better.
YouTube — Gutting Health Care Will Kill Americans | The Resistance with Keith Olbermann | GQ
There is a petition on Care2 that anybody can sign. I urge you to tell Congress: Reject Trump's New Health Care Plan!
Amen Keith!
My Universe
Have your volume turned down for part of this. There are some industrial cat fits! Nameless, is your furbabe this noisy when he has to go in his carrier?