I'm writing for tomorrow.  It's late in a busy day.  Because tomorrow is a prison volunteer day, I may have little or nothing for Friday and/or Saturday, as I shall get home late Thursday night and will have missed a sleep cycle.  Day 31.
Jig Zone Puzzle:
Today's took me 2:55 (average 4:45).  To do it, click here.  How did you do?
Short Takes:
From YouTube: The Colbert Report 2014-05-19 Elizabeth Warren
Hilarious! Did Bernie have it right or what? Warren played it great.
From Daily Kos: On Friday evening I went up to Bellingham to hear Bill McKibben speak. Bill has something fascinating to share with his audience, how Germany has reached the point where it had gotten over 74% of its electrical power from renewable sources the other day. That's a huge milestone, and it demonstrates that renewable sources can power a large industrial nation. Germany shows us that renewables aren't a potential source of power for some time in the future, they are a viable alternative TODAY.
I'm no fan of the German conservative government, but they do deserve kudos for this.
From Alternet: Giving out prescriptions for vibrators seems more like a doctor's bad pick-up line than good public policy. But in Sandy Springs, Georgia, you really do need a medical reason – and a doctor's prescription – to buy a sex toy.
Melissa Davenport, a resident of Sandy Springs, has filed suit against the city because, as her lawyer Gerry Weber  told a local TV station, the ordinance allows the government to "stick its nose in your bedroom and say you can use this but not that." Davenport has multiple sclerosis, which she says has impacted her sex life with her husband, and she credits sex toys with saving her marriage. Yet her doctors still won't write her a prescription.
Leaving aside the bizarreness of the policy itself – people should be able to buy sex toys for the sheer fun of it – it seems ironic that a woman with a real medical condition is being denied sex toys, when you consider that the vibrator was actually  invented to cure a (fake) medical condition: hysteria.
I intend no disrespect to women here, but disrespect for the Republican War on Women.  No wonder I call Republicans the Grand Old Pussy Posse! If they spent 1/20 the time policing Banksters that they do policing vaginas, we'd be in far better shape!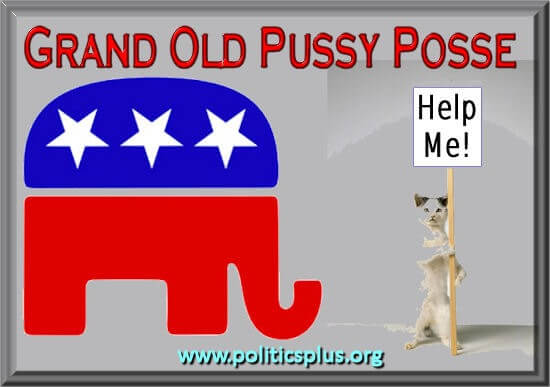 Cartoon: