I'm writing for tomorrow, day 28.  It's a busy day, but that describes any day I write a Monthly Report, I also had to go out in the cold to run errands.  The temperature did not reach 32°, F until after I returned, so needless to say, it's also a bad air day.
Jig Zone Puzzle:
Today's took me 4:15 (average 5:08).  To do it, click here.  How did you do?
Fantasy Football Report:
Here's the latest from our own fantasy football league, Lefty Blog Friends.
Scores: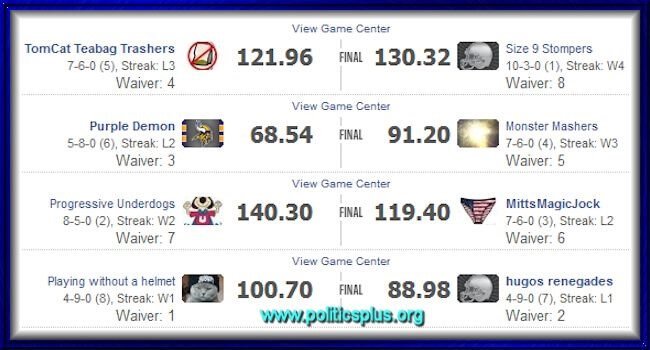 Standings: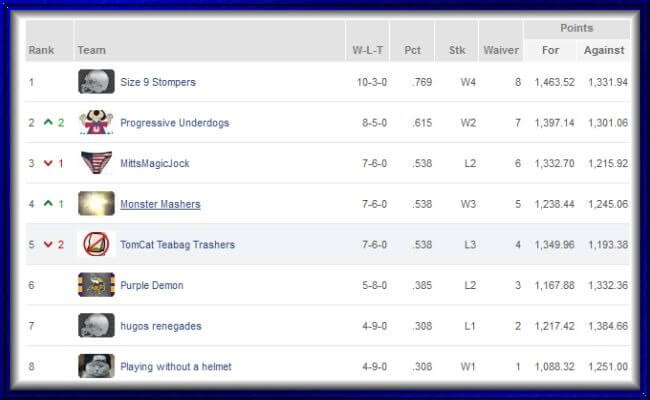 Oh how the mighty hath fallen!  Because this coming week is the last before our playoffs begin, our resident sasquatch, Lynn Squance, a Canadian woman, is invincible for the regular season title  Congrats and kudos to Lynn and her Size 9 Stompers.  In two weeks the playoffs begin and everyone has a chance to win.
Short Takes:
From The New Yorker: Republican congressional aide Elizabeth Lauten said on Sunday morning that she "deeply regretted" her attack on Sasha and Malia Obama because it "completely overshadowed the vicious insults I hurled at their parents."
Appearing on Fox News, Lauten said, "If I had to do it over again, I'd leave the girls out of it so that the horrible things I said about their parents would have had a chance to shine through. I'm kicking myself about that."
Saying that she had "learned my lesson" from the incident, she added, "I put a lot of work into crafting malicious insults about Barack and Michelle Obama, and those insults have largely been ignored. That's the real tragedy here."
Dang! What will it take to get Andy back to comedy? But seriously, I bet she quit to parley her fame for hatemongering into cash.
From Daily Kos: How Walmart's owners give thanks and give back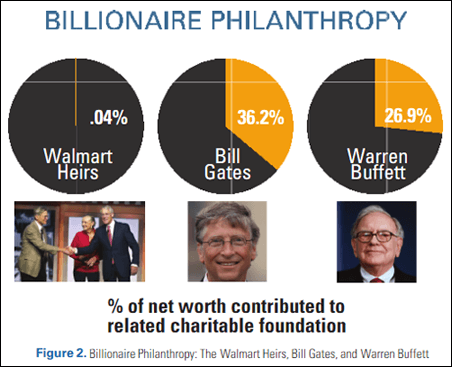 Could anything be more clear?  This is the Waltons' Republican vulture philanthropy to go with their Republican vulture capitalism.
From Upworthy: Kim Jong Un Would Really Hate For You To Watch This, Which Is Exactly Why You Should.
What a courageous young woman. Her story about Kim's extreme right-wing dictatorship needs telling. We also need to take care that Republicans never get enough power to make this a similar place, ruled by the .01%.
Cartoon: