I'm running a bit behind schedule as I had several tasks this morning, and everything takes so long to do.  For example, restocking my pill caddy with all my meds for one week, except Advair, just took me 45 minutes.  But now I can orient myself to desphincterizing the White House and unreichifying everywhere else.
Please remember Lynn Squance in prayer or however you connect to the infinite.  Today is her mother's memorial service.
Jig Zone Puzzle:
Today's took me 4:08 (average 5:10). To do it, click here.  How did you do?
Short Takes:
From YouTube (GQ Channel): Why Trump is Refusing to Confront Reality | The Resistance with Keith Olbermann
Our voices must continue to dissent as long as we have breath. RESIST!!
From Sen. Jeff Merkley [D-OR]: Oregon's Senator Jeff Merkley released the following statement regarding U.S. Attorney General Jeff Sessions' failure to disclose his 2016 contacts with Russian Ambassador Sergey Kislyak, as reported by the Washington Post last night:
"The Attorney General concealed from Congress during his testimony under oath the contacts he had with the Russian government during the campaign. An 'I don't recall' defense is wholly inadequate, especially for the nation's top law enforcement officer. The only way for him to restore the American people's faith in our Justice Department is to resign.

"This latest unraveling of the cover-up only reinforces the fact that there are many more questions than answers about the Trump campaign's knowledge of and possible coordination with Russian activities during the 2016 campaign. To get to the truth, we need a fully empowered, totally independent special prosecutor to thoroughly investigate this matter — as soon as possible."
Amen Jeff! I worked to help him get that seat and have been proud of him ever since. Oregon Leads the way. RESIST!!
From Reuters: A photo of former presidential candidate Hillary Clinton glancing at a newspaper headline about U.S. Vice President Mike Pence using private email has gone viral on social media, with thousands of people commenting on it.
Pence and others involved in the Republican presidential campaign last year criticized Clinton's use of a private email server during her time as U.S. Secretary of State.
Clinton was on an airplane traveling from Boston to New York on Friday when a fellow passenger snapped a photo of her glancing down at Friday's USA Today newspaper front page headline "Pence used personal email in office".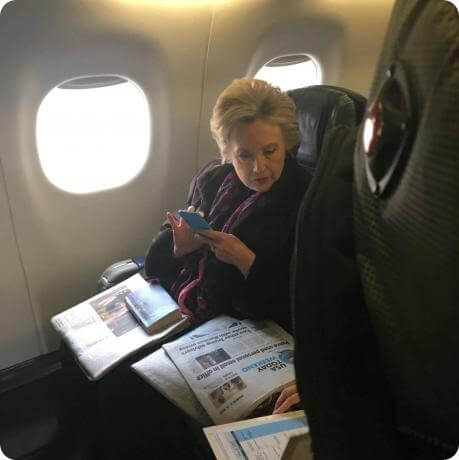 On a hypocrisy scale of 1 – 10, Pence gets a 537. RESIST!!
Cartoon: