While this has not played out completely yet, I've been following one of the most profound examples of Republican incompetence and hypocrisy we have seen to date, and considering the length of that list, it's extreme beyond belief.  The GOP could not even pull off a meaningless Kabuki stunt.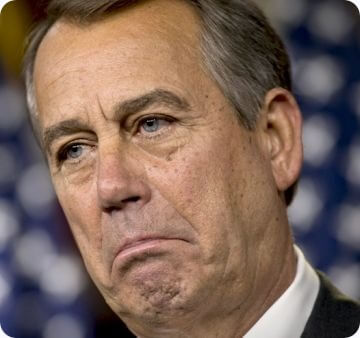 I don't think the House leadership intended this to be funny. But it's pretty funny.
Faced with a rebellion from the right, House Speaker John Boehner a short time ago pulled a bill that would have authorized $659 million in emergency spending to try to deal with the flow of unaccompanied minors across the Mexican border. It was a paltry sum and inadequate to the task, but at least it was a bill. The Democratic-controlled Senate was looking at a $2.7-billion measure. The Obama administration had requested $3.7 billion…
…Boehner was able to get enough House Republicans on Wednesday to vote to sue Obama over his implementation of the Affordable Care Act – which the House keeps trying to repeal – because, the Republicans say, Obama abused his authority by delaying a provision that would penalize businesses if they failed to offer basic healthcare to workers.
So what did Boehner and the rest of the House leadership have to say after they failed to wrangle enough support among their own members to pass a simple spending bill?
"This situation shows the intense concern within our conference – and among the American people – about the need to ensure the security of our borders and the president's refusal to faithfully execute our laws," they said in a statement [Agent Orange delinked]. "There are numerous steps the president can and should be taking right now, without the need for congressional action, to secure our borders and ensure these children are returned swiftly and safely to their countries."… [emphasis added]
Inserted from <LA Times>
There you have it, the day after voting to sue Obama for acting unilaterally, Agent Orange is blaming Obama for NOT acting unilaterally!!!
Nancy Pelosi commented on Congressional dysfunction.
Here's a late update from Chris Hayes.
Republicans are huddling behind closed doors, but I'm  certain that the most they will accomplish is a bill so tainted that the Senate won't touch it.