I'm enjoying the cool weather, but not looking forward to the heat wave.  Tuesday will be high 80°s, followed by 90°s through the following Tuesday, at least.  I'd better take advantage while the cool is here.  I hope you're enjoying your weekend
Jig Zone Puzzle:
Today's took me 2:51 (average 5:14).  To do it, click here.  How did you do?
Short Takes:
From Daily Kos (classic 10/2011): What he's gloating [see below] over is this news report.
COLUMBIA — South Carolina's new voter photo identification law appears to be hitting black precincts in the state the hardest, according to an analysis by The Associated Press.

For instance, nearly half the voters who cast ballots at a historically black college in Columbia lack state-issued photo identification and could face problems voting in next year's presidential election, according to the analysis of precinct-level data provided by the state Election Commission.[…]

[A]mong the state's 2,134 precincts, there are 10 where nearly all of the law's affect falls on nonwhite voters who don't have a state- issued driver's license or ID card, a total of 1,977 voters.

The same holds true for white voters in a number of precincts, but the overall effect is much more spread out and involves fewer total voters: There are 44 precincts where only white voters are affected, or 1,831 people in all.

The precinct that votes at Benedict College's campus center has 2,790 voters, including nine white voters. In that precinct, 1,343 of the precinct's nonwhite voters lack state identification, but only five white voters do. The former group accounts for 48 percent of the precinct's voters.[…]

A precinct at South Carolina State University has 2,305 active voters, including 33 white voters. There, 800 nonwhite voters and 17 white voters there lack state IDs. More than a third of the voters in the precinct lack state photo identification.
Disenfranchising huge groups of people—African Americans—is thus "EXACTLY" why Republicans created this law, according to Wesley Donehue.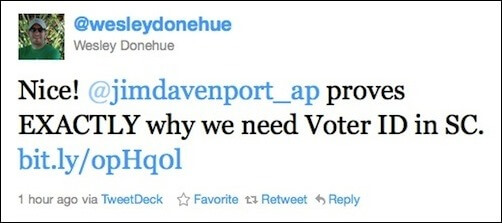 Even four years ago, we heard if from the elephant's mouth. The purpose of voter ID laws to keep black people from being able to vote.  Republicans also target other vulnerable people for disenfranchisement. 
From NY Times: "I don't want people thinking we are trying to get these regs done so we can influence the election," Mr. Koskinen declared later to reporters. The statement was remarkable for blessing further procrastination at the I.R.S., whose clear obligation is to enforce existing law in a way that would end the current flood of "dark money" financing politics. The commissioner said the earliest that tighter rules could take effect would be 2017. The I.R.S. has been increasingly timorous on this issue ever since House Republicans opened partisan hearings into complaints that I.R.S. officials have been biased against conservative political groups that claim tax exemptions as nonprofit social welfare groups.
I'm sad to sy that the Republican pseudo-scandal worked to help them buy elections, using even foreign money.  It's especially frustrating because Republican lies about it were thoroughly debunked.
From Raw Story: [P]erhaps predictably, the Westboro Baptist Church has vowed to protest the funerals of two victims that died in the Lafayette theater shooting this week. But they may meet quite a bit of resistance.
Hundreds of counter-protesters are planning to form a human chain to protect mourners, the New York Daily News reports. The event page for the Lafayette Human Barrier shows at least 15,000 listed as "going."
Kudos to the Human Barrier against the Westboro Republicans. I only wish the victims had been better protected from the Republican criminal that murdered them.
Cartoon: