It's a chilly day, and that's OK with me.  I ordered groceries from Store to Door and put the finishing touches on a huge load of γηννα chili, so Squatch had better close her window.
Jig Zone Puzzle:
Today's took me 3:35 (average 4:56).  To do it, click here.  How did you do?
Fantasy Football Update:
Here is the latest from our own fantasy football league, Lefty Blog Friends.
Scores: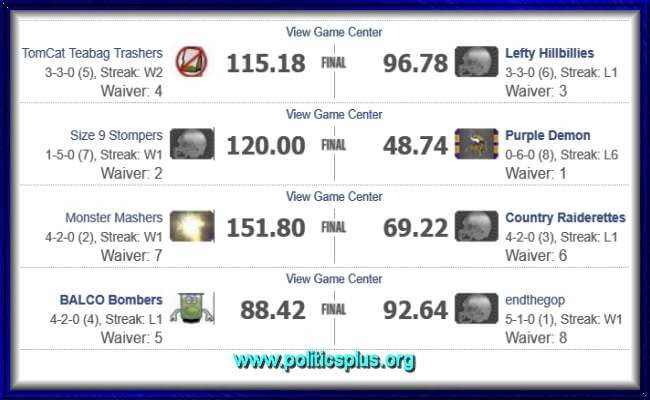 Wooo Hooo!
Standings: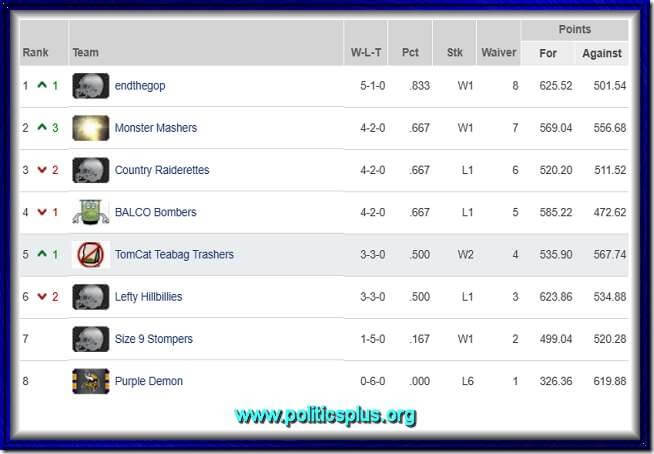 Congrats to Pam, who left the league in sole possession of 1st place.  Condolences to Jack who is even under a Bigfoot foot.  I have broken up Pam's team and her players are available to claim on waivers, through the add player feature.  Whether or not any of your claims are successful will depend on your position in the waiver order and who else claims which players.  Be sure to make claims today.
Short Takes:
From YouTube (GQ Channel): Donald Trump is the Harvey Weinstein of Washington
Trump is the Harvey Weinstein of the World, but why no outrage from the Reich?  Keith forgot one key element of the Republican world view. IOKIYAR! RESIST!!
From YouTube (MoveOn Channel): Good News: Voting Rights
Oregon leads the way! RESIST!!
From The New Yorker: Just minutes after the publisher Larry Flynt offered ten million dollars in exchange for information leading to Donald Trump's impeachment, Trump contacted Flynt and said that he would gladly provide the information himself in exchange for the cash.
According to Flynt, shortly after their phone conversation Trump sent him a voluminous number of e-mails, phone records, and other evidence of impeachable offenses, after which Flynt wired ten million dollars to Trump's Swiss bank account.
"That was a lot easier than I thought it would be, to be honest," Flynt told reporters.
The swift denouement to Trump's tenure in the White House raised more than a few eyebrows in Washington, with some insiders wondering if Trump's eagerness to accept the ten-million-dollar payment indicated that his net worth was considerably smaller than he had professed.
Andy, his net worth is way less than he claims. Even if Trump owns $billions, he is worth less than a wormy dawg turd! RESIST!!
Cartoon: