I'm writing for tomorrow, Day 21.  This is my only article.  I have to leave early and meet my ride to prison several miles away to avoid the Ferguson protests.  Tomorrow the cooking begins.
Excellent meeting.  Exhausted.
Jig Zone Puzzle:
Today's took me 3:24 (average 5:58).  To do it, click here.  How did you do?
Fantasy Football Report:
Here's the latest from our own fantasy football league, Lefty Blog Friends.
Scores: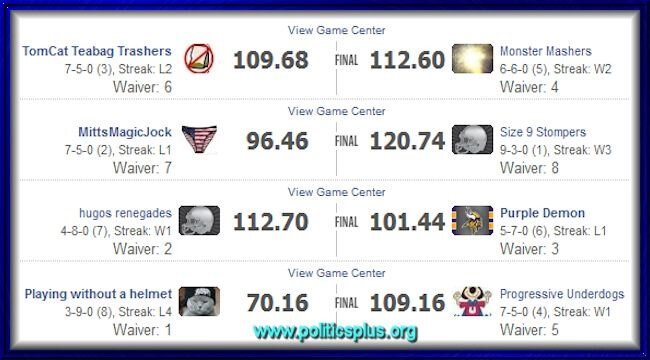 That was a last minute shock!

Standings: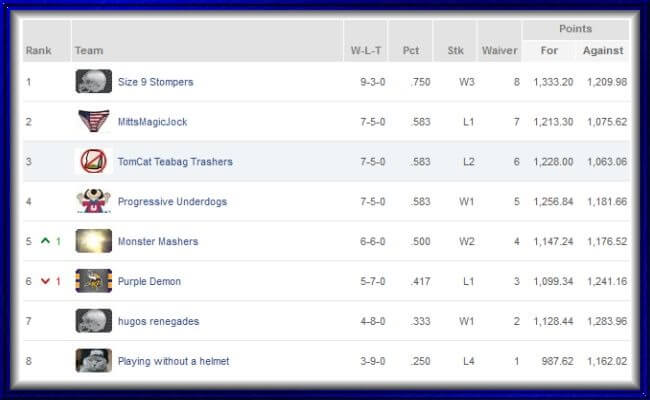 There are only two weeks left before our playoffs begin.  Can I toast the toester?
Short Takes:
From Daily Kos: From NPR station KCUR:
Although gay and lesbian couples are getting married in at least 24 Kansas counties, Gov. Sam Brownback won't allow any state recognition of the unions.

Brownback said Thursday that he won't offer any of the benefits heterosexual couples get, such as name changes on a driver's license or employee benefits for gay and lesbian state workers.

"There is still considerable legal ambiguity on the topic of same-sex marriage," said Eileen Hawley, a Brownback spokeswoman. "Once that ambiguity is gone, the governor will direct state agencies to comply with applicable laws."
When the Supreme Court refused to extend the temporary stay, he said [pseudo-Christians delinked]:
I swore an oath to support the Constitution of the State of Kansas. I will review this ruling with the attorney general and see how best we continue those efforts.
In other words: Marriage discrimination now, marriage discrimination tomorrow, marriage discrimination forever!
Is it realistic to think he is impeachable? This is the Theocracy that the idiots who elected him want.
From NY Times: Months of anger and frustration, in the end, led only to more anger and frustration.
Shops were looted and burned on Ferguson's main street. There were smoke bombs, tear gas, thrown rocks and random gunshots. In Ferguson, the aftermath of the shooting death of Michael Brown was almost as bitter and hollow as his killing itself.
Brien Redmon, 31, stood in the cold watching a burning police car and sporadic looting after the announcement that there would be no indictments for Mr. Brown's death at 18.
While I cannot support rioting, I understand the outrage. Even here, a major demonstration is planned. I lave to leave early and meat my ride to prison five miles away from my home, because the march will be under my window. I almost wish I weren't going.
From Upworthy: How we treat individuals with disabilities is often colored by how we perceive them and the judgments we make upon first meeting someone with a disability. For this woman, that includes being thought of as a 2-year-old when she's actually a college student who's smart as a whip and just happens to have a physical disability. It doesn't make her less than "normal."
One word: Kudos
Cartoon: