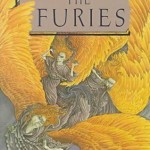 I have three items today which seem to call for the efforts of the Greek Furies (Erinyes) to come and deal with them. In honor of the 40th post, I am going to start numbering them. As a reminder, though no one really knows how many there were supposed to be, the three names we have are Alecto, Megaera, and Tisiphone. These roughly translate as "unceasing," "grudging," and "vengeful destruction."
Normally I shy away from calling the Furies' attention to a corporation or group. There were no corporations in ancient Greece, not as we understand the term; and while there were some groups, they just weren't of the sizes and in the quantities we have today. I want them to be comfortable doing work they know how to do.
But, in this case, a corporation has acted so much like a particularly despicable individual, that I simply have to address it. Also, I have a name. Also, I have a signed letter.
You may have read that Aetna (originally Aetna Insurance Company, later Aetna Life Insurance Company, still later Aetna U.S. Healthcare, now apparently just Aetna) is pulling out of Obamacare in 11 of the 15 states it has been serving. You may have read this pullout has been attributed to financial loses in those states. You may have read that Republicans are delighted by this turn of events.
You may even have read that the pullout is not really due to financial losses, but is retaliation against the administration (and, incidentally, every citizen previously covered by them under Obamacare) because their request to but Humana was denied.
You may or may not have read that Huffington Post has obtained, through the FOIA, a copy of a letter sent to the Justice Department by Aetna CEO Mark Bertolini which in essence said (my reconstruction) "Nice Affordable Care Act you got there. Be a shame if anything happened to it. Give us our merger and we won't pull out."
So now, because Bertolini didn't get his merger, Obamacare and ordinary Americans who need health insurance will suffer the consequences. Obamacare is already facing an uphill battle with regard to critics of the law's suatainability. By leaving a system which relies on subsidized public-private health insurance plans, Aetna's move will only further tip the scales in favor of Obamacare's criticn [sic] and drive up costs.
Incidentally, Aetna is officially claiming that the letter and the pullout are unrelated. Right. I call it extortion. What do you say, Megaera? (And what can you expect from a company named after a volcano?)
Meanwhile, back in Tulsa, OK, a family named Jabara has since 2013 or earlier been living next door to a terrorist named Vernon Majors. I don't know how much earlier, but it was in 2013 that Haifa Jabara, the materfamilias of the Jabara family, filed a protective order against Majors. He had been sexually harassing her, knocking on windows late at night, stalking her, and subjecting the entire family to racist remarks. (The Jabaras' family background is Lebanese, but the racist remarks included "dirty Arabs," "filthy Lebanese," "AY-rabs," "MOOS-lems," and he had a whole vocabulary beyond that for use with Mexicans and black people.)
In 2015 Haifa's son, Khalid, also filed a protective order against Majors. Majors had been harassing Khalid, stalking him and following him around, leaving notes on the door, and vandalizing the inside of the house. Wait – what? Vandalizing the inside of the house? This creep had been actually getting inside their home to do damage? Eeeeeeww!!
And then in September of 2015, Haifa was jogging in the neighborhood when Majors drove by, aimed his car at her, clearly attempting to run right over her, which he didn't quite do, but he did
put her in the hospital. A broken shoulder, collapsed lung, broken ankle, broken nose, head trauma, and fractured ribs were only some of the injuries she sustained.
Well, he did get locked up then, charged with assault and battery with a deadly weapon (which he admitted, providing the motive "filthy Lebanese"), and was awaiting trial, but in May he posted bond. It was originally set at $30,000. The prosecutor asked the judge to, first choice, hold him without bond, second choice, set bond at $300.000. Instead the judge made it $60,000, and he bonded out immediately. He was released wih no additional conditions – no ankle monitor, no drug/alcohol testing, nothing.
Now, despite having been arrested for a felony, and having been previously convicted of a felony in California, and thus ineligible under Federal law to own a gun , somehow he had one.
The day Khalid was murdered, he called the police to tell them this terrorist had a gun. The police came and said there was nothing they could do. Thirty minutes after the phone call, Khalid was dead.
This next thing has nothing to do with the case, it just struck me, so I have used both pictures. A blind person on a fast horse riding by could see that Khalid is better looking than Majors (much, MUCH better looking.) Is it my imagination? Or is he also whiter than the so-called white guy? A thing like that should not matter to any sane person, of course. But then Majors apparently isn't. Sane. Tisiphone, if you will follow the case and guide at strategic points to make sure the community in general and the Jabara family in particular are never in danger from him again, maybe even instigate the DOJ to investigate as a hate crime – two hate crimes – it will be most appreciated.
Next, from the "You don't have to be black to get killed by police" files, comes the story of Daniel Patrick Harris, 28, of Charlotte, NC. Harris is – excuse me, was -profoundly deaf, and he communicated using American Sign Language (ASL). He was able to drive, and was pulled over, or at least an attempt was made to do so, this month. The best guess of those who have been covering the story is that he may have been speeding, but that is unconfirmed.
Also unconfirmed is whether Mr. Harris simply did not hear any sirens, or whether he trying to get home, where family were present who would be able to interpret for him, or some combination. He was a few within feet of his home, when the two cars collided. Mr. Harris then got out of his car and started signing to the officer, who, according to neighbors, shot him as soon as he got out, killing him.
The officer, trooper Jermaine Saunders, is on administrative leave while the investigation goes on, and is not giving interviews. Mr. Harris is dead, so we can't ask him. The most we can do is speculate. Did Trooper Saunders think Harris was flashing gang signs? Did he think Mr. Harris was making threatening gestures? We don't know. We only know that Mr. Harris is dead.. Oh, yes, and that he liked turtles.
Alecto, I didn't have anything specifically for you last week. But I would say that this is in a category of things that happen All. The. Time. Let us know what you find out.
Finally – I seldom do humor here, for obvious reasons, but I guess if Shakespeare can use comic relief, I can try. So here is a little trivia question. Based on the news from this week, one can conclude that that
a. Not all gun nuts live in the United States.
b. Having had a taste of entertainment from the filming of "Lord of the Rings" and "The Hobbit," New Zealand parents have started training their children to star in some future remake of "Game of Thrones."
c. Both of the above.
Click through for the answer ( spoiler: "c" is correct).
The Furies and I will be back.
Cross posted to Care2 at http://www.care2.com/news/member/101612212/4007417