Yesterday, I was so tired that I actually thought it was Saturday. I finally realized my error after lunch. It's a good thing I did, or I would not have scheduled my follow up with Amanda (Prosthetist). The too hot for May weather has returned. I expect a high of 90°. The Portland Rose Festival just began, waking me up last night with a fireworks display. Historically, the Weather always turns to crap for the Rose Festival, but not this year.
Jig Zone Puzzle:
Today's took me 3:00 (average 4:49). To do it, click here. How did you do?
Short Takes:
From Daily Kos: This humorous bit takes only several seconds to watch, but the laughter/smile will most likely linger much longer. On Thursday, Jordan (@JordanUhl) posted a hilarious GIF clip on Twitter, adding:
I don't care if this is fake I'm pretending it's real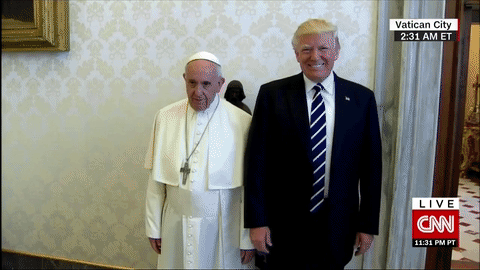 Trump considers the Pope to be a soft liberal pussy. In the absence of absolute proof that it's fake, we have to conclude this is a real Trump attempt to grab a pussy. RESIST!!
From NY Times: The Democratic defeat in a hard-fought special House election in Montana on Thursday highlighted the practical limitations on liberal opposition to President Trump and exposed a deepening rift between cautious party leaders, who want to pick their shots in battling for control of Congress in 2018, and more militant grass-roots activists who want to fight the Republicans everywhere.
Rob Quist, the Democratic nominee in Montana, staked his campaign on the Republican health care bill, but he still lost by six percentage points, even after his Republican opponent for the state's lone House seat, Greg Gianforte, was charged with assaulting a reporter on the eve of the election.
The margin in this race was relatively small in a state that Mr. Trump carried by more than 20 percentage points last year. But Mr. Quist's defeat disappointed grass-roots Democrats who financed nearly his entire campaign while the national party declined to spend heavily on what it considered, from the outset, an all-but-lost cause in daunting political territory.
The DNC is dead wrong. Failure to fight Republicans anywhere gives moderate voters everywhere the impression that the Democratic Party does not care about them. On the other hand, we may have lost the Montana war, but we won enough of the battles to make it worthwhile. We made the Republican Party spend millions more than grass-roots Democrats did to defend a supposedly "absolutely safe" seat. Furthermore, the Gianforte body slam audio will be hung around the neck of Republican candidates everywhere, because that act actually increased Gianforte's support among Montana Republicans, who sent him $100,000 within 24 hours. RESIST!!
From Raw Story:
But Media Matters and others have been debunking Hannity's fake news for years. Here are 5 of his more baseless theories:
1. CIA framed Russia for hacking the DNCFox News reported on Russia's hacking the DNC as well as the January 6 Intel report. [Faux Noise delinked] Yet, less than 48 hours after a Wikileaks dump of the Vault 7 documents (March 7), Hannity began citing Breitbart's reporting of the scoop: "WikiLeaks: CIA Uses 'Stolen' Malware To 'Attribute' Cyberattacks To Nations Like Russia."
The Fox News host was joined on his show by retired 9/11-truther [Fascist delinked] and torture proponent Army Lieutenant Colonel Anthony Schaffer.
"Sean, we did it. Not me, but our guys, former members of NSA, retired intelligence officers used these tools to break in there and get the information out. That's what the Democrats don't want to talk about because it doesn't fit their narrative," Shaffer said.
"You're telling me this whole Russian story that the media has been running with for months and months and months — that it was our people that did it, and they put the fingerprints of the Russians on it?" Hannity asked.
"That's right," Shaffer said, although he then admitted on-air he had no proof.
Barf Bag Alert!!
What hogwash! I shared one. Click through for the other four. RESIST!!
Cartoon: