I had another restless night.  I'm trying, but as I lay in bed, it's often hours before sleep comes.  I guess I just need more time to wrap my mind around how to oppose the rectum Reich.
Jig Zone Puzzle:
Today's took me 4:14 (average 5:18).  To do it, click here.  How did you do?
Fantasy Football Report:
Here's the latest from our own fantasy football league (Lefty Blog Friends).
Scores: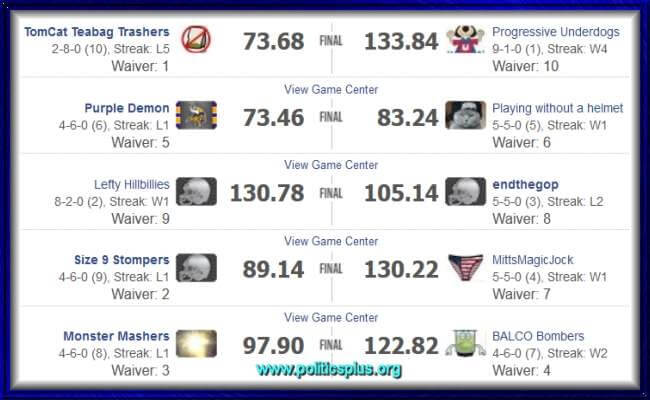 This week, it was Rob's turn to stomp my poor Kitty Dingles.
Standings: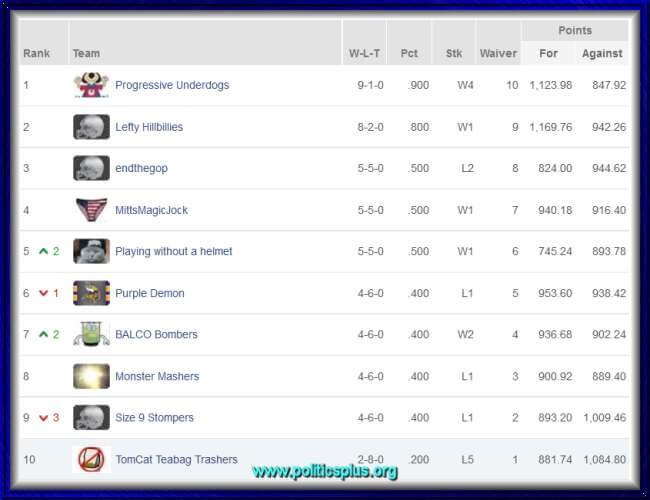 Congrats to Rob for sole possession of the lead.  I now have sole possession of the cellar.
Short Takes:
From Daily Kos: We're immediately seeing how our nation's First Amendment will "change" under Trump. Anti-Trump protesters were "hired," Trumpites say; public opposition to his administration is not just illegitimate, but itself a conspiracy by elites against his movement. His potential Homeland Security chief, David Clark, said the protests had no "legitimate reason" and "should be quelled."
Trump can't do these things himself. Bill O'Reilly, however, can do these things. Sean Hannity or Fox & Friends can do these things. By spreading the message that dissenters themselves are a conspiracy against Trump fueled by dark forces, they can help Trump not just demonize those opponents but take unprecedented steps against the press and the public.
A Trump administration may declare that they cannot allow the press access that is traditionally allowed because—as Trump has already tweeted—the press is "inciting" protests
I have no doubt that the Republican Reichsministry of Propaganda, Faux Noise, would love to dismantle the First Amendment for their Fuhrer.
From YouTube (Full Frontal Channel): New Cabinet Installation: Part 1
ARGH!!
From YouTube: New Cabinet Installation: Part 2
As much as I love Sam, I'm just not laughing. I hope you can.
Cartoon: