It's a dead news day, so this is my only article, and I won't be sending links messages on Care2.  I have a busy night, because I'll be doing my grocery shopping at Amazon Prime Now.  I hope your Christmas, or _______, was whatever you hoped it would be.
Jig Zone Puzzle:
Today's took me 3:33 (average 5:53).  To do it, click here.  How did you do?
Fantasy Football Update:
Here's the latest from our own fantasy football league, Lefty Blog Friends.
Playoffs: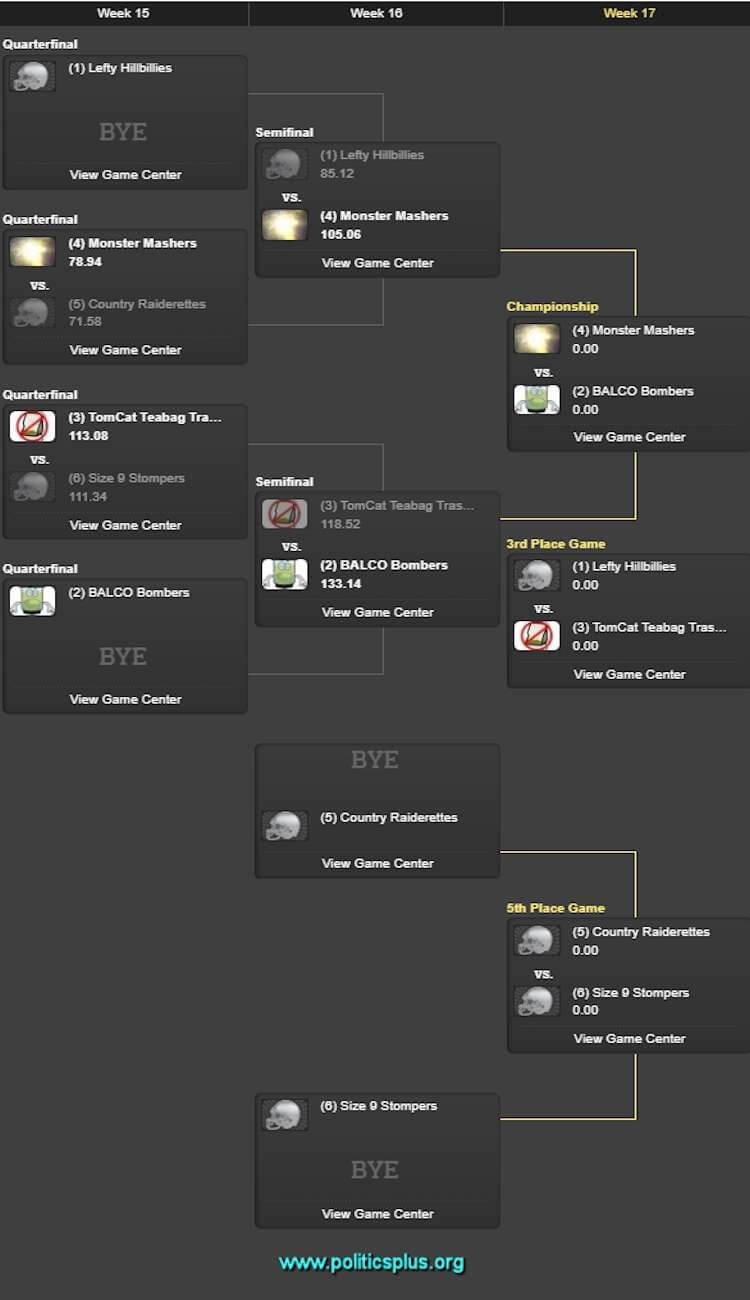 Congrats to Patty Monster and Seth for beating Vivian and I in the semis.  Next weekend, they play in the finals, Vivian plays me in the third place game, and Wendy plays the Squatch in the fifth place game.  Good luck to all!
Short Takes:
From Newsweek: The U.S. will cut its 2018 contribution to the United Nations by $285 million—nearly 25 percent—an announcement that comes days after more than 120 nations criticized the United States for its decision to recognize Jerusalem as the capital of Israel.
Ambassador Nikki Haley made the announcement Sunday, but specifically blamed the world body for its budgetary excesses without making a specific reference to last week's vote on President Donald Trump's controversial Jerusalem decision.
This is the act of a deplorable bully! RESIST!!
From Salon.com: In a scathing editorial, The Salt Lake Tribune is calling on on Orrin Hatch — the longest serving Republican senator in history, to retire upon the completion of his seventh term, and also sharply criticized his staunch support for President Donald Trump's agenda.
Hatch was named The Salt Lake Tribune's 2017 Utahn of the Year, and while "the criteria are not set in stone," the award is bestowed upon a Utahn who has "made the most news" or has "had the biggest impact" either "for good or for ill."
Hatch's can proudly wear his new title for his "part in the dramatic dismantling of the Bears Ears and Grand Staircase-Escalante national monuments," the editorial board wrote. Other reasons included the role Hatch played "as chairman of the Senate Finance Committee in passing a major overhaul of the nation's tax code," and "his utter lack of integrity that rises from his unquenchable thirst for power."  [emphasis added]
The SLT is spot-on in their description of Hatch, but the last statement applies equally to every Republican in office. RESIST!!
From Washington Post: Grit your teeth. Persevere. Just a few more days and this awful, rotten, no-good, ridiculous, rancorous, sordid, disgraceful year in the civic life of our nation will be over. Here's hoping that we all — particularly special counsel Robert S. Mueller III — have a better 2018.
Many of us began 2017 with the consoling thought that the Donald Trump presidency couldn't possibly be as bad as we feared. It turned out to be worse.
Did you ever think you would hear a president use the words "very fine people" to describe participants in a torch-lit rally organized by white supremacists, neo-Nazis and the Ku Klux Klan? Did you ever think you would hear a U.S. ambassador to the United Nations thuggishly threaten that she would be "taking names" of countries that did not vote on a General Assembly resolution the way she wanted? Did you ever think the government of the world's biggest military and economic power would reject not just science but also empiricism itself, preferring to use made-up "alternative facts" as the basis for major decisions?
We knew that Trump was narcissistic and shallow, but on Inauguration Day it was possible to at least hope he was self-aware enough to understand the weight that now rested on his shoulders, and perhaps grow into the job. He did not. If anything, he has gotten worse.
And he has not hit bottom yet! RESIST!!
Cartoon: