It's a very busy day, and the tasks at hand keep increasing faster than the available timed to do then. Just finding material for today's articles. I shall catch up sooner or later.
Jig Zone Puzzle:
Today's took me 3:22 (average 5:39). To do it, click here. How did you do?
Religious Ecstasy:

They did not make the playoffs. Mike Shanahan announced his retirement yesterday. I'm hoping they tap Wade Phillips.
Fantasy Football Report:
This is the final report of the year for our own Fantasy Football league, Lefty Blog Friends.
Playoffs: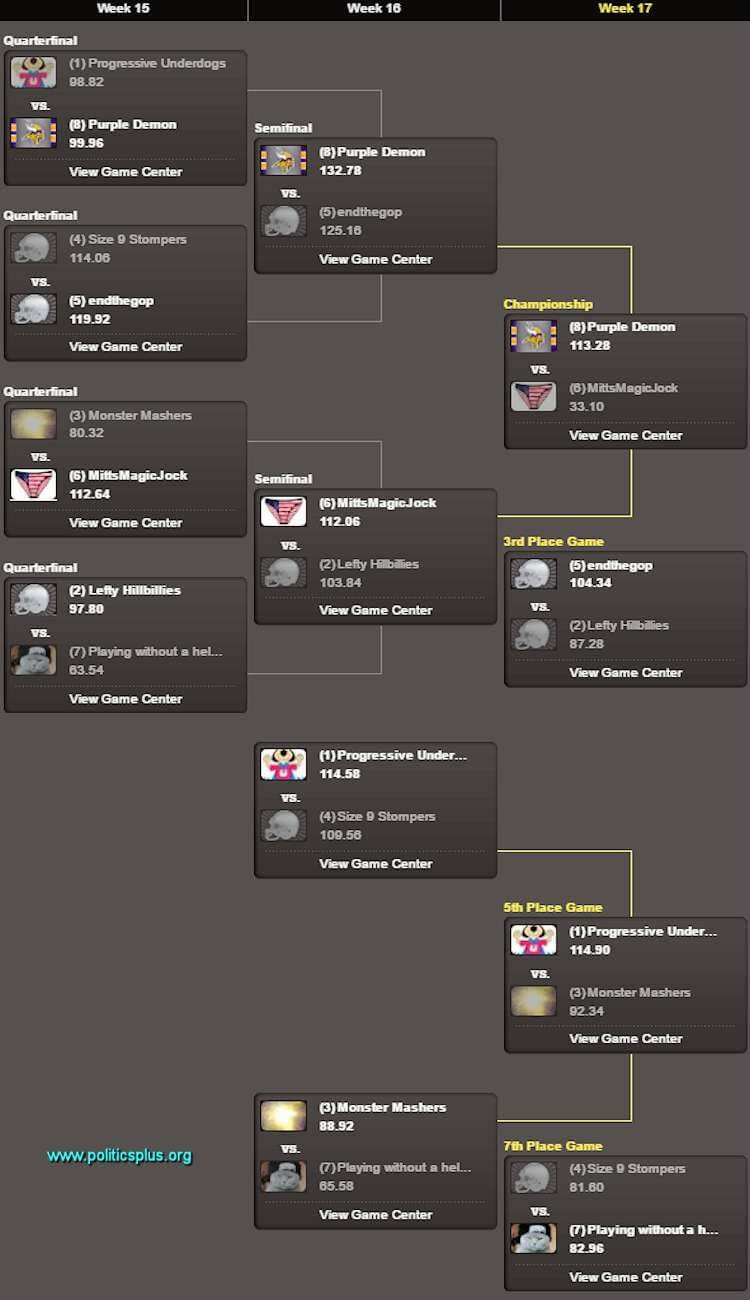 Scoreboard: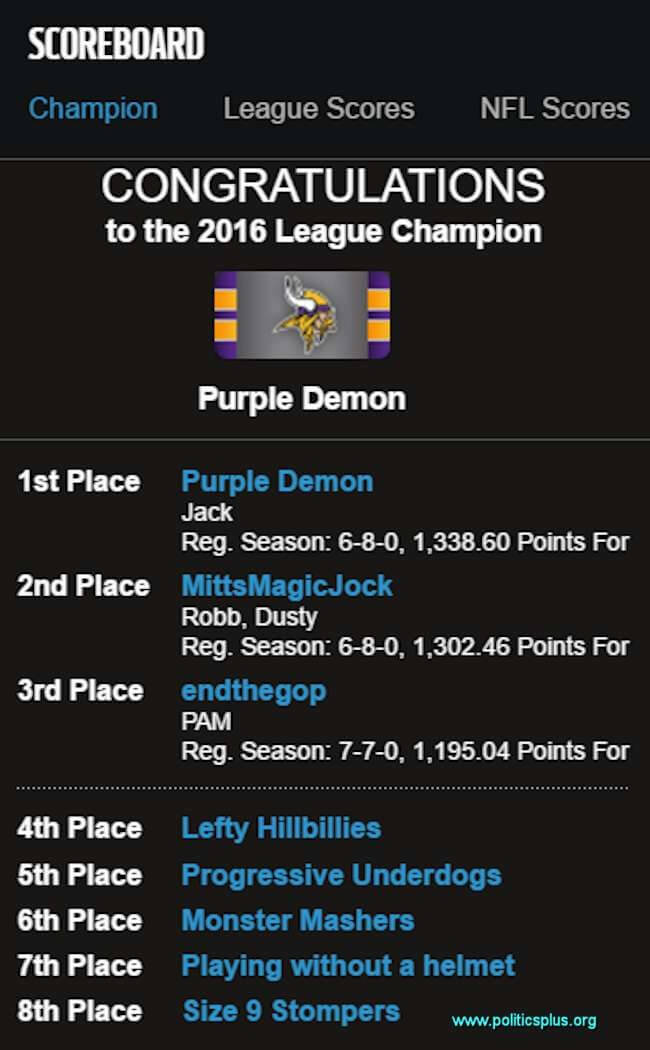 Congrats to Jack for winning the playoffs. I have already submitted my intent to keep the league going. If you will not be participating next year, please let me know ASAP.
Short Takes:
From The Hill: Senate and House Republicans are headed for a clash over whether to tackle Medicare reform under President-elect Donald Trump.
Senate Republican leaders prefer to focus narrowly on an ObamaCare replacement bill that does not contain changes to Medicare — a cautious approach that reflects their slim majority.
But House Republicans, firmly in control of the lower chamber, want to aim higher. They say unified Republican control of government is a chance to finally enact the entitlement reforms that they've been talking about for years.
Rep. Pete Roskam (R-Ill.), a member of the Ways and Means Committee, which has jurisdiction over healthcare, said voters have endorsed the Republican argument that Medicare needs to be reformed.
This is not an either/or issue. It's None of the Above! RESIST!!
From CNN: A Texas lawmaker is lucky to be alive after an apparently stray bullet hit his head during a New Year's celebration early Sunday, authorities said.
State Rep. Armando "Mando" Martinez, D-Weslaco, said his wife had just given him a kiss shortly after ringing in the new year with family and friends, and the next thing he knew, "it felt like a sledgehammer hit me over the head."
A bullet fragment had just punctured the top of the south Texas legislator's head.
Martinez said he had just stepped outside a home in a rural neighborhood north of Weslaco when he was hit.
IMHO, they should be looking for the one of Fuhrer's Ammosexual assassins. RESIST!!
From HRW: Some senior Israeli officials have been encouraging Israeli soldiers and police to kill Palestinians they suspect of attacking Israelis even when they are no longer a threat, Human Rights Watch said today in an analysis of those statements. Other Israeli officials have failed to repudiate the calls for excessive use of force.
Human Rights Watch has documented numerous statements since October 2015, by senior Israeli politicians, including the police minister and defense minister, calling on police and soldiers to shoot to kill suspected attackers, irrespective of whether lethal force is actually strictly necessary to protect life.
"It's not just about potentially rogue soldiers, but also about senior Israeli officials who publicly tell security forces to unlawfully shoot to kill," said Sari Bashi, Israel advocacy director at Human Rights Watch. "Whatever the results of trials of individual soldiers, the Israeli government should issue clear directives to use force only in accordance with international law.
I bet Butcher Bibi's butt buddy, the Fuhrer, wants popcorn to munch, while they watch the videos. RESIST!!
Cartoon: