Please pardon my brevity.  I'm improving slowly, bit not feeling well.
Jig Zone Puzzle:
Today's took me 4:16 (average 5:13).  To do it, click here.  How did you do?
Fantasy Football Report:
Here's the latest from our own fantasy football league, Lefty Blog Friends.
Scores: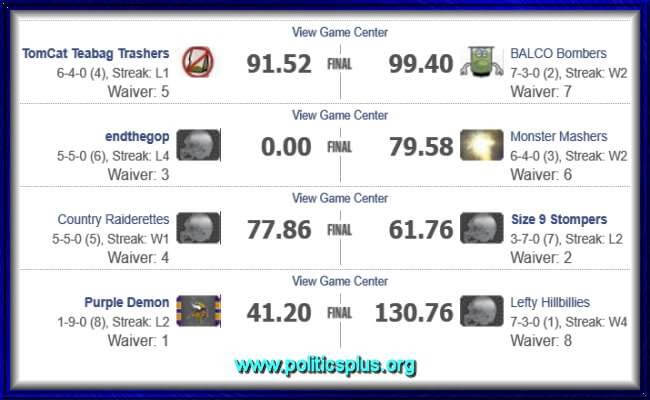 Close, but….
Standings: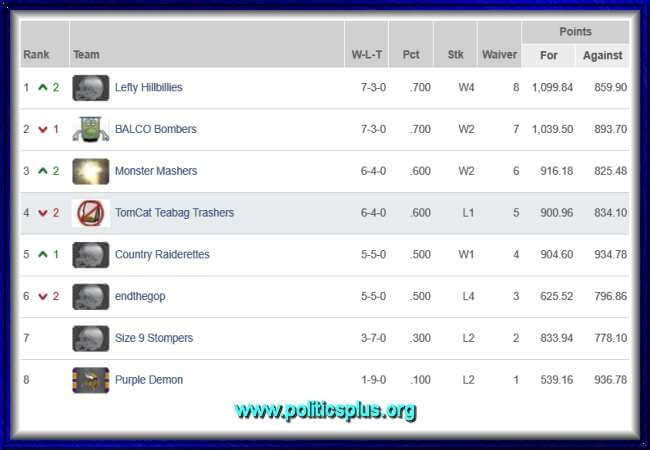 Congrats to Vivian and Seth, our league leaders.
Short Takes:
From YouTube (Jeff Merkley Channel): Senator Merkley Speaks Out Against EPA Nominee Wehrum
Sadly, Republicans can and will confirm this earth destroyer, but Jeff is doing the right thing to expose what they are doing. Oregon leads the way! RESIST!!
From Upworthy: See stunning before and after shots of coral reefs as ocean temps rose by only 2 degrees.
Click through to see. Barf Bag Alert!! RESIST!!
From NY Times: An Alabama woman accused Roy S. Moore on Monday of sexually assaulting her when she was 16, the fifth and most brutal charge leveled against the Republican Senate candidate. Senate Republicans are now openly discussing not seating him or expelling him if he wins the Dec. 12 special election.
The new accuser, Beverly Young Nelson, told a packed news conference in New York that Mr. Moore attacked her when she was a teenager and he was a prosecutor in Etowah County, Ala. Ms. Nelson was represented at the news conference by Gloria Allred, a lawyer who has championed victims of sexual harassment.
After that, even Bought Bitch Mitch condemned Moore, but he says Trump should take care of it. What will Trump do? Swap pictures with Moore? RESIST!!
Cartoon: