Outside there is a huge racket as the maintenance people are working on my side of the building this week.  I'm not complaining, but I do hate being blasted out of a cat nap, after sleeping poorly, and if I want to do any solar basking, I'm likely to get drenched while walking out of range.
Jig Zone Puzzle:
Today's took me 2:55 (average 4:25).  To do it, click here.  How did you do?
Fantasy Football Recruiting:
We still need two new players for Lefty Blog Friends, our fantasy football league.  How about you?  For more information, click here.
Short Takes:
From Robert Reich: #11. WHY MEDICARE ISN'T THE PROBEM; IT'S THE SOLUTION
The Reich on the left pulled a fast one on me and came up with number 11, but true to form, our Reich is right, and the Reich in the right, the Republican Reich, is wrong. I could not find this on MoveOn, so please click through to Robert Reich, and share it from there.
From Daily Kos (classic: 1/2013): A reporter for NPR discovered a strange new light (see circled area above) where there used to be only North Dakota grassland.  The light is produced by a massive 15,000 square mile area of fracking natural gas flareoffs produced by over 150 companies who have determined that it's cheaper to burn-off about 29% of the natural gas that is produced by their oil wells.  
The current levels of burning gas from the field inject two million tons of carbon dioxide into the air each year which is the equivalent amount of pollution caused by 2.5 million cars.  The flares produce carbon oxides, nitrogen oxides, sulfur dioxide and particulates.
The burnoff is equivalent to 30% of the total U.S. natural gas production. Currently, there is no legislation that requires fracking companies to recapture the natural gas they produce through fracking, although it's only slightly more expensive to recapture the natural gas.  Most of the companies have obtained government permission for the flare-offs with annual renewals.  The industry argues that until the wells are completed it's too expensive to recapture the natural gas.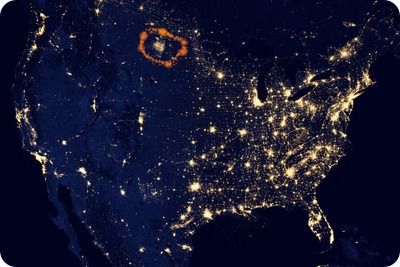 What a bunch of mother frackers!! Since this is visible from outer space, at least aliens touring the solar system will know that the earth is not a safe place to land, without having to risk being gunned down by a Republican Ammosexuals.
From NY Times: The leader of a white supremacist group that has been linked to Dylann Roof, the suspect in the murder of nine African-Americans in a Charleston, S.C., church last week, has donated tens of thousands of dollars to Republican campaigns, including those of 2016 presidential contenders such as Ted Cruz, Rick Santorum and Rand Paul, records show.
"Uranus Inspector" said he'll return the money, and I suspect that "Idiot, Son of Idiot, Named after Idiot" and "Frothmeister" will both do likewise, although none had any objection to taking money, in the first place, from an organization widely known as White Supremacist and listed as such by SPLC. They will get the money funneled back into their campaigns through white supremacist Republicans that haven't been caught killing anyone recently.  Click through for more Republicans in thrall to murderous white supremacists.
Cartoon: