I'm writing for tomorrow, day 33.  I spent most of the day in bed.  I still feel feverish and congested.
Jig Zone Puzzle:
Today's took me 5:03 (average 5:07).  To do it, click here.  How did you do?
Religious Ecstasy:

A bad day for Peyton.  His touchdowns in consecutive games streak ran out at 151.
Short Takes:
From Daily Kos: Here we go again with a bill protecting the religiously persecuted from evil LGBT citizens hoping to pay for services and participate in the U.S. economy. Michigan's GOP House Speaker Jase Bolger pushed through a "Religious Freedom Restoration Act," which is now headed to the state Senate for consideration.
It's a similar bill to the one we saw in Arizona earlier this year. Michigan Republicans apparently felt a real sense of urgency after they quashed an effort the day before to help LGBT individuals hold down jobs and be productive members of society.
No matter how caring and moderate Republicans try to sound for the mainstream, focus on what they keep doing.
From NY Times: The letter to the Environmental Protection Agency from Attorney General Scott Pruitt of Oklahoma carried a blunt accusation: Federal regulators were grossly overestimating the amount of air pollution caused by energy companies drilling new natural gas wells in his state.
But Mr. Pruitt left out one critical point. The three-page letter was written by lawyers for Devon Energy, one of Oklahoma's biggest oil and gas companies, and was delivered to him by Devon's chief of lobbying.
"Outstanding!" William F. Whitsitt, who at the time directed government relations at the company, said in a note to Mr. Pruitt's office. The attorney general's staff had taken Devon's draft, copied it onto state government stationery with only a few word changes, and sent it to Washington with the attorney general's signature. "The timing of the letter is great, given our meeting this Friday with both E.P.A. and the White House."
Mr. Whitsitt then added, "Please pass along Devon's thanks to Attorney General Pruitt."
Click through for more examples about how Republican State Attorneys General are conspiring with polluters against the interest of the people they are supposed to represent.
From The New Yorker: Two days after the release of an unusually strong jobs report, prominent Republicans appeared on the Sunday morning talk shows to question President Obama's "suspicious motives" for repairing the economy.
"When there have been so many months of job growth, it does make you wonder what he's up to," said Sen. Ted Cruz (R-Texas). "You add in the rising stock market and falling gas prices, and the whole thing doesn't pass the smell test."
Appearing on Fox News, Senate Majority Leader Mitch McConnell accused the President of "cynically fixing the economy to distract the American people."
"This country faces serious problems, and I don't think they can be swept under the rug by creating prosperity," he said.
But the sternest rebuke came from House Speaker John Boehner, who warned, "If President Obama doesn't stop fixing the economy, Congress has ways to make him stop."
Andy may be on to something. It's a Kenyan, socialist conspiracy.
Cartoon: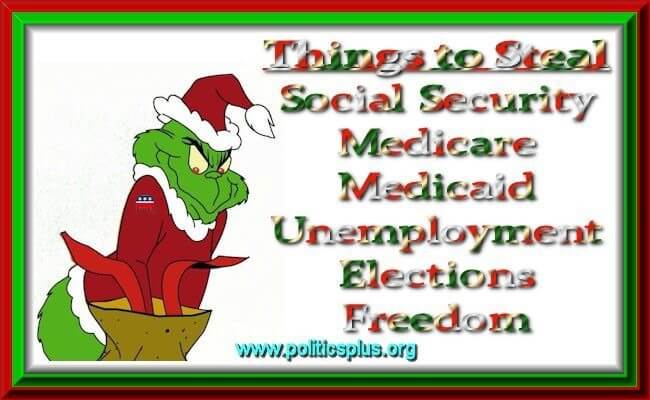 They're making a list.  They're checking it Twice.  We'd be better off, if we could trade them for lice.