I'm writing for tomorrow, day 55.  We have more bad weather coming in, the kind that sets off my COPD.  In addition to a high wind warning, it may be a couple days before we see the warm side of 32°.  That may not seem bad, but here, temperatures below 32° are unusual.  Not getting above it is extreme.  It's also such a dead news day that MSNBC has "Lockup" on in prime time.  This is today's only article.
Jig Zone Puzzle:
Today's took me 3:09 (average 5:07).  To do it, click here.  How did you do?
Fantasy Football Report:
Here is the final report of the season for our own fantasy football league, Lefty Blog Friends.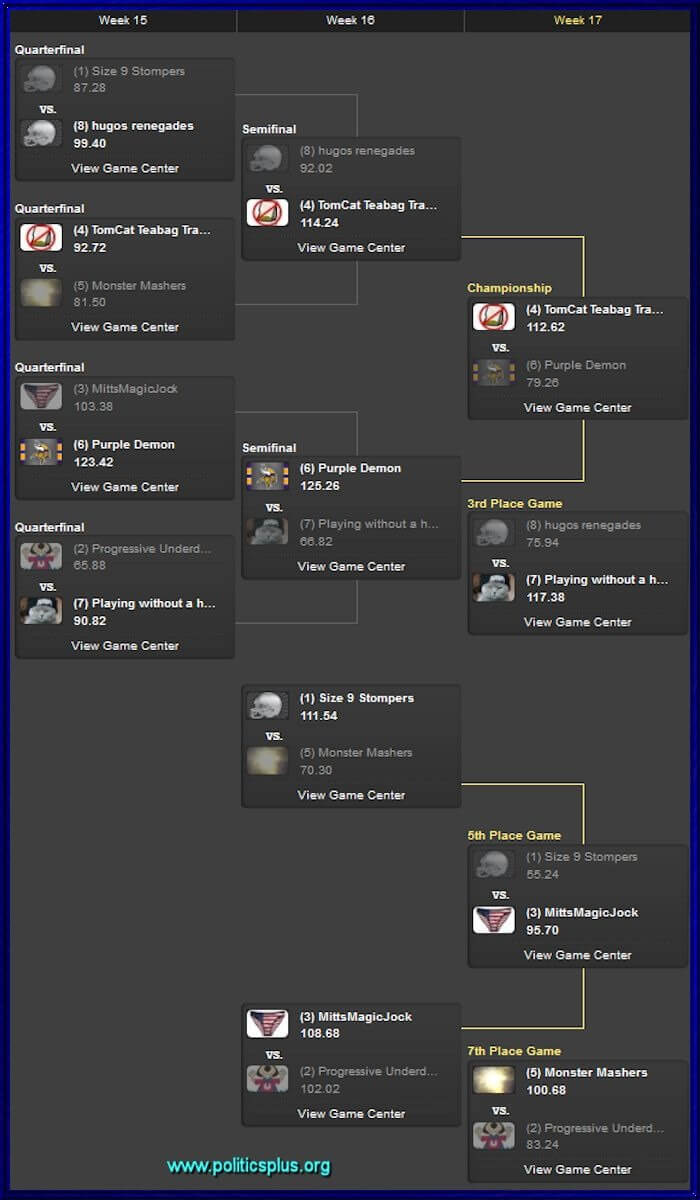 What can I say? CAT is where it's AT!! :-)  We had a fun season and will be back next year.  We'll have room for a couple more players, so, if you'd like to play next season, please let me know.  Congrats to all who played!
Short Takes:
From NY Times: Suppose that for some reason you decided to start hitting yourself in the head, repeatedly, with a baseball bat. You'd feel pretty bad. Correspondingly, you'd probably feel a lot better if and when you finally stopped. What would that improvement in your condition tell you?
It certainly wouldn't imply that hitting yourself in the head was a good idea. It would, however, be an indication that the pain you were experiencing wasn't a reflection of anything fundamentally wrong with your health. Your head wasn't hurting because you were sick; it was hurting because you kept hitting it with that baseball bat.
And now you understand the basics of what has been happening to several major economies, including the United States, over the past few years. In fact, you understand these basics better than many politicians and commentators.
This another excellent Paul Krugman editorial. Click through fpr an explanation of his economic optimism.
From Daily Kos: The U.S. Senate has courageously just stood up to the Christian-supremacist bullies in the House of Representatives. Oh yes, the Senate has just completely ripped away from their religiously bigoted, House counterparts a would-be treasured bible-thumping bonanza of immeasurable, unconstitutional proselytization.  This erstwhile prize of legislative plunder had been specifically designed by these Congressmen and Congresswomen from the House, in nefarious collaboration with their legions of fundamentalist Christian parachurch allies, to be embedded deep within the confines of the 2015 Pentagon authorization/funding act.
Fortunately, the plan by these Christian crusader Members of the House failed. Please let me briefly explain, my friends.
Click through to learn how the Senate stripped provisions from the NDAA that would guarantee forced attempts to convert our troops to Republican Supply-side pseudo-Christianity.  In the past, Republican strength has come from the different wings of the Reich being ready to goose-step behind each others' insane positions.  You can be sure that the Theocons will have their revenge against the Corporacons, Neocons, Plutocons, and the InsaniTEA wing.
From Huffington Post: Bracing to do business with a Congress run solely by Republicans, President Barack Obama is serving notice he has no qualms about vetoing legislation he dislikes.
This would be a significant change in style for Obama, come January when the new Congress will be seated with the GOP not only in command in the House but also the Senate as well.
I'm keeping my fingers crossed.
Cartoon: