I'm writing for tomorrow, day 142.  The plan is to write before I leave for prison, crash when I come back, and post these whenever I wake up.  I have not seen my guys in over a month.
Jig Zone Puzzle:
Today's took me 4:25 (average 5:12).  To do it, click here.  How did you do?
Fantasy Football Report:
Here's the latest from our own Fantasy Football League, Lefty Blog Friends.
Scores: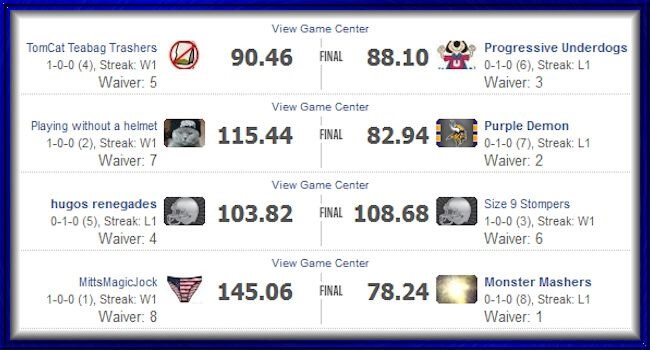 Standings: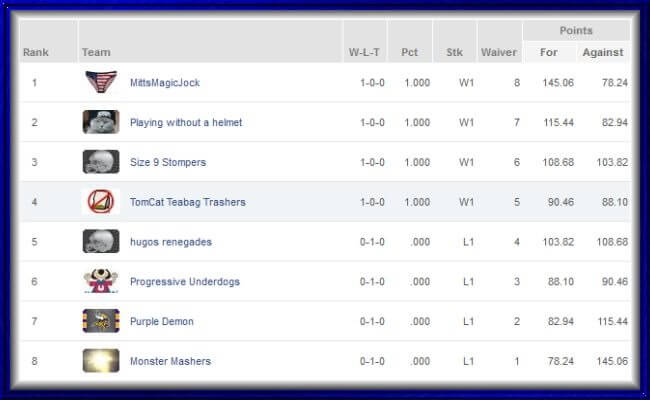 Watch out for the big footed one who took down the winner of last year's playoffs!  Those who wish to follow our league, may do so here.
Short Takes:
From Daily Kos: Hardly a bastion of liberal thought, A Forbes magazine article says Obama not only outperformed conservative hero Reagan, but also has reduced the national debt.  Here's the last paragraph of the article: 
Economically, President Obama's administration has outperformed President Reagan's in all commonly watched categories.  Simultaneously the current administration has reduced the deficit, which skyrocketed under Reagan.  Additionally, Obama has reduced federal employment, which grew under Reagan (especially when including military personnel,) and truly delivered a "smaller government."  Additionally, the current administration has kept inflation low, even during extreme international upheaval, failure of foreign economies (Greece) and a dramatic slowdown in the European economy.
Forbes has obviously joined a Socialist, Kenyan conspiracy.
From The New Yorker: CNN kicked off its coverage of the latest royal pregnancy on Monday by simulating the journey of Prince William's sperm to Kate Middleton's egg.
Holding two plastic models of the Windsors' reproductive cells, the CNN host Don Lemon offered viewers a dramatic re-creation of the path taken by the royal spermatozoon.
The CNN president Jeff Zucker praised the demonstration, calling it "the perfect way to kick off our twenty-four-hour coverage of this story for the next nine months."
What Andy isn't telling you is that, if this was a black couple, The Republican Reichsministry of Propaganda, Faux Noise, would be covering it as porn, because Kate has worn shoes since conception.
From Crooks and Liars: As Karoli already discussed last week, Fox is now moving the goal posts on their BENGHAZI!!!! "scandal" and whether there was a "stand down order" given by Hillary Clinton — and as she already noted in her post, they couldn't even manage to make it through Bret Baier's show hyping their upcoming special over the weekend without one of the guests killing their conspiracy theory before it got off the ground.
That didn't stop Fox's Greta Van Susteren and her fellow host Sean Hannity from piling on with their latest bit of outrage on the subject. Apparently someone at the White House called Van Susteren and asked her if she could get her cohort Jennifer Griffin to please quit lying about the stand down order.
Now that Fox has moved the goal posts from their original story and the lie they kept repeating that Hillary Clinton gave a stand down order that delayed any rescue attempts at the consulate, they're claiming that Griffin's reporting was vindicated.
Never mind that it was the CIA officer in charge of the Benghazi mission security who gave the order because he was trying to get to get the local Libyans to back up their security team. Facts don't matter much when you've got a narrative to sell.
Barf Baq Alert!!
There is a spectrum of truth ranging from absolute truth at one end to the Republican Reichsministry of Propaganda, Faux Noise, at the other.
Cartoon: