It's another day, and the unrelenting heat continues.  The webs between by toes, developed from living in cool, rainy Oregon for thirty-six years are cracked and brittle.  The long range forecast sets the next day, below 90° as 7/11.  This weather would be exceptional in the heat season, August and early September, not June and July.  ARGH!!  Although today is the official holiday, I'll save Independence Day greetings for tomorrow.
Jig Zone Puzzle:
Today's took me 6:15 (average 5:08 (COPD coughing attack in mid-solve)).  To do it, click here.  How did you do?
Fantasy Football Recruiting:
We still need one or two new players for Lefty Blog Friends, our fantasy football league.  We're trying to get Viv in, but are not sure if it will support her smart phone.  How about you?  For more information, click here.
Short Takes:
From Media Matters: The Associated Press' (AP) report on a meeting between lawless Nevada rancher Cliven Bundy and Republican presidential hopeful Sen. Rand Paul (R-KY) completely ignored the nationwide controversy Bundy sparked in 2014 when he made a series of racist comments about "the Negro." Paul himself repudiated Bundy at the time for his "offensive" commentary, a fact that was also missing from the AP article.
According to the AP, Bundy and Paul met during a June 29 campaign event in Mesquite, Nevada. Bundy said of Paul to the AP, "In general, I think we're in tune with each other." Politico additionally reported that the two men spoke for 45 minutes.
In its report, AP described the April 2014 armed standoff between Bundy supporters and federal law enforcement agents as "one of the more dramatic conflicts over land rights in recent years," but made no mention of Bundy's infamous racist commentary…
Barf Bag Alert!!
It is media bias at it's worst to ignore support from Idiot, Son of Idiot, Named after Idiot for this racist Republican terrorist.
From Daily Kos:
Jeb! has called Obamacare "flawed to its core" on several occasions, but apparently it wasn't too flawed for him to make a handsome profit from. Josh Barro reports.
According to tax returns released by Mr. Bush's campaign on Tuesday, he sold $1,103,424 worth of stock in Tenet Healthcare in September and October of 2013, yielding a capital gain of $556,283. It hadn't taken Mr. Bush long to double his money — he was selling shares he had acquired in 2010 and 2011.[…]

…Mr. Bush's tax returns reflect a gain of 105 percent on Tenet stock he acquired in May 2011 and sold in October 2013. Tenet shares actually gained 68 percent over that period; Mr. Bush's higher gain may be related to his receipt of restricted stock grants. Still, Tenet's 68 percent gain was much stronger than the 26 percent overall gain for the S.&P. 500 index over the same period.
And why did Tenet's stocks outperform other stocks? Because investors anticipated that Obamacare would make hospitals more profitable, with increased usage and fewer payment defaults by uninsured patients.
There's nothing unusual for a Republican or a Bush here.
From NY Times: Jim Webb, a former Virginia senator and Reagan-era secretary of the Navy, announced his candidacy for the Democratic presidential nomination on Thursday, bringing his antiwar credentials to the field in what many consider a long-shot campaign for the presidency.
Mr. Webb's announcement caught some political observers by surprise. He was the first from either party to form a presidential exploratory committee but has been barely visible since.
I was for him when he ran for Senator against George Allen, Macaca Man, but except for his opposition to the Iraq War, he's been mostly a Republican posing as a Democrat, and should be treated as such.
Cartoon: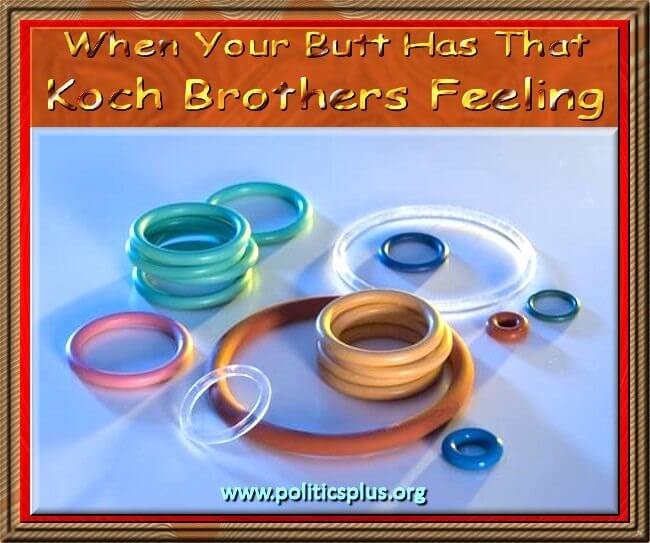 These are O-rings.