I'm hurrying this morning, because I'm hoping for time for a nap, before Wendy and her niece arrive for early Thanksgiving dinner.
Jig Zone Puzzle:
Today's took me 2:54 (average 5:01).  To do it, click here.  How did you do?
Short Tales:
From Daily Kos: Oh, national "news" media. What the hell are you even for?
On November 19, The New York Times reported that Trump "still maintains the routine that sustained him during the campaign," which includes "often seek[ing] out" advice from [MSNBC host Joe Scarborough]. CNN media reporter Brian Stelter referenced the Times report on the November 20 edition of CNN's Reliable Sources, stating that Scarborough has been giving Trump advice." Scarborough failed to address the allegations during the November 21 edition of Morning Joe.

Scarborough has repeatedly attacked those who claimed he was supporting Trump on-air. In November, Scarborough lashed out at the "really disgusting" people who suggested he favored Trump, adding that he doesn't want viewers to believe "that anybody [on Morning Joe] is rooting for Donald Trump because we're not."
Outstanding. Just outstanding. So Joe Scarborough has been giving Trump regular advice, and the MSNBC appendage has nothing to say about this beyond his past attacks on people who would suggest such things.
As I have said, while MSNBC is the most balanced cable news network, it is anything but liberal. The Fuhrer's goose-stepping shill, Joe Scarborough and Joe's ersatz liberal punching bag, Mika Brzezinski, control the three hour breakfast time slot on the network, and get as much air time as Chris Hayes, Rachel Maddow, and Lawrence O'Donnell combined.
From YouTube (GQ Channel): The Surprisingly Easy Way to Get Rid of Donald Trump | The Resistance with Keith Olbermann
As much as I love Keith, I disagree. The only difference between Trump and Pence is that Pence dog-whistles what Trump says.. Furthermore, Republicans are too foul for enough of them to take those actions.
From San Francisco Chronicle (Hat Tip JL A): Billionaire brothers Charles and David Koch's company fought for years to hold on to millions of dollars in profit from Bernard Madoff's Ponzi scheme. That battle just paid off.
Koch Industries and dozens of other former Madoff customers are expected to keep as much as $2 billion they made from the con man's bogus securities transactions after U.S. Bankruptcy Court Judge Stuart Bernstein in Manhattan ruled the cash is out of reach of a trustee recovering money for victims.
The ruling on Monday underscores that even eight years after the collapse of the biggest Ponzi scheme in U.S. history, the litigation stemming from the scam is still being defined by which Madoff customers profited at the expense of others. Many are still waiting for their principal.
Koch Industries and defendants in about 100 other suits argued the profit was beyond U.S. jurisdiction because it had been transferred — usually from offshore feeder funds to foreign banks — in the years before Madoff's December 2008 arrest.
In short, thousands lost their homes, their pensions and their life savings, and they will recover nothing, because the Koch Brothers and other Vulture Capitalists hid their ill-gotten in secret offshore accounts, co the courts cant make them return it, the judge says.
Cartoon: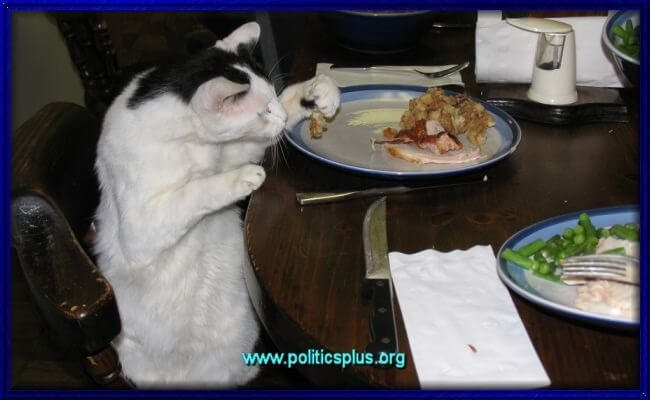 TC will chow down tonight!!