I'm writing for tomorrow, day 14. I'm feeling quite tired, but today I got started early enough to persevere. Tomorrow is a grocery delivery day.
Jig Zone Puzzle:
Today's took me 3:01 (average 4:24). To do it, click here. How did you do?
Fantasy Football Report:
Here's the latest from our own fantasy football league, Lefty Blog Friends.
Scores: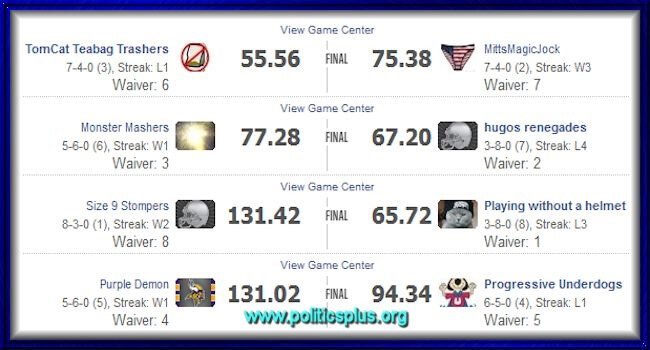 Standings: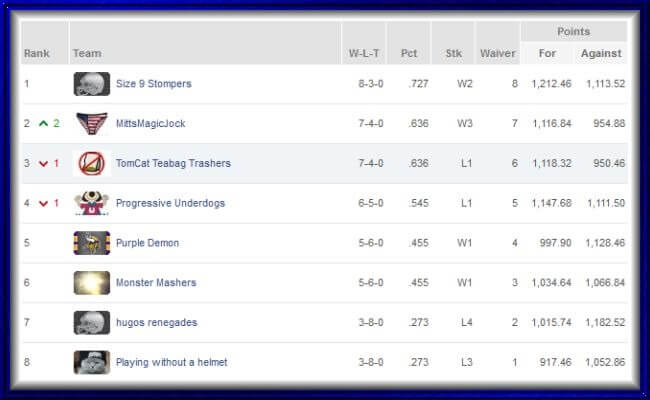 Did I get my butt kicked, or what?
Short Takes (all Kos):
From Daily Kos: Gotta love her:
Sen. Elizabeth Warren plans to oppose President Barack Obama's nomination of Antonio Weiss, a Wall Street investment banker, to be Treasury Undersecretary for Domestic Finance, another sharp-elbowed move by the progressive movement's most prominent leader.
Can't imagine what she would find objectionable to yet another Wall Streeter running the government ..
Gotta love her is right! The last thing we need as a regulator is the Bankster who put together the Burger King merger to evade US taxes.
From Daily Kos:
Poor Shell Oil can't get any relief in their quest to destroy the Arctic Ocean for shareholder profit.
EcoWatch has reported that Shell Oil's preemptive lawsuit against environmentalists to block any potential lawsuits against groups who oppose its drilling operations was thrown out of court.
Two years ago, Shell filed a preemptive lawsuit against 13 environmental, indigenous and community groups to prevent them from possibly suing Shell at some time in the future over its plans to drill for oil in the Arctic. The 9th Circuit Court panel yesterday called the legal maneuver "novel"and said that it was unconstitutional.

"Big News! David has taken down Goliath!" the Alaska Wilderness League posted on their Facebook page. "Shell tried to bully environmental groups like the Alaska Wilderness League by preemptively suing us to silence our voice. The Ninth Circuit Court of Appeals, however, has officially told the oil giant: Shell NO! That behavior won't fly!"
It's been a bad week for Big Oil. First Chevron lost its bid to take over a California town to duck lawsuit for injuries' Chevron caused, and now Shell lost their preemptive strike against heroes protecting the environment against them. I have two words for that. The first is "Wooo".
From Daily Kos: What was Black Friday shopping and is now Thanksgiving shopping gives us an amazing view on the race to the bottom when it comes to jobs and the notion that workers maybe deserve to have lives. Once it was a question of how early stores opened on Black Friday. Then some started opening on Thanksgiving. Now it's a question of how early they'll open on the holiday. You know, Thanksgiving, one of the big two holidays of the year in this country? Only now, it's a major workday for many retail workers who aren't paid enough to live on and don't get paid time off.
Click through for a list of stores. On a day we should be remembering what we did to the people that gave us the first Thanksgiving, the last thing we need is an extra day of hypocritical corporate Christmas greed.
Cartoon: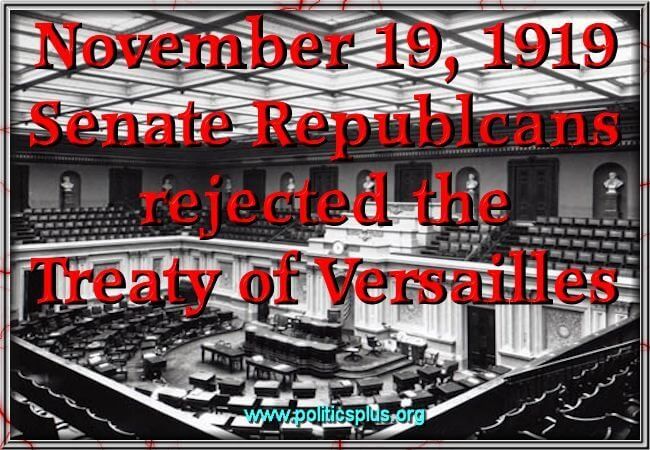 The more things change, the more they stay the same.