I'm in a huge rush to get my articles written and posted in time to take a nap before going to prison to do volunteer work.
Jig Zone Puzzle:
Today's took me 2:24 (average 4:38).  To do it, click here.  How did you do?
Short Takes:
From Daily Kos: Josten Bundy found himself before Judge Randall Rogers in an east Texas courtroom to face a misdemeanor charge stemming from a fight he got into with the ex-boyfriend of his girlfriend, Elizabeth Jaynes. With Elizabeth by his side, the judge asked Bundy if "she was worth it" and then put him on probation with bizarre stipulations:
"I said, well to be honest, sir, I was raised with four sisters and if any man was talking to a woman like that," recalled Bundy,  "I'd probably do the same thing."

Judge Rogers asked Bundy if he was married to Jaynes and then said, "You know, as a part of my probation, you're going to have to marry her…within 30 days."
That's right. Judge Rogers forced the young couple to get married, which they did. Bundy was fearful the jail sentence would cost him his job and the couple had previously talked about getting married…..in the future. Judge Randall also forced Bundy to get counseling and write Bible verses.
Rogers should be defrocked and disbarred for 1st Amendment violations against Bundy and 8th Amendment violations against Janes.
From Alternet: Informed readers are well aware that US police have the dubious reputation of killing lots of civilians, compared to other countries. The War on Drugs provides much of the basis for this abomination…
…The Free Thought Project constantly reports on senseless, unjustified murders carried out by police, in the attempt to bring accountability to law enforcement run amok. Here are 10 of the most outrageous excuses police have used for killing unarmed people during the last year.
"He was walking with a purpose." Officer Vanessa Miller killed Ryan Bollinger, 28, after witnessing him "dancing in the street" during a traffic stop. After a low-speed chase, Bollinger exited the vehicle and was "walking with a purpose" toward Miller, who then shot him from inside the car through the rolled-up window.
I've shared just one and ten examples of excuses made by police after they murdered innocent victims. Click through for the other nine.
From Democrats Unite: If I wrote that "Bernie Sanders admits to being a socialist," nobody reading it would need an explanation of the word "admits." "Socialist" is as dirty a word in US politics as "racist" or "bigot." And for lots of voters, it's probably even more of a deal-breaker. When a Republican really wants to insult President Obama, for example, he or she calls him a socialist.
The thing is — as the video below makes clear — America is already a socialist country, but just quietly, and only for the rich and for corporations. So the insult "socialist" only seems to really apply to things we ask the government to do for the rest of us.
In a word, Amen.
Cartoon: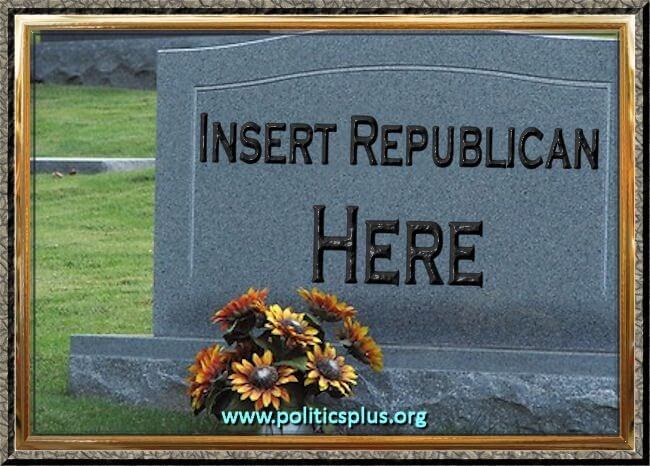 This is humor.  It is NOT s suggestion to do violence against Republicans.