I'm running quite late today.  Yesterday afternoon, my helper friend and I made six meals.  Last night I filled two barf bags, trash can, my coffee cup, my shirt pocket, and George.  Today Jeannie (shower-aide) left me with soft shiny fur.  Arvilla (PT) gave me a hard workout including a toilet transfer with my quad-cane, without using the disabled rails.  Then I walked around 225 ft. with my walker.  That's almost double my previous best.  Then I did exercises, and maneuvered from the sink, paste the range, past the counter, to the refrigerator and back without my chair or my walker, using the surfaces for support.  I'm pooped!!  TGIF!!
Jig Zone Puzzle:
Today's took me 4:19 (average 5:41).  To do it, click here.  How did you do?
Short Takes:
From Daily Kos: The FBI has released video tonight of the shooting death of LaVoy Finicum to dispel any rumors that he had "had his hands up" and was trying to surrender to police. The FBI's Special Agent in Charge Gregory T. Bretzing held a press conference to explain the events surrounding the arrest of Ammon Bundy (and others), along with the fatal shooting of LaVoy Finicum. Finicum can be seen running from the initial stop in his pick-up truck, with passengers Ryan Payne, Shawna Cox and a woman the FBI declined to identify. The video was captured by aerial camera and shows Finicum driving into a snow back, barely missing a law enforcement officer. He immediately jumped from the vehicle, at first with his hands up as he yelled at law enforcement, but then clearly reaching into his pocket multiple times, where the FBI says he did have a gun (update: a loaded 9 mm semi-automatic handgun.)
Here us a shortened, edited clip instead of the 26 minute clip included with the article. No significant parts were removed.
I have no doubt that the Republican terrorist was going for his gun, based on his previous statements and the loaded 9mm semi-automatic pistol in the pocket. The officer was fully justified in shooting him. However, I would like to have seen a faster response time to try to save his life, if possible, after he was down.
From Media Matters: Student loan debt in America has reached a staggering $1.3 trillion, surpassing even credit card debt. But right-wing media figures have criticized efforts to combat student loan debt by pushing misinformation and blaming students for pursuing higher education…
…Blaming students for the student loan debt crisis ignores the facts and distracts from finding real solutions to America's skyrocketing student debt burden.
I've said it before, and I'll say it again. Students should be able to pay for their education with their choice of military, national, or community service.
From NY Times: WHILE presidential candidates from both parties feverishly pitch their legislative agendas, voters should also consider what presidents can do without Congress. Agency rules, executive actions and decisions about how vigorously to enforce certain laws will have an impact on every American, without a single new bill introduced in Congress.
The Obama administration has a substantial track record on agency rules and executive actions. It has used these tools to protect retirement savings, expand overtime pay, prohibit discrimination against L.G.B.T. employees who work for the government and federal contractors, and rein in carbon pollution. These accomplishments matter.
Whether the next president will build on them, or reverse them, is a central issue in the 2016 election. But the administration's record on enforcement falls short — and federal enforcement of laws that already exist has received far too little attention on the campaign trail.
I just released a report examining 20 of the worst federal enforcement failures in 2015. Its conclusion: "Corporate criminals routinely escape meaningful prosecution for their misconduct."
Amen! Click through for the rest of this fine editorial by American National Treasure. Elizabeth Warren, and be sure to read her report.
Cartoon: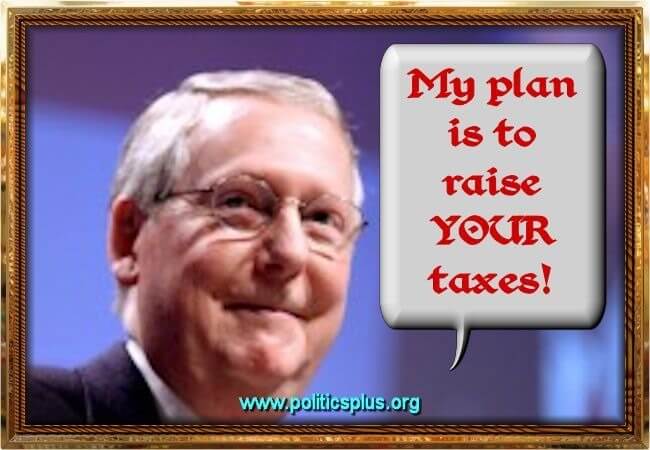 Republicans want to take your money and give it to the 0.1%