I actually feel a little chilly.  I LOVE it!!  Unfortunately two days of 90°s weather starts tomorrow.  I have a pants-load of things to get done today, while I can.
Jig Zone Puzzle:
Today's took me 3:19 (average 5:03).  To do it, click here.  How did you do?  I already know that getting out the horseradish sauce is pointless.
Short Takes:
From Media Matters: Iowa radio host and influential conservative kingmaker Jan Mickelson unveiled an immigration plan that would make undocumented immigrants who don't leave the country after an allotted time "property of the state," asking, "What's wrong with slavery?" when a caller criticized his plan.
On the August 17 edition of his radio show, Mickelson announced that he had a plan to drive undocumented immigrants out of Iowa that involved making those who don't leave "property of the state" who are forced into "compelled labor," like building a wall on the US-Mexican border. Listen (emphasis added in transcript [click through]):
Audio Barf Bag Alert!
This racist Republican idiot seems not to have heard of the Thirteenth Amendment.
From Daily Kos: The above [below] is roughly what 8.5 Trillion dollars would look like… and those are $100 bills.    Take another look and let that sink in for a bit…   I find it absolutely astonishing that the pentagon could lose track of this much money and for there to be no MSM coverage of this scandalous amount of mismanagement and fraud.  Where is the demand for accountability?  Why is the first question to ANY candidate for president not "What would you do about the massive fraud and waste at the Pentagon?"  Where are the hearings, nay indictments, that are warranted when a sum equal to  1/2 of our national debt can be sent to the pentagon to never be accounted for.  More below.  
We progressives need to work this scandal into every political conversation we engage in, especially when we talk to conservatives. Cutting government spending and accountability are supposed to be core GOP values. 
Combine "Known" Pentagon waste (like the 1.5 Trillion dollar F35) with missing pentagon money and you have a good chunk of our entire national debt represented….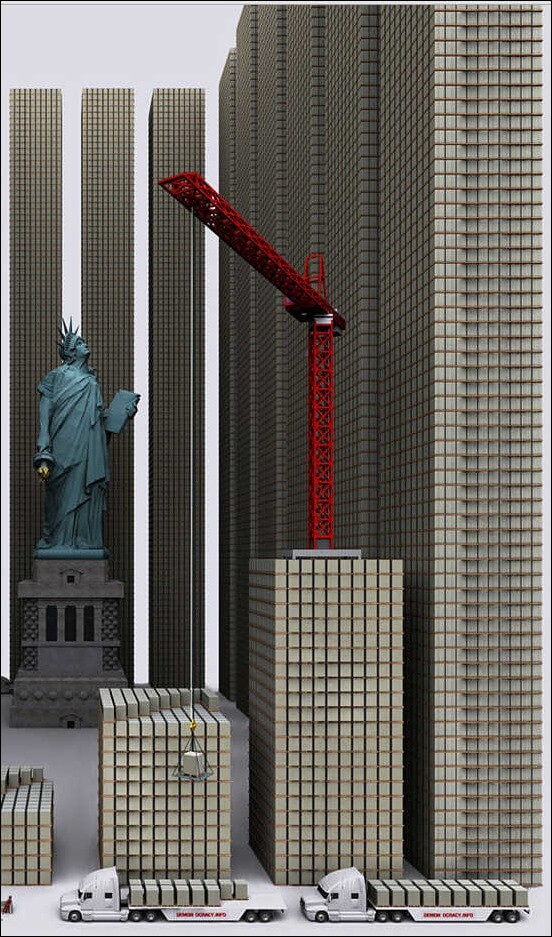 The author is spot-on. I might even support new prison construction to house the thousands of military personnel, civilian contractors, lobbyists, and politicians (mostly Republicans, but not all) responsible for it.
From YouTube: Published on Aug 20, 2015
Former President Jimmy Carter spoke Thursday about his cancer diagnosis, saying that melanoma had been spotted not only on his liver but also in four small spots on his brain. Carter said that he was seeking treatment.
This 38 minute clip is well worth the time to watch, since Jimmy Carter is such a class act. It still bothers me immensely that the Republican Party has refused to condemn the Republican politicians and pundits, who have used Jimmy's illness as an occasion for gleeful comments.
Cartoon: