Day 66. I'm writing for tomorrow and waiting for Mary from Store to Door to arrive with my groceries. She has an excellent sense of humor, a giving heart, and a genuine dislike of TEAbuggery. The world needs more like her. Tomorrow is a prison volunteer day, a general meeting with around 100 of my guys. I shall return home late, having missed a sleep cycle, so I may have little or nothing for Friday and/or Saturday.
Jig Zone Puzzle:
Today's took me 6:53 (average 7:47). To do it, click here. How did you do?
Short Takes:
From The New Yorker: In a meeting with Iraqi Prime Minister Nuri al-Maliki on Monday, Secretary of State John Kerry stressed the importance of forming a unity government in Iraq but refused to commit to a timetable for creating one in the United States.
The sensitive topic of a unity government for the United States came at the end of a thirty-minute meeting, during which Secretary Kerry lectured the Iraqi Prime Minister about the value of a government "where people of different parties put aside their differences, make meaningful compromises, and work together for the good of the nation."
Taking this in, al-Maliki agreed that it was an excellent idea and politely asked Secretary Kerry if the United States had ever considered forming such a government.
According to observers, Kerry appeared to be caught off guard by this question and blurted out,"You first."
Andy outdid himself this time.
From Raw Story: A Republican candidate seeking to represent Georgia's 10th U.S. House district believes that the First Amendment's guarantee of religious liberty does not apply to followers of Islam.
"Although Islam has a religious component, it is much more than a simple religious ideology," Rev. Jody Hice wrote in his 2012 book It's Now Or Never, according to Atlanta Journal-Constitution. "It is a complete geo-political structure and, as such, does not deserve First Amendment protection."
The House candidate also believes the Muslim Brotherhood is secretly infiltrating the United States in a plot to impose Sharia law on the entire country, a conspiracy theory he shares with Reps. Michele Bachmann (R-MN) and Louie Gohmert (R-TX).
Hice tied Mike Collins in the Georgia Republican primary in May, with each candidate getting about 34 percent of the vote. The winner of the July 22 runoff election will face Democrat Ken Dious in November.
The Constitution does guarantee an idiot's right to believe in Republican Supply-side pseud0-Christianity, but it expressly forbids such goose-stepping fools, like Hice, from using government to impose it on others, or prevent anyone else from exercising their own faith.
From Crooks and Liars: As Faux "news" was waiting for the election results in Mississippi to come in, Sean Hannity and his producers decided that there was no one more qualified to weigh in on the recent primary races and the future of the Republican party than the half-term Quitta' from Wasilla, or as Charlie Pierce calls her, Princess Dumbass of the Northwoods, Sarah Palin.
Of course the lesson Palin took from the Cantor loss, before hearing the results of the Cochran race, is the the Republicans aren't quite extreme enough, and they'd better start acting like "real" Republicans or she's going to threaten to leave the party.
Triple Barf Bag Alert!!: 5+ minutes of Bloody Bullseye Barbie!
If Drill Baby Dingbat and the InsaniTEA wing leave the Republican Party and form their own party, that would be wonderful for America, but I'm not betting on it.
Cartoon: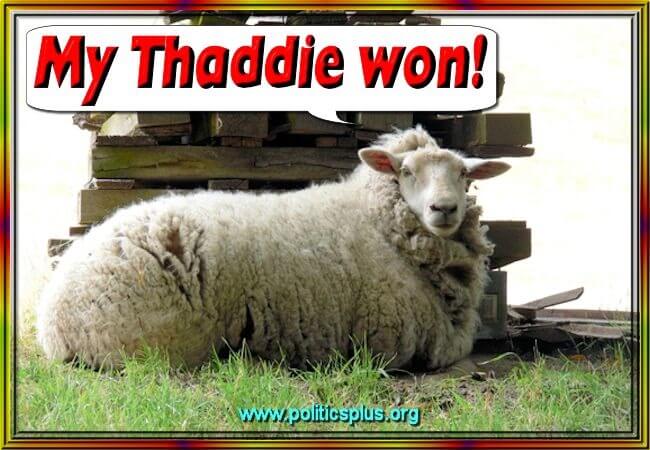 And the Baggers are MA-A-A-A-A-AD!!