I'm writing for tomorrow, day 102.  It will be a difficult day, because I have physical therapy during a heat wave.  It is also the day I normally spend hours collecting the data for and compiling the Monthly Report for Politics Plus to post on the second.  Because of the timing, the Monthly Report will be a day or two late, and I may have nothing at all to post on Saturday.
Jig Zone Puzzle:
Today's took me 2:54 (average 4:32).  To do it, click here.  How did you do?
Short Takes:
From Upworthy: As much as people love sex, you'd think we'd know better! If we just got rid of myths like these, we'd feel a lot better about our bodies, our relationships, and our sex lives.
If you show this to Republicans, that are likely to become apoplectic. So many uninterrupted facts, without intervening lies is more than they can handle.  Now, if only I could remember what sex is.
From Daily Kos: If you haven't seen this before, this really sums up what Republicans think of the Americans who work for a living.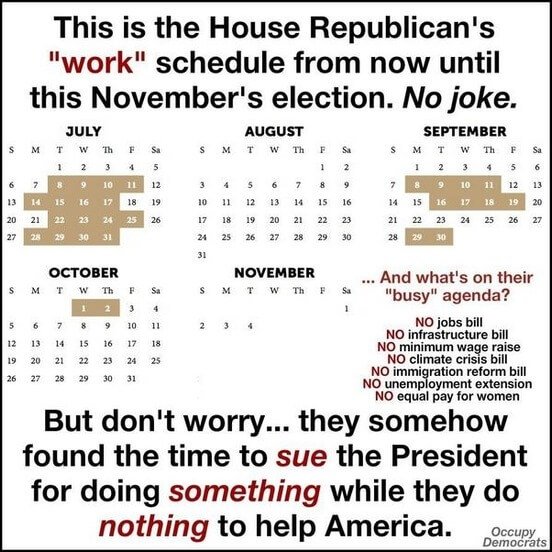 No Congress in US history has ever done so little.'
From TPM: Conservative rocker Ted Nugent published a lengthy and rambling rant hitting back at his critics on Wednesday, writing that the reason he's been described as a racist is because he's "doing God's work."
Nugent's comments came in a column posted [World Nut Daily delinked] on the conspiracy theory website WND, in which he reacted to the news that one of his concerts in Idaho had been canceled because of his incendiary rhetoric.
"For the lying freaks over at the Huffington Post, Moveon.org and the scammers at the Southern Poverty Law Center to go to such extremes to constantly lie about me is proof positive that I am not only on the right track doing God's work spotlighting the current infestation of cockroaches amongst us, but that they are clearly scared to death of me and virtually incapable of debating me one on one," Nugent wrote.
Nugent was reported to have used the term "unclean vermin" when discussing the Coeur d'Alene Tribe's decision to cancel a casino concert he was supposed to perform. The tribe canceled the concert after being contacted by the Southern Poverty Law Center and made aware of some of his past remarks, including some in which he called President Obama a "subhuman mongrel" and a "chimpanzee."
From his perspective, spewing racial hatred is doing God's work, because his God is Republican Supply-side Jesus, the exact opposite of the real Jesus.
Cartoon: