Another month is almost gone, and it's medical mayhem time again.  Today is grocery order day.  Tomorrow is shower, collect data for Monthly Report, change Poll, and grocery delivery day.  Thursday is Monthly Report, Bank Trip, and CAT Scan day.  Friday is pre-surgery physical day.  Saturday is shower, dreaded task and cleaning day.  Finally Monday is Radiation Oncologist day.  Two outpatient surgeries for eye cancer will follow soon after.  Yes.  My plate is full.
Jig Zone Puzzle:
Today's took me 3:39 (average 4:19).  To do it, click here.  How did you do?
Short Takes:
From Alternet: Trump has cast doubt on the presidential eligibility of not only Ted Cruz, who was born in Canada to a U.S. citizen, but also Marco Rubio, who was born in Miami, Florida.
As Garrett Epps writes in The Atlantic, Trump did so in the same evasive way that he floats other conspiracy theories:
Trump's challenge to the U.S. Constitution is only one subchapter of that story; but the damage he is doing is real, and he's not finished yet.
Consider that last weekend, Trump began to deploy his birther libel — first wheeled out against Barack Obama and then Ted Cruz—against Marco Rubio. His claims are only increasing in scope. Obama, Trump claimed, was not born in the United States. (He was.) Cruz was born (to an American citizen mother) in Canada. Trump says that means he's not a natural-born citizen. (He is.) No one questions that Rubio was born in the United States. His parents were lawful permanent residents. The Constitution, on this point at least, is blessedly clear. To be born in the United States is to be born a citizen. Trump doesn't question that. Not quite. Not yet. But late last week, he retweeted a supporter who suggested that Rubio is ineligible for the White House. When George Stephanopoulos asked him why he had done that, Trump responded: "Because I'm not sure. I mean, let people make their own determination."
This is the way that Trump insinuates lies and libels into the discussion. It's not me, he feigns, others have questions about Rubio, I'm just saying it could be a problem, and maybe we should look into it. Similarly, after repeating a supporter's invective against Cruz, Trump shrugs:Hey,I didn't make the indecent and sexist commentabout Cruz. What can I do? My supporters are passionate. But that was just the start. By the Iowa caucuses, he was calling the Texas senator "the Canadian anchor baby."
This is only the 58th of 58 conspiracy theories promoted by Rump Dump Trump. Click through for the other 57.
From Crooks and Liars: CNN reports:
At least four people at a Bernie Sanders rally in Oakland rushed the stage Monday evening, spurring Secret Service agents to jump onto the raised platform and protect him.
The Democratic presidential candidate was uninjured and continued speaking, but not before several agents hugged him and pushed him away from the microphone. The identities of the individuals, who yelled as they approached the stage, were not immediately known. They were apprehended and led away by Secret Service from the podium at the Frank Ogawa Plaza, where the rally was being held.
After the events of Monday night in Northern California, Sanders spokesman Michael Briggs said, "It was handled professionally by the Secret Service."
It turns out that the activists approaching the stage were not rabid Clintonistas as some Bernie Bots are claiming, but animal rights activists. Bernie's discussion with an animal rights activist in Portland, OR was far more pro social.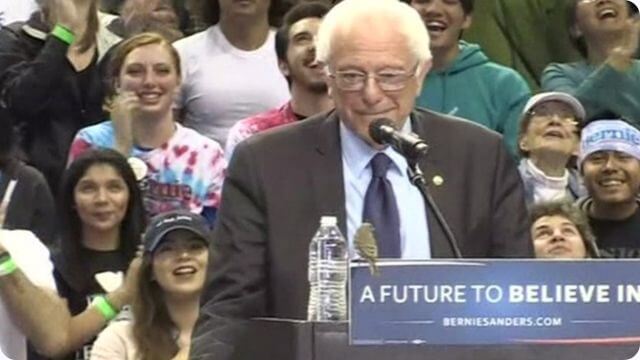 From Common Dreams: Tim Canova, the progressive challenger running to unseat embattled Democratic National Committee (DNC) chair Debbie Wasserman Schultz, on Friday was endorsed by the grassroots advocacy group Democracy for America (DFA), which called Canova a "political revolutionary."
In a statement on Friday, DFA chairman Jim Dean criticized Wasserman Schultz for allying with "wealthy interests" that fuel inequality and said that "if Democrats are going to be the party that confronts the wealthy and powerful who dominate our political process and enable growing income inequality, we need political revolutionaries like Tim Canova in the U.S. Congress."
I also endorse Tim Canova for many of the same reasons. However, if DWS retains her seat, she must be ousted as head of the DNC. Her handling of the primary season has been not only biased, but also, sufficiently inept to transform a virtually assured Democratic landslide into a life or death struggle.
Cartoon: