It appears that the worst of the heat wave is ending for now, with 86° forecast today followed by three days in the low 80°s.  Of course it will take a couple days for this building to shed the accumulated heat.  This week I have a lot of cleaning and organizing to do.
Jig Zone Puzzle:
Either the site has technical issues, or there;s something wrong with my system, because all my attempts to go there have loaded a blank page.  To try it yourself, click here.  Please let us know if you get through.
Short Takes:
From YouTube: Racist Commercials [suitable for Republican racism]
These ads come from the British film Confederate States of America, but accurately reflect the state of racial equity we could expect if Republicans are successful in achieving their goal of establishing a permanent Republican Reich.
From NY Times: Despite the repeated horror of mass shootings in churches, movie theaters and schoolrooms, the Republican candidates running for president are remarkably quiet about how they would deal with this most pressing public health challenge.
"We define gun control real simple — that's hitting what you aim at," Senator Ted Cruz of Texas told a political gathering in New Hampshire earlier this year, typifying the level of pandering by the Republican field to the gun lobby.
In contrast, Hillary Rodham Clinton, the front-runner for the Democratic nomination, is taking up the gun control issue once more, 15 years after the defeat of Al Gore left her party leaders swearing off the subject as a losing cause. "We have to take on the gun lobby," Mrs. Clinton told a New Hampshire crowd last month. "This is a controversial issue. I am well aware of that. But I think it is the height of irresponsibility not to talk about it."
Tell that to the Republican candidates staunchly opposed to gun safety laws, like limits on ammunition used in the rapid-fire, battlefield-type weapons favored by mass shooters and a ban on unregistered weapon sales by dealers at gun shows. Mass shootings involving three or more murder victims have been on the rise in recent years, according to federal data, while gun production has more than doubled since 2008.
Republicans won't admit it, but they really want the mass shootings to continue. They generate lots of fear, and keep NRA money flowing into the their campaign chests in return for their support of Ammosexual criminal gun rights.
From Alternet: As an unprecedented shift in public opinion brought about the legalization of gay marriage, a vigorous counter-current has been intensifying under the banner of "religious freedom"—an incredibly slippery term.
Perhaps the most radical definition of such freedom comes out of the relatively obscure tradition of Christian Reconstructionism, the subject of a new book by religious studies scholar Julie Ingersoll, Building God's Kingdom: Inside the World of Christian Reconstructionism.  As Ingersoll explains, Reconstructionists basically reject the entire framework of secular political thought in which individual rights have meaning, so "freedom" as most Americans understand the term is not the issue at all. Indeed, they argue that such "freedom" is actually slavery—slavery to sin, that is.
Reconstructionists aim to establish a theocracy, though most would no doubt bristle at that description. They do not want to "take over the government" so much as they want to dismantle it. But the end result would be a social order based on biblical law—including all those Old Testament goodies like stoning gay people to death, while at the same time justifying "biblical slavery."  These extreme views are accurate, Ingersoll explained, but at the same time quite misleading in suggesting that Reconstructionism is a fringe movement with little influence on the culture.
I agree with the author. The rabid Republican base goose steps almost entirely behind Reconstructionist Republican Supply-side pseudo-Christians (the exact opposite of authentic Christians).
Cartoon: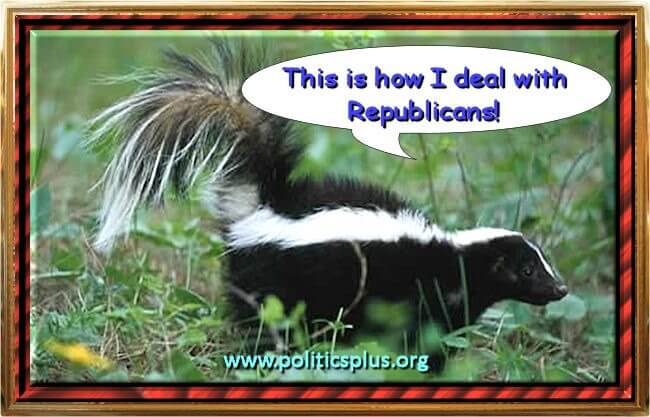 Cousin Pole Cat knows just how to spray them!