I'm writing for tomorrow, and I don't know why, but I feel lethargic.  I've gotten enough sleep, and I don't feel ill.  Perhaps it's that I'm taking Chantix again.  My last attempt to quit fell apart during the moving process, so I'm trying again.  Q-Day is Infernal Revenue day.
Jig Zone Puzzle:
Today's took me 4:21 (average 5:09).  To do it, click here.  How did you do?
Short Takes:
From Daily Kos: It's still early yet, but a monster El Nino might be forming in the pacific, and it just might shake up the worlds weather for awhile.  Over on the robertscribbler blog is an excellent write up describing the details of a monster Kelvin wave, which sometimes signals the start of an El Nino.  Here's what he has to say about the Kelvin wave:
The pool of 4-6+ degree Celsius above average temperatures continues to widen and lengthen, now covering 85 degrees of longitude from 170 East to 105 West. Perhaps more disturbing is the fact that the zone of extreme 6+ C temperature anomalies has both widened and extended, covering about 50 degrees of longitude and swelling to a relative depth of about 30-40 meters. This is an extraordinarily intense temperature extreme that well exceeds those observed during the ramp-up to the record 1997-98 El Nino event.
more below the fold… [emphasis original]
Click through for an in depth report on this potential El Nino and what it means to you.
From NY Times: Senate Republicans on Wednesday blocked legislation meant to close the pay gap between men and women, framing an election-year fight between the parties over whose policies are friendlier to women.
The bill was an attempt by Democrats to press what they see as their electoral advantage among women in the coming midterm elections, but they fell short of the 60 votes they needed to prevent a filibuster and advance the legislation.
Now there can be no doubt. Republicans do not want to see equal pay for people they consider property that should be kept barefoot and pregnant.
From TPM: The House has passed a GOP budget blueprint that promises a balanced federal ledger in 10 years through sweeping cuts across the federal budget and eliminating health care coverage under the Affordable Care Act.
The 219-205 vote on the nonbinding framework takes a mostly symbolic swipe at the government's chronic deficits. Follow-up legislation to actually implement the cuts isn't in the cards.
The plan by Budget Committee Chairman Paul Ryan would cut more than $5 trillion over the coming decade to reach balance by 2024. The sharpest cuts would come to health care programs for the poor and uninsured, food stamps, and array of domestic programs, including Pell Grants, education, and community development grants.
No surprises here.
Cartoon: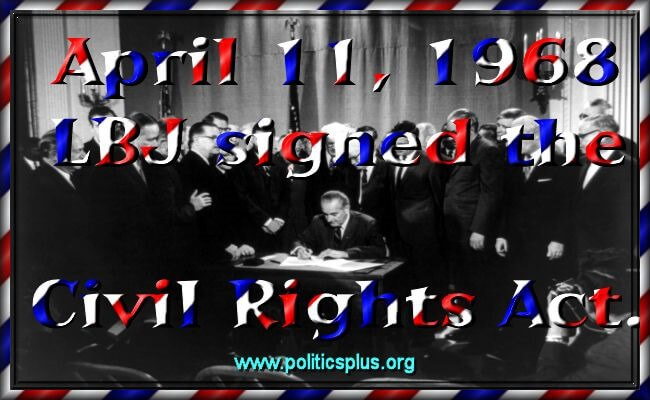 Prior to this, white southern racists were a bloc of Democrats known as the Dixiecrats.  They were so outraged by this event that they left the Democratic Party.  The Republicans, seeing there was no future in representing primarily billionaires and corporate criminals, adopted the Southern Strategy and embraced the racists' hatred.  This is how racists became the base of the Republican Party.