It looks like I'll have another busy day, as both OT and PT are coming this afternoon. I took it easy this morning and only made two laps.
Short Takes:
From YouTube: Merkley decries Republican efforts to slip Wall St. favors into must-pass spending bills
Oregon leads the way! "Must-pass" spending bill s must not pass, until Republican attempts to enable Banksters to prey on YOU are removed.
From Daily Kos: Since the map went live, Oregon has gone green, so to speak, on this map. And so has Colorado. You red states? Keep on cringing and cowering.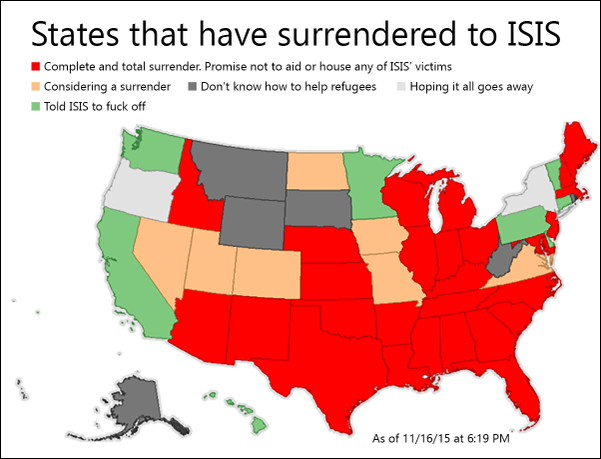 I had no doubt that Oregon would go green and refuse to surrender to the Daesh and their helpers to spread terror, the Republican Party.
From Media Matters: O'Reilly Once Said Terror Attack Would Get Bush Reelected, Now Says It Would Tarnish Obama As Worst U.S. President.
Barf Bag Alert!!
Is there any question as to why I call him O'Lielly? He's a senior propagandist for the Republican Reichsministry of propaganda, Faux Noise!
Cartoon: