I'm writing for tomorrow, and I'm between naps.  The medical appointment tired me out.  All in all, I spent over two hours waiting for the lift bus, and because the medical complex is so huge, I still walked about a mile.  Fortunately I did the research for this article before I left.
Jig Zone Puzzle:
Today's took me 4:40 (average 5:36).  To do it, click here.  How did you do?
Short Takes:
From Salon.com: Old, white, wrinkled and angry, they are slipping from polite society in alarming numbers. We're losing much of a generation.  They often sport hats or other clothing, some marking their status as veterans, Tea Partyers or "patriots" of some kind or another. They have yellow flags, bumper stickers and an unquenchable rage. They used to be the brave men and women who took on America's challenges, tackling the '60s, the Cold War and the Reagan years — but now many are terrified by the idea of slightly more affordable healthcare and a very moderate Democrat in the White House.
We're losing people like my father to the despair of Fox News, and it's all by design.
My dad is 67 years old, a full year younger than the average Fox viewer, who is 68, according to an analysis in New York magazine by columnist Frank Rich. I've read accounts of people my age — 40 or so — losing parents to cancer or Alzheimer's, but just as big a tragedy are the crops of grandmothers and grandfathers debilitated by Fox News-induced hysteria.
This is a fascinating read on how the Republican Reichsministry of Propaganda brainwashes people to promote irrational hatred. Click through.
From NY Times:
Recently the Federal Reserve released transcripts of its monetary policy meetings during the fateful year of 2008. And, boy, are they discouraging reading.
Partly that's because Fed officials come across as essentially clueless about the gathering economic storm. But we knew that already. What's really striking is the extent to which they were obsessed with the wrong thing. The economy was plunging, yet all many people at the Fed wanted to talk about was inflation.
Matthew O'Brien at The Atlantic has done the math. In August 2008 there were 322 mentions of inflation, versus only 28 of unemployment and 19 of systemic risks or crises. In the meeting on Sept. 16, 2008 — the day after Lehman fell! — there were 129 mentions of inflation versus 26 mentions of unemployment and only four of systemic risks or crises.
Historians of the Great Depression have long marveled at the folly of policy discussion at the time. For example, the Bank of England, faced with a devastating deflationary spiral, kept obsessing over the imagined threat of inflation. As the economist Ralph Hawtrey famously observed, "That was to cry 'Fire, fire!' in Noah's flood." But it turns out that modern monetary officials facing financial crisis were just as obsessed with the wrong thing as their predecessors three generations before.
Click through for most interesting analysis by Paul Krugman. What Krugman did not cover is the reason Banksters fear inflation so much. It devalues the stored wealth of the 0.1%.
From Crooks and Liars: Last month, "Christians" launched the next great hate-based initiative in the guise of a beneficial community program: Trail Life. The organization says it is the "premier national character development organization for young men which produces Godly and responsible husbands, fathers and citizens," but really amounts to just another attempt by the Christian right to discriminate against America's LGBT youth.
The Trail Life Scout Oath includes an order to be "morally straight." Ron Orr, whose almost-Eagle Scout son left BSA to join Trail Life, explains that "As Christians from a scriptural basis, we love all folks, but the Scripture is very clear that being homosexual is a sin." He says that it's important to "hold a strong line" and "set a consistent example for our young men," though some would question what positive example a youth organization based in hatred can possibly provide.
I disagree with the author on one key point.  These are not "Christians".  They are Republican Supply-side pseudo-Christians, making them completely anti-Christian.  This is a picture of the Trail Life scouts' salute. Need I say more?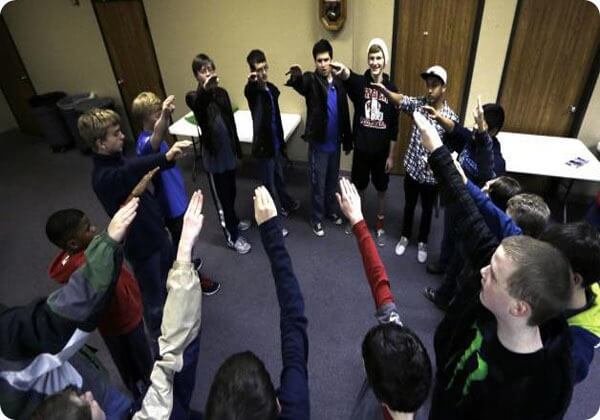 Cartoon: