After the stresses of the last few days, I am feeling quite tired. Tomorrow is a grocery delivery day, and I have some extra cleaning to do for that.
Jig Zone Puzzle:
Today's took me 3:21 (average 4:37). To do it, click here. How did you do?
Short Takes:
From The New Yorker: They don't pay taxes. They circumvent our laws. They get free stuff from the government. They are America's billionaires, and many would like to see them gone.
According to a new survey by the University of Minnesota's Opinion Research Institute, the American people hold the nation's billionaires in lower esteem than ever before, and a majority would like to see new laws enacted to deport them.
"They come here, take thousands of our jobs, and export them overseas," one respondent said, in an opinion echoed by many others in the survey.
"They are part of a shadow economy that sucks billions of dollars out of the United States every year and puts it in Switzerland and the Caymans," another said.
Images of hedge-fund managers arriving via helicopter in the Hamptons this summer have only reinforced the impression that authorities have turned a blind eye to their movements.
"Many of these people should be in prison, and the government is looking the other way," one respondent said.
Stirring even more controversy is the billionaires' practice of having babies in the United States and using the nation's porous estate-tax laws to pass down untold wealth to the next generation.
"They should leave and take their children with them," one respondent said.
At times, Andy makes a brilliant suggestion. This is one of those times. Lets start with the nevermind brothers.
From Daily Kos: "Ted Cruz Criticizes Carter Day After Wrenching Talk on Cancer," says the Bloomberg headline, and so we are obliged to take another rubbernecking glance at the most repellent man in politics.
A day after Jimmy Carter appeared on national television to talk about the cancer that's ravaging his body, Republican presidential candidate Ted Cruz criticized the former president's administration in a speech in Iowa.

"I think where we are today is very, very much like the late 1970s," the senator from Texas said on the Des Moines Register's political soapbox stage at the Iowa State Fair.

"I think the parallels between this administration and the Carter administration are uncanny: same failed domestic policies, same misery, stagnation and malaise, same feckless and naïve foreign policy," Cruz said. "In fact, the exact same countries—Russia and Iran—openly laughing and mocking at the president of the United States."
Uranus Inspector could not be further from the truth. The real similarities are that Carter and Obama both are decent men, doing their best, and were sabotaged by Republicans. Republicans even made a secret deal with Iran, giving them better terms on the hostage release, in return for KEEPING OUR HOSTAGE CITIZENS CAPTIVE, so they could win the election. I think that covering up proof of which individuals committed this treason is one of the reasons that Republicans oppose the Iran deal now.
From MoveOn: If you have friends who've been tricked, duped, or bamboozled by the war lobby into opposing the Iran nuclear deal, share this new ad with them from our friends at Americans United for Change:
Please click through to share this wherever you can.
Cartoon: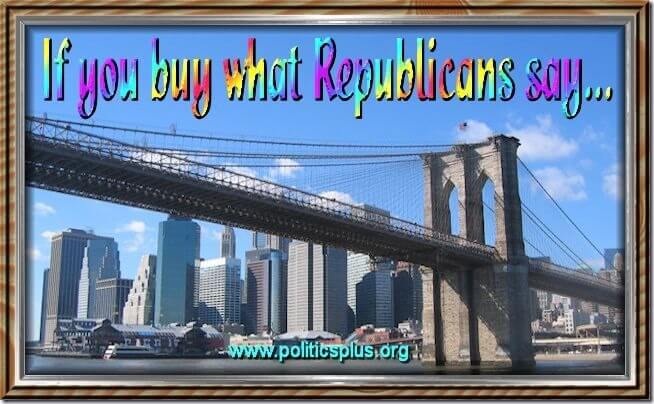 …then buy my bridge from me!