This week is turning out to be quite busy already.  Wednesday, my normal grocery delivery day from Store to Door, I have an appointment I cannot change, so I have to get groceries from Safeway.com.  They are coming tomorrow, moving prep for that to today.  The kitty basking weather is winding down.  Only 58° forecast today.
Per Nameless' Request: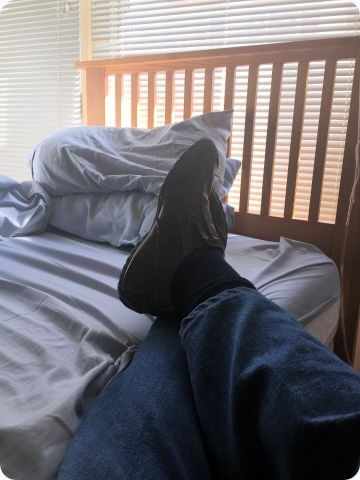 i-feet.
Jig Zone Puzzle:
Today's took me 3:11 (average 4:86).  To do it, click here.  How did you do?
Short Takes:
From NY Times: For all his partisan animus toward President Obama, it is still shocking to see the Senate's majority leader, Mitch McConnell, urge the nation's governors to undermine the Obama administration's efforts to regulate power plant emissions of carbon dioxide, the main greenhouse gas responsible for global warming.
Mr. McConnell, a Kentucky Republican who seems to hold Mr. Obama personally responsible for what has been the decades-long decline of coal jobs in his state, expressed his defiance in an op-ed article [Bought Bitch delinked] Wednesday in The Lexington Herald-Leader.
The administration has proposed regulations aimed at limiting emissions. Mr. McConnell urged the governors not to cooperate with a joint rule-making process aimed at developing final regulations under which Washington will set emissions targets while giving states flexibility to implement them. Sabotaging this process, he says, will give the courts time to find the plan illegal or give the Senate time to figure out a way to block it. "Without your support," he said, the administration "won't be able to demonstrate the capacity to carry out such political extremism."
Bought Bitch Mitch is pursuing a plan that won't help coal jobs. Mechanization is replacing many.  There are few left, because coal can't compete.  Fracking has provided a surplus of unnatural gas, and the Saudis are flooding the market with cheap oil to forestall a shift to green energy.  The liar is trying to protect profits, not jobs.
From Alternet: The U.S. economy is picking up steam but most Americans aren't feeling it. By contrast, most European economies are still in bad shape, but most Europeans are doing relatively well.
What's behind this? Two big facts.
First, American corporations exert far more political influence in the United States than their counterparts exert in their own countries…
…The second fact is most big American corporations have no particular allegiance to America. They don't want Americans to have better wages. Their only allegiance and responsibility to their shareholders — which often requires lower wages  to fuel larger profits and higher share prices.
Of course the Reich on the left, Robert Reich, is right about the Reich on the right, the Republican Reich, which is wrong by definition. Click through for more than this tiny taste about how RepubliCorp is screwing YOU.
From Crooks and Liars: Last Week Tonight's John Oliver didn't hold back when discussing the racist emails being sent by the Ferguson, MO police department and court officials which were discovered during the Department of Justice investigation of racial prejudice in the city's police and judicial system.
It amazes me that Oliver can be so funny, while being spot on about racism at it's worst.
Cartoon: