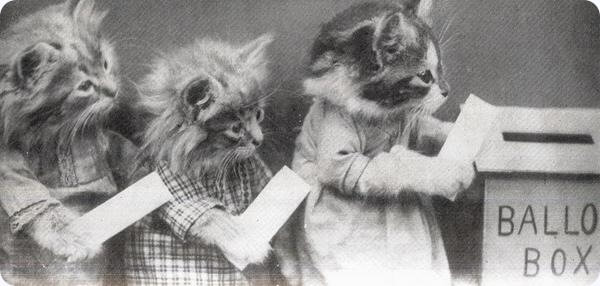 The time has come.  All the coolest cats have voted or are voting and not it's time for the results.  I'm trying something unusual.  As the night progresses I'll be adding to this article with news, observations and expressions of joy and/or grief.  I'll update the articles time with each iteration, and I'll try to answer any comments that may be left.  It should work, but I'm pushing the limits of my system.  Here we go.
4:05
Terrible news.  Bought Bitch Mitch won.
5:19
Republican Shelly Moore Capito picked up a Senate seat in WV, but that was already a given.
Democrat Tom Wolfe defeated Tom Corbett to become PA Governor.  Beating that racist Bagger is huge.
5:35
More bad news.  Republican Tom Cotton picked up Mark Pryor's Senate seat in AR.  The Republicans also picked up the governorship there.
To date Republicans are +3 in the Senate and even in the state houses.
7:30
I have more bad news.  Republican Steve Dains and Corey Gardner picked u Senate seats in Montana anc Colorado.  Republicans are +5.  One more and it's theirs.
8:53
More bad news.  Fitzwalkerstan still has a Fartfuhrer.  Republicans have taken the Senate and Joni Pig Nuts out them over the top.  There is no good news.  I'm going to sign off now.  I need to go throw up.  Good night.