Another day, another late start,  I ran Quicken to download my transactions and discovered that my subscription had run out,  I had to upgrade from 2013 to 2016 to keep using it.  I followed the prompts to buy the software,  Then it told me to sign in to Intuit's web site.  When  I did, it said that it would send me an email to prove who I am.  The problem is that I have since changed from Clear to Comcast, and I no longer have that email address.  So I called Customer Service and spent over an hour waiting on hold, before I finally gave up.  Finally I found an online form to change my email address,  I even had to scan my Oregon ID and attach a PDF file.  They sent me an email with links to make the changes and in three more steps, I was finally able to download Quicken.  Then I had to install, register  and configure it.  Finally, several hours later, I downloaded my transactions.  I actually would not recommend the program you, but I am not aware if anything else that downloads and manages transactions with multiple bank and credit card accounts.  Anyway, that's why I'm late.  ARGH!!
Jig Zone Puzzle:
Today's took me 3:15 (average 5:00).  To do it, click here.  How did you do?
Short Takes:
From Daily Kos: Must be tough being George Will — watching someone like Donald Trump shit all over the party he spent decades carrying water for.
Must be a horrifying experience.
Were he to be nominated, conservatives would have two tasks. One would be to help him lose 50 states — condign punishment for his comprehensive disdain for conservative essentials, including the manners and grace that should lubricate the nation's civic life. Second, conservatives can try to save from the anti-Trump undertow as many senators, representatives, governors and state legislators as possible.
If that's what even an establishment Republican pundit thinks, our opposition to Fecal Dump Trump must be positively livid!
From Alternet: Jimmy Kimmel generally keeps things relatively light, comedy wise, on his late night show. But apparently, Sarah Palin's appearance in a new climate change denial film called Climate Hustle got the host fired up enough to take up the dumb-dumbness that is both Palin and the entire climate change denial brigade, aka, the GOP.
Ding Bat Barf Bag Alert!!
They're damn right it's real, and I'm not bleeping with you either!
Also from Alternet: Wealth inequality is even more of a problem than income inequality. That's because you have to have enough savings from income to begin to accumulate wealth — buying a house or investing in stocks and bonds, or saving up to send a child to college.
As usual, the Reich on the left, Robert Reich, is right and the Reich on the Right, the Republican Reich, is wrong… and evil.
Cartoon: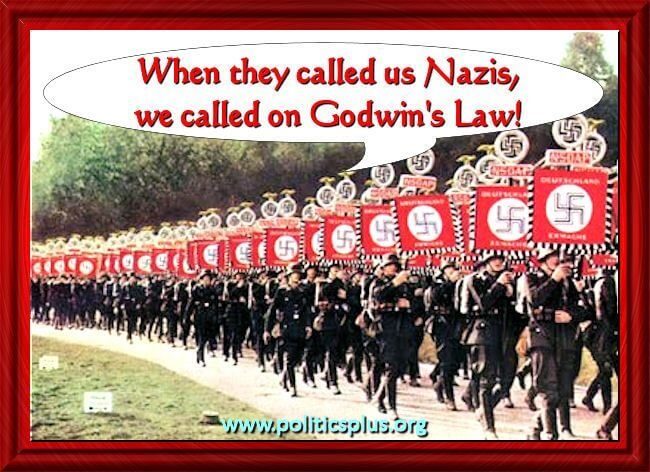 Godwin's Law – a common meme used by Republicans, other fascists, pseudo-intellectuals, and people with their heads in the sand or in smellier places, whenever anyone points out the verifiable commonalities between today's Republican Party and Germany's National Socialist Party, shortly before Hitler became dictator.