In October, Politics Plus was improved in all categories.  Here is our latest summary: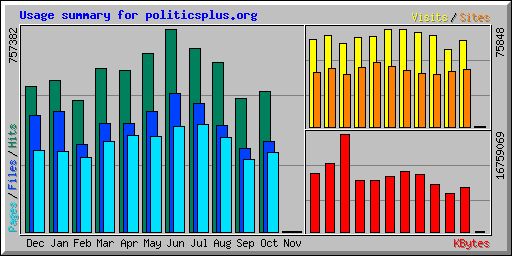 In the monthly totals, a Site is any website from which someone accessed our server, a Hit is every access attempt to our server, and a File is every access attempt to our server that returned data.  The difference between Hits and Files is from access attempts that were sent in error or damaged in transit and failed attempts by hackers, spammers, phishers, and Republicans to access the back end and take control of the site.  Any questions?
Here is last month's Clustrmap, because they are updating and offline:

ClusterMaps misses a lot of, because many visits can't be easily traced to a location.  It shows only the visits from March 2 to September 6, when it was last updated.  Therefore the map is unchanged from last month.
Here are our top five articles:
A Republican Freedom 9/24/2013 1,090 views
Jane Smiley: Capitalist Pigs 1/17/2010 758 views
How RepubliCorp Is Ducking Taxes 7/27/2014 442 views
Last Week's Republican Lunacies 6/9/2014 268 views
A Republican Staffer Tells the Truth! 9/5/2011 258 views
Several years are represented here, but at least one article from last month should have made the list.
Here are our top non-blog/news referrers:
Google 2,362
Care2 2,285
Stumbleupon 336
All are slightly up, but Bing fell below 100 referrals.
Here are our top  blog/news referrers:
http://frieddogleg.blogspot.com/
http://bildungblog.blogspot.com/
http://www.politicususa.com/
http://oakcreekforum.blogspot.com/
http://progressiveerupts.blogspot.com/
http://theleftinme.blogspot.com/
http://zenman1550.tumblr.com/
http://alterx.blogspot.ca/
Normally I include fifteen here, but these eight are the only ones with two or more referrals.  Putting their links here increases the ratings of their sites, so this "linkey love" is our thank you for their support.
Here are our top commentators.  As the resident Big Mouth, I don't count.  Those who leave their URLs in their comment headers, also get "linkey-love" here.
Lynn Squance (129)
Patty (98)
Edie (80)
Joanne D (80)
Pat A (59)
Jim Phillips (43)
SoINeedAName (30)
Vivian B. (25)
Jerry Critter (24)
mamabear (17)
jla (17)
Phil (12)
Yvonne White (5)
Rixar13 (4)
Steve (4)
We have 270,053 links on other websites.
Our Technorati rating no longer exists, because Technorati no longer exists as a blog rating entity.    They have left a vacuum in blog authority rating.  If you learn of someone filling that need before I do, please let me know.
As of Midnight, November 1, we have 5,188 articles and 57,578 comments.
I recommend using your own avatar. Go to Gravatar.  Sign up using the email address you use to post comments here and upload the image you want to use as your avatar.  Whenever you comment under that email address here or on any WordPress blog (several others too), that image will become your avatar.
The 2014 elections are two days away.  If Republicans take the Senate we will have two years of even worse gridlock, because they will continue to sabotage America, hoping to present themselves as saviors in 2016.  We have the votes to stop them, if people actually vote.
Thank you for all you have done to…
Get Out the VOTE!!!