In April, Politics Plus was little changed from February and March, for which I was too ill to provide a Monthly Report.
Here is our latest summary: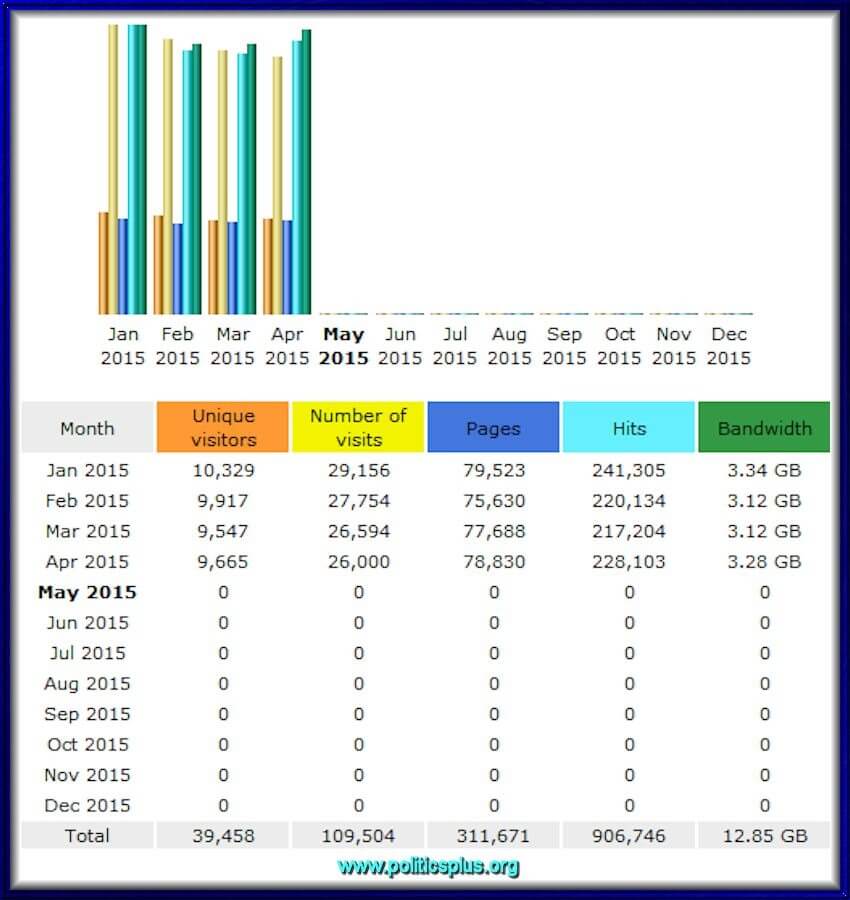 Data from April 2015:
Reported period

Month Apr 2015

 

 

 

 

First visit

01 Apr 2015 – 00:00

 

 

 

 

Last visit

30 Apr 2015 – 05:59

 

 

 

 

 

Unique visitors

Number of visits

Pages

Hits

Bandwidth

Viewed traffic *

9,665

 

26,000

(2.69 visits/visitor)

78,830

(3.03 Pages/Visit)

228,103

(8.77 Hits/Visit)

3.28 GB

(132.28 KB/Visit)

Not viewed traffic *

 

 

 

315,547

358,509

5.06 GB
Data from April 2014:
Reported period

Month Apr 2014

 

 

 

 

First visit

01 Apr 2014 – 00:00

 

 

 

 

Last visit

30 Apr 2014 – 23:58

 

 

 

 

 

Unique visitors

Number of visits

Pages

Hits

Bandwidth

Viewed traffic *

11,185

 

34,084

(3.04 visits/visitor)

81,302

(2.38 Pages/Visit)

257,508

(7.55 Hits/Visit)

3.87 GB

(119.05 KB/Visit)

Not viewed traffic *

 

 

 

299,711

345,457

4.48 GB
This April was a significant decline from last.
Here is our latest demographic data from Quantcast: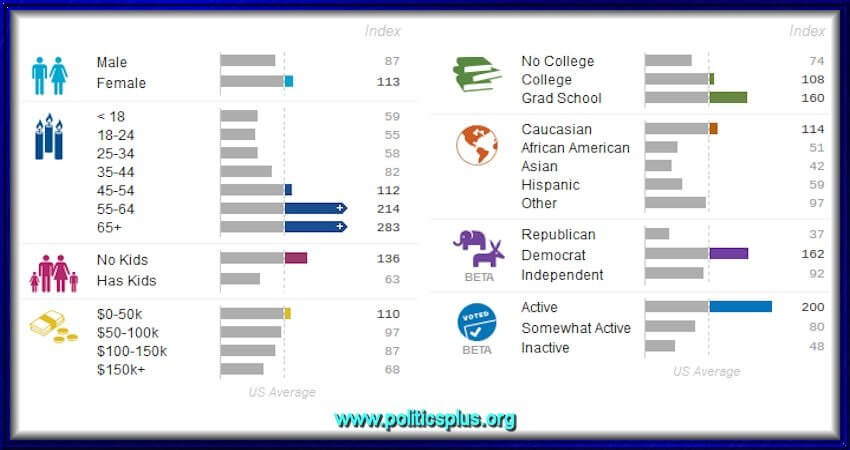 They miss a ton of raw data, but among those they can identify they are a valuable source of information.  We are still mostly older, well educated, poor, and politically active. 
Here is our latest ClustrMap: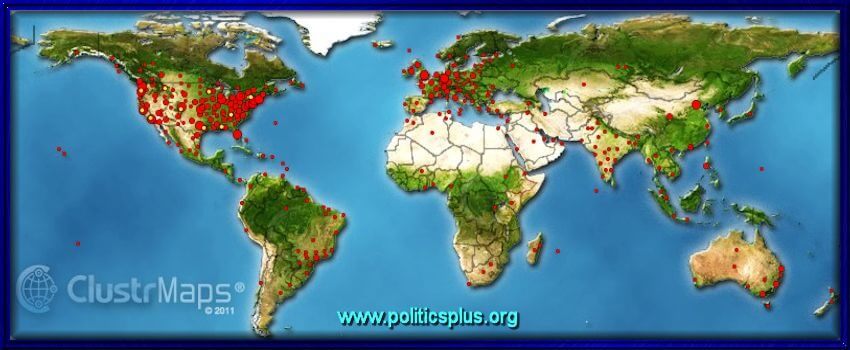 ClustrMap misses a lot of, because many visits can't be easily traced to a location.  It shows only the visits from March 3 to April 26, when it was last updated.  Having been reset to zero, since the last one you saw, this is much sparser.
Here are our top five articles:
Happy Easter! 4/10/2012 2,647
Jane Smiley: Capitalist Pigs 11/17/2010 1,046
Open Thread–4/6/2015 250
Matthews Hits Home on Iran 4/7/2015 175
Liz on Hillary 4/9/2015 171
The count represents only the people who followed an external link to that specific article.  I'm pleased to see three  from April.
Here are our top non-blog/news referrers:
Google 3,300
Care2 1,886
Stumbleupon 370
Two are down.  Google is up.
Here are our top  blog/news referrers:
http://infidel753.blogspot.com/
http://bildungblog.blogspot.com/
http://oakcreekforum.blogspot.com/
http://welcome-to-pottersville2.blogspot.com/
Normally I have included fifteen here, but these four are the only ones with two or more referrals.  This is the one stat that disappoints me most, because it means that we are no longer a go-to site for bloggers. Putting their links here increases the ratings of their sites, so this "linkey love" is our thank you for their support.
Here are our top commentators.  As the resident Big Mouth, I don't count.  Those who leave their URLs in their comment headers, also get "linkey-love" here.
Lynn Squance (117)
Joanne D (100)
Edie (94)
Patty (93)
Pat A (80)
jla (59)
SoINeedAName (52)
Vivian B. (37)
Jerry Critter (25)
Jim Phillips (20)
mamabear (20)
Avril Lomas (5)
dave c (3)
Dotti Lydon (3)
Infidel753 (3)
Steve (3)
There are over 15, because of a tie.  People who submit articles to Care2 can use their submitted news link from there.  These are the people that kept PP alive during my illness.  I did credit Patty foe Pstty's comments.

We have 349,788 links on other websites.
As of Midnight on May 1, we have 5,495 articles and 63,207 comments.
Kudos to Vivian for posting the 63,000th comment.
I recommend using your own avatar. Go to Gravatar.  Sign up using the email address you use to post comments here and upload the image you want to use as your avatar.  Whenever you comment under that email address here or on any WordPress blog (several others too), that image will become your avatar.
To be clear, we've has two lousy months, and that is not your fault in any way.  The main cause was the severe bout of flu I had that kept me down for the bulk of both months.  The Republican budget makes it clear that their economic "solution" is to keep taking from the poor and middle classes to provide welfare for billionaires and corporate criminals.  Their political "solution" is still to lie, cheat and steal, whenever and wherever they can. We still have our work cut out for us.  Whether you support Bernie or Hillary, I ask that you refrain from attacking the other and base your arguments on the good things about your choice.  However, it's open season on the Republican candidates.
Thank you for all that you do, here and elsewhere.  You are what makes this site happen!!