In March, Politics Plus improved significantly in every category except KBytes.  That's because we has less video content, due to our attempt to use videos that can be seen worldwide,.
Here is our latest summary: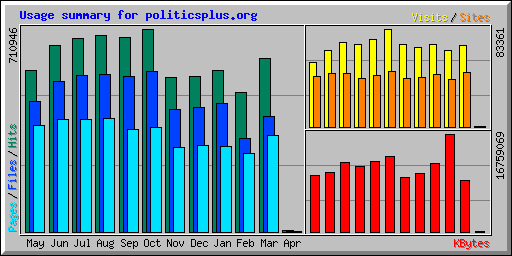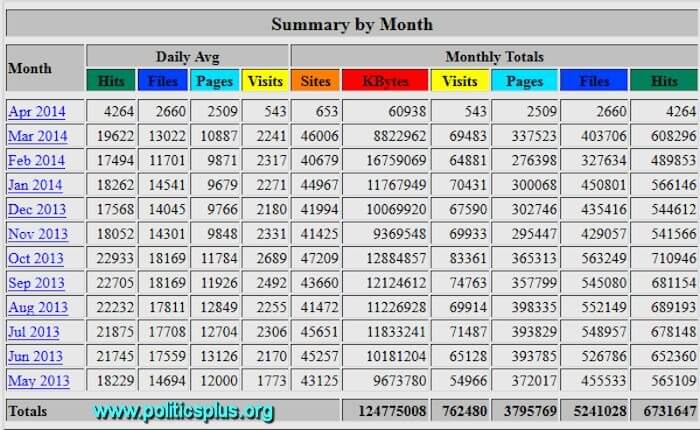 In the monthly totals, a Site is any website from which someone accessed our server, a Hit is every access attempt to our server, and a File is every access attempt to our server that returned data.  The difference between Hits and Files is from access attempts that were sent in error or damaged in transit and failed attempts by hackers, spammers, phishers, and Republicans to access the back end and take control of the site.  Any questions?
Here is our latest Clustrmap:

This is the new reset map that I told you would look naked.  It shows only the visits from March 2 to March 29.
Here are are top five articles:
Jane Smiley: Capitalist Pigs (1/17/2010)
Rachel Maddow: Why We Did It (3/8/2014)
Bill Maher–New Rules–3/1 (3/3/2014)
Why Fox Is Banned in Canada (3/7/2011)
Republicans Still Love Their Pootie! (3/5/2014)
I'm pleased that three articles from March included with two from past years.
Here are our top non-blog/news referrers.
Google (3,178)
Care2 (2,198)
Stumbleupon (653)
Microsoft Bing (132)
Yahoo! (116)
Care2 was significantly down, a disappointment, because we posted more articles there in March, but Stumbleupon was up, thanks to Richard (Rixar),  Search engines are finally starting to take notice.
Here are our top 12 blog/news referrers.
http://frieddogleg.blogspot.com/
http://bildungblog.blogspot.com/
http://www.synapticstew.com/
http://oakcreekforum.blogspot.com/
http://rixar13.newsvine.com/
http://mockpaperscissors.com/
http://alterx.blogspot.com/
http://infidel753.blogspot.com/
http://zenman1550.tumblr.com/
http://theleftinme.blogspot.com/
http://buckdogpolitics.blogspot.com/
http://annette-justmylittlepieceoftheworld.blogspot.com/
Putting their links here increases the ratings of their sites, so this "linkey love" is our thank you for their support.
Here are our top commentators:
Patty (104)
Lynn Squance (96)
Joanne D (59)
Edie (51)
rixar13 (51)
Jerry Critter (44)
Pat A (43)
misstexaskitty (28)
SoINeedAName (24)
Jim Phillips (19)
Arielle (13)
Edith Belcher (10)
Phil Hanson (8)
Avril Lomas (5)
mamabear (5)
Terrie Williams (5)
Those who leave their URLs in their comment headers, also get "linkey-love" here.
We have 268,642 links on other websites.
Our Technorati rating is 113, unchanged from last month, but still low on the B list.  These ratings yo-yo and do not depend on our traffic or our overall links, but only links on sites registered with and recognized by Technorati.  If only Care2 would register their front page of C2NN news with Technorati, we'd be A list again every month, once I started posting in sufficient quantity to justify it.
As of Midnight, April 1, we have 4,775 articles and 51,603 comments.
I recommend using your own avatar. Go to Gravatar.  Sign up using the email address you use to post comments here and upload the image you want to use as your avatar.  Whenever you comment under that email address here or on any WordPress blog (several others too), that image will become your avatar.
I had to make one change.  Where I used to live, my living conditions debilitated me so much that I rarely got out and had little to do inside from lack of facilities.  All I had to do was blog.  Now I am capable of doing more to take care of myself, but that also takes more time.  I used to reply to every single comment here, even if it was just an acknowledgement.  Now, I'm replying to every thread, but replying only to individual comments when I have something to add.  If you have noticed this and felt ignored, that is certainly not my intent, and I trust you now understand, now that you know why.
The 2014 elections are only six months away.  Republicans want to transform our nation into a totalitarian plutocracy.  They want a permanent, one-party regime in which elections exist for show only.  We must work together to stop them.
Our improved performance last month was because of you.  Thank you for everything you do, here and elsewhere.