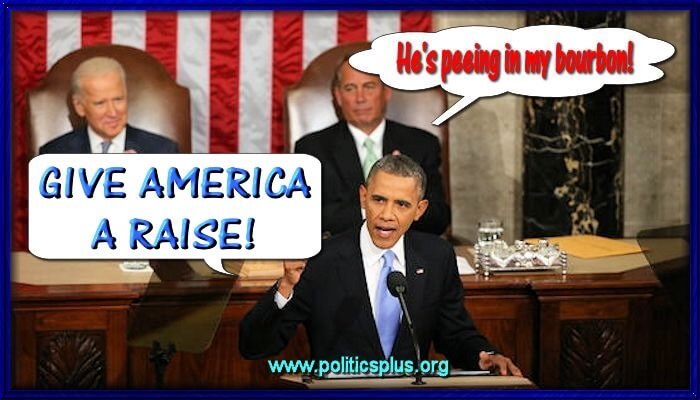 Barack Obama entered the rotunda an embattled President, beset by few real issues but by a wide variety of Republican lies and media distortions.  Frankly, I hoped he would come out swinging.  He exceeded my expectations, albeit in a completely different way than I had envisioned.  Most of his proposals should be pleasing to the left, but he made them in terms that should appeal to the middle, whose support he must win back to help Democrats hold the Senate, improve their standing in the House, and retake many State governments.  I think that his speech was a huge success.  You decide for yourselves.  I have the speech in it's entirety for you.  I also have four misrepresentations Republicans call responses.
Here is a transcript of Obama's address, as planned.
Obama's SOTU Address:
I have seldom seen better oratory.
The Cathy McMorris-Rogers Response:
Toxic Sugar Alert!
Too much sugar will rot your teeth, but this sugar will rot your brain. It has nothing to do with Obama's speech. Isn't it ironic that, to counter the many valid assertions that Republican's waging their War on Women, she sold herself out to that war, in addition to standard Republican lies.
The Mike Lee Response:
Barf Bag Alert!
This speech is a combination of class warfare, revisionist history, factual distortion and projection. You can fertilize your lawn with this one.
The Ted Cruz Response:
Double Barf Bag Alert!!
The background noise, the most relevant portion of the speech, is dubbed in to support the lie that Cruz is responding to the speech from the chamber right after the speech. However, the fool released it before Obama's speech.  Like Keystone XL, he should never have been allowed to cross the border.
The Idiot Response:
Triple Barf Bag, Trashcan, Shoe and Pocket Alert!!!
This "response" was recorded two days before Obama's SOTU speech. Idiot, Son of Idiot, Named after Idiot performed a major feat by setting the record for number of lies told in 10 minutes or less.
In summary, I find it easy to see why Obama did not go out of his way to slam Republicans.  The Republicans did it for him.