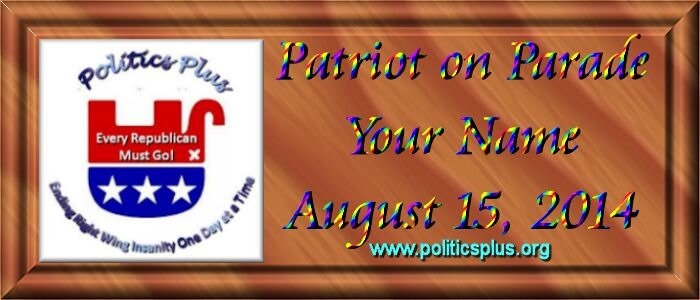 I trust that you are familiar with my Republicans on Parade series, in which I have exposed over fifty of the miscreants that make the Republican Party what it has become.  I want to start a new series featuring Democrats and Progressives.  I could put people like Bernie Sanders, Elizabeth Warren, Jeff Merkley, Alan Grayson, or Rachel Maddow on parade, but I want to go for something more off the beaten path.  Whether or not this series succeeds is completely up to you, because I'll need your help to do it.  You are the patriots I want to feature.
First, what is a patriot?  Tea Baggers claim to be, but they would tear down the country, making them anti-patriotic.  Some people think that patriotism is the belief that we are better than everyone else.  It is not.  That is exceptionalism.  Some people think that patriotism is supporting whatever this country does, right or wrong.  It is not.  That is nationalism.  Authentic patriots are people who love their country so much that they are willing to do whatever they can to make it better, even it that means opposing its current policies.  I want to feature you, because that's the kind of people you are.  The reason I did not call it Democrats on Parade is to open it up to people in other countries.
I want to write, or better yet, want you to write, an article about something you are doing and how it could make things better. It could be anything from organizing a national demonstration to helping out in an old folks home, from running a candidate's campaign to helping people register to vote, from helping clean the environment to stealth flatulence in an elevator full of Republicans.   Nothing is too big or too small.  Including a picture or video of you doing it would be ideal!
Paraded Patriots will be announced with a graphic like the one above and listed in the sidebar here at Politics Plus.
Use the contact me link in our blog roll, reply to me here, or send me a Care2 message to arrange for your participation.  I hope you will make this project a big success.