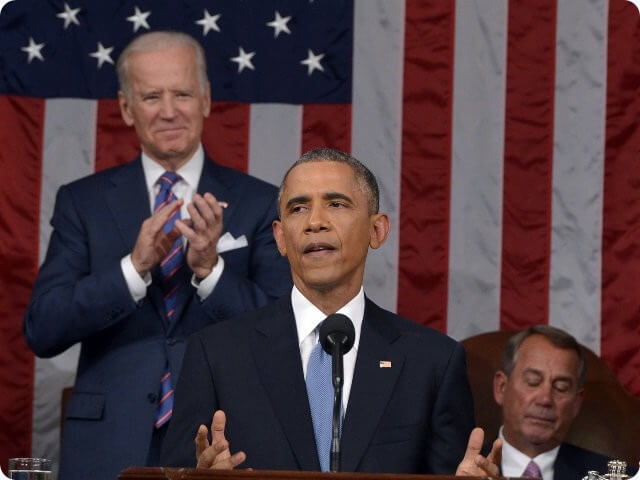 They say a picture is worth a thousand words.  Barack Obama's State of the Union Address may be summed up by comparing the expressions on two faces, above: Vice President Joe Biden and Speaker John "Agent Orange" Boehner (R-OH).  Here is the complete video, a link to the transcript, the video of the official Republican Response, and my own editorial commentary.
You can get the transcript here.
I can't say that I agreed with him across the board.  I'm not convinced that he has sufficient protections for US workers built into the free trade agreement.  I'm also not sure he has as good a handle on terrorism as he implied, and I think he still looking for a solution to stopping ISIL, the organization created through Republican incompetence.  He didn't even mention domestic terrorism from the Republican base.
However, all things considered, the content was superb, and the delivery, even better.  He drew a line in the sand for himself and the entire Democratic party going forward.
The official Republican Response, by Joni "Pig Nuts" Ernst (R-IA) was as bad as Obama's presentation was good.
Extreme Barf Bag Alert!!  30 Gal. Capacity (or more) Recommended!!
She had nothing to offer, but the same old, tired, debunked, trickle down, promises that were lies thirty years ago, delivered with a glassy-eyed stare and an irritating, nasal whine.
I am not including the "Tea Party" Republican Response or the "Idiot, Son of Idiot, Named after Idiot" Republican Response.  A guy can only take so much punishment and survive.
In the aftermath, Republicans are claiming that Obama offered nothing with which they are willing to agree.  That is probably true, because he did not offer unconditional surrender.  They are also claiming that Obama is proposing to raise YOUR taxes.  If that's is true, would YOU give me a few spare million, please?
In closing, I hope that Republicans are willing to negotiate in good faith on matters that will benefit the American people without exacerbating the inequality they have caused.  I am all for it, but to be honest, I just don't think they have it in them to challenge either their greedy billionaires or their rabid base.